We independently source all of the awesome products and experiences that we feature on Thrillist. If you buy or book from the links on our site, we may receive an affiliate commission — which in turn supports our work.
Remember a few years ago when, for a brief moment, we were all collectively talking about plastic straws? Spurred by a heartbreaking video of a sea turtle with a straw up its nose and the efforts of some dedicated activists, the anti-straw movement caught on quickly. Corporations caught wind and ditched straws in (almost definitely) PR-motivated moves, bars gave out cocktail straws on request only, and everybody everywhere whined about the ineptitude of paper straws.
Reusable straws also came into vogue, from heavy-duty metallic options to ones made of eco-friendly recycled material. Single-use straws were rendered seriously uncool and, for a minute, it felt like we were setting a new precedent for combating climate change and pollution. Of course, the discourse eventually moved on, contrarians insisted that straws weren't actually a big deal, and most everyone stopped talking about turtles so much.
Fortunately, it was far from all for nothing, and the impact of the movement undeniably led to some change. Several American cities have since placed outright bans on plastic straws, big food chains have looked for alternatives (with varying degrees of success), and the idea of a reusable everyday straw is here to stay.
So, to help you find the perfect climate-conscious drinking accessory, we rounded up some of the best reusable straws available on Amazon right now. With any of these options, you can sip in style while keeping your straw where it belongs: in your iced coffee and away from precious wildlife.
Amazon
If you want some options—plus some insurance against your straws inevitably disintegrating—this set of 16 is a great choice. Each straw is made from premium stainless steel and is topped with a colored silicone cap. They're dishwasher safe, but the set also comes with three cleaning brushes.
Amazon
These Doboli straws are a perfect option if you want to keep a straw in your purse or on your keys. They are collapsible and portable, and even come with an attachable clip for your key ring. You can choose from a bunch of different colors, and each straw comes with a cleaning brush and carrying case.
Amazon
If you want to keep things simple yet colorful, this set of 10 straws from Alink should do the job. The straws are made from durable, BPA-free tritan (the same plastic used for Nalgene bottles), and at 10.5 inches they'll work with everything from a mason jar to a tumbler. Each set comes with an extra-wide cleaning brush, and you can match your straw to your mood with the whole rainbow covered.
Amazon
Perfect for cocktails or a morning coffee, these curved, stainless steel straws from Senneny are great for those who like to drink their drinks in a slightly more horizontal position. The set comes with five straws, each with a colored silicone tip, plus a cleaning brush and a carrying case.
Amazon
Simple, fun, and festive, these candy cane-esque straws will fit right in at the beach and backyard BBQs. They're made of silicone, and you can mix and match colors for your 12-pack, which comes with a cleaning brush. They're pretty long at 10 inches, but you can easily trim a couple down if you want some shorter options.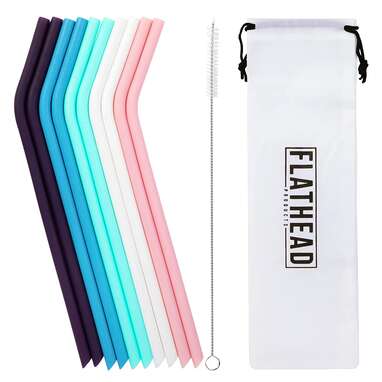 Amazon
Another silicone option, these Flathead straws are bent for optimal sipping, and are specifically compatible with Yeti tumblers. They come in two different diameters so you're covered whether you're drinking a smoothie or sangria, and you can always come prepared with a carrying case that'll fit the whole set of 10.
Amazon
If you want to keep it cool and classy, you could opt for these glass straws from Hiware. The set of 8 comes with four bent and four straight straws, and each one is extra-long and dishwasher safe. Each straw is handmade, and you won't have to worry about any metallic or plastic-y aftertaste.
Amazon
For sipping on the go, you might want to consider this travel-friendly, collapsible straw from Eco-Pals. It'll work well for any and all drinks that come your way, and you have three different super-fun colors to choose from. The sleek carrying case will fit right in in your makeup bag, and the steel cleaning brush is also collapsible for optimal portability.