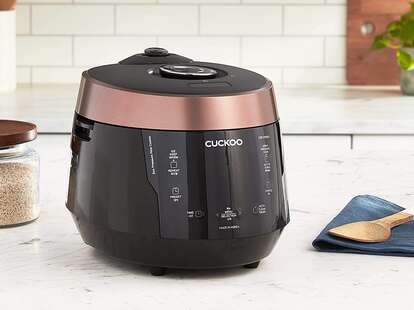 We independently source all of the awesome products and experiences that we feature on Thrillist. If you buy or book from the links on our site, we may receive an affiliate commission — which in turn supports our work.
A quality rice cooker makes perfectly fluffy rice without the inconvenience of monitoring a pot on the stove. These handy countertop appliance allow you to whip up the perfect foundation for all your meals with the simple touch of a button—just set it and forget it!
Though rice cookers have been around for decades, tech advances have expanded their capabilities to avoid overcooking and ensure easy cleanup. Fuzzy logic technology, as featured in the Zojirushi option below, enables rice cookers to independently make fine adjustments to temperature and heating time in order to guarantee perfectly cooked rice every time. There are a bunch of rice cooker options out there, though, so we've rounded up some of the most popular models you can snag right now—whether you're looking to cook a single serving, make a comforting stew, or even simultaneously steam meats and vegetables.
Amazon
This multipurpose rice cooker boasts convenient and intuitive features, so it will save you time and reduce the number of appliances crowding your countertop. With menu settings for white and brown rice, porridge, steaming, and cake, the 5.5-liter Zojirushi facilitates a wide variety of cooking needs. The cooker also features a warming and reheating function and timer, and the micro-computerized fuzzy logic technology removes any guesswork. It's outfitted with an easy-to-clean stainless steel exterior, nonstick interior, steamer basket, and retractable power cord, and even comes in a ten-liter size if you're cooking for a larger group.
Amazon
At just $20, this six-cup Black+Decker rice cooker is an affordable option with impressive features. The nonstick interior pot is completely removable and dishwasher-safe, so cleanup is straightforward. The included steamer basket helps you whip up vegetables and proteins with ease. With fluffy rice ready in just twenty minutes and capacities for stews and oatmeal, this rice cooker is a versatile appliance at a killer price.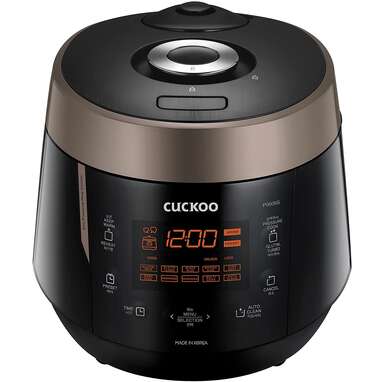 Amazon
Developed by Korean experts, the Cuckoo rice cooker is guaranteed to produce perfectly fluffy rice every time, thanks to its heating plate pressure technology and smart cooking algorithm. You can select from thirteen menu options (including selections for white, brown, and scorched rice) as well as voice guidance available in English, Chinese, and Korean. With multiple safety features for pressure regulation, a durable stainless steel inner pot, and superior cooking times, the Cuckoo promises to be your go-to cooker for years to come.
Amazon
The beauty of this rice cooker is embodied in the phrase "set it and forget it." Whatever you're cooking—whether it be fluffy rice, hearty soup, or steamed veggies—this one-touch operation is simple and effective. The simultaneous steaming feature enables you to steam foods while cooking rice or soup below. The nonstick inner pot is dishwasher-safe, and the Aroma cooker comes with numerous convenient accessories including an aluminum steam tray, tempered glass lid, measuring cup, and serving spatula. The options are endless with this intuitive, multifunctional cooker.
Amazon
This rice cooker by Dash may be compact, but don't underestimate its abilities. You can cook rice, soups, oatmeal, pasta, and more with the press of a button. Perfect for a small apartment, dorm room, or camper, the Dash cooker ensures perfectly cooked meals with a handy indicator light and warming function. An included rice paddle, measuring cup, and removable nonstick pot take the hassle out of preparation and cleanup. Even better, it comes in eight fun colors sure to brighten your kitchen and match your decor.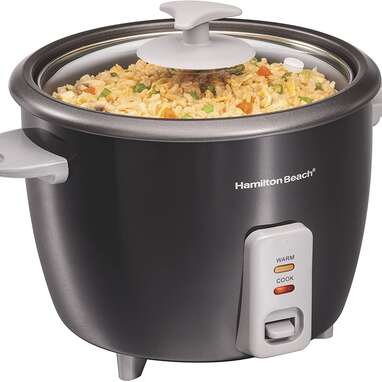 Amazon
If you're hosting a meal and feel daunted by the prospect of feeding a crowd, let this rice cooker by Hamilton Beach help you out. It produces up to sixteen cups of perfectly cooked rice with a simple touch of a button. The included steamer basket doubles as a colander to rinse your rice or other grains before cooking, and the glass lid and dishwasher-safe & nonstick cooking pot makes for easy cleanup.
Amazon
While some rice cookers feature numerous buttons, functions, and menu settings, the Imusa rice cooker values simplicity over all else. If you don't care for additional features and just want a steaming bowl of rice in mere minutes, this cooker is the one for you. With a simple on/off switch and warming setting, as well as a convenient glass lid, the Imusa rice cooker—which is available in three different sizes—ensures perfect fluffy rice every time.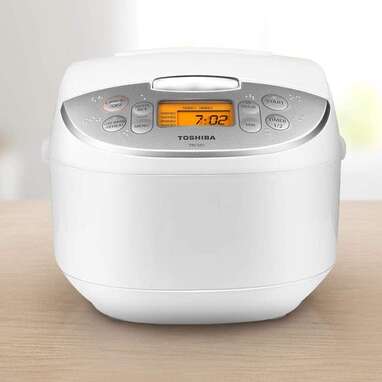 Amazon
As the originator of the first automatic electric rice cooker in 1955, Toshiba is a trusted brand for achieving rice cooked just right. This one uses new technology and a smart six-step formula that ensures ready-to-eat rice in as little as thirty minutes. A removable steam valve allows for fluffy rice while avoiding potential for messy overflow. You can select from seven pre-programmed settings for different rice types and adjust the timer to keep it at an ideal temperature for up to twenty-four hours.
Caroline Curran is a Thrillist contributor.