The 11 Things You Need to Road Trip Like a Pro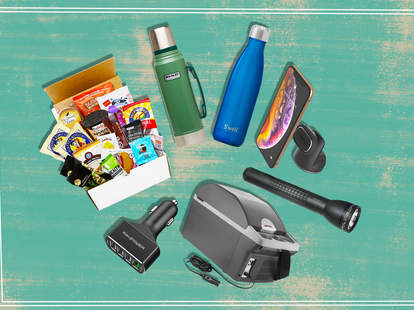 We independently source all of the awesome products and experiences that we feature on Thrillist. If you buy or book from the links on our site, we may receive an affiliate commission — which in turn supports our work.
There is no secret formula to planning the perfect road trip, but if you've been on enough of them you know that it basically comes down to having the right people in your car, the right playlists ready to go, and a sense of adventure to keep things loose and fun. That said, every successful long-haul drive requires a bit of planning to ensure you're ready for any potential hairy situations (or harried and hangry passengers) along the way.
To help you pack up your car like a seasoned pro next time you head out on a long trip, we've pulled together the 11 things to bring on every road trip to make sure you get where you're going as safely, conveniently, and comfortably as possible. Just don't rely on us to keep the peace when it comes to the playlists. That's all on you.
Amazon/Danna Windsor
A 4-port USB adapter
Why you need it: To avert power struggles
Although many cars now come equipped with built-in USB chargers, it never hurts to add a few extra to the mix, especially if your car is full of techies. This 4-port version protects against charger hogs since four people can pull power from it simultaneously, and features one dedicated quick-charge port capable of juicing up one device at four times conventional charging speed.
Price:$15.99
Amazon/Danna Windsor
A dashboard-mounted phone stand
Why you need it: To know where you're going
A lot of dash-mounted phone stands are unnecessarily ugly or clunky, but this iOttie model gets the job done and looks good doing it. You can temporarily mount it to your dash via its built-in suction cup, while the other end securely attaches to any phone using super-strong magnets. It also swivels and pivots 360 degrees, giving you the freedom to adjust it to any viewing angle so you can easily follow Google/Waze directions without taking your eyes off the road.
Price:$24.95
Amazon/Danna Windsor
A sturdy vacuum-sealed thermos
Why you need it: To keep your coffee piping hot all day
Why suffer through miserable gas station coffee in a styrofoam cup? Instead, perk up when you need to with your own home-brewed roast and keep it tasting fresh all day in this handsome Stanley thermos. Not only is it leak-proof, but this thing holds up to 35 ounces of liquid, and can keep it hot for a whopping 32 hours.
Price:$19.82
Amazon/Danna Windsor
A powerful long-lasting flashlight
Why you need it: To flag down help or fix a flat in the dark
You should always keep a flashlight in the car, but if you're in the market for a new one this is the one to get. Maglite makes some the best and longest lasting flashlights in the industry, including this weighty beast that can illuminate up to 1,300 feet. It also boasts a multi-function switch that allows you to easily toggle between full power, low power, ECO, and strobe modes, and has a max run time of up to 117 hours.
Price:$42.78
Amazon/Danna Windsor
An electric car cooler
Why you need it: To keep your drinks and groceries cool without ice
Having a cooler filled with ice that sloshes around every time you make a turn gets old quick. Avoid the nuissance and keep your drinks, snacks, and whatever perishable goodies you might pick up along the way nice and cool in this 14-liter electric cooler, which plugs directly into your car's charging port. Inside, there's plenty of room to stash cans, bottles, and more, and it also doubles as an armrest -- complete with cupholders -- in the backseat. 
Price:$83.99
Swell/Danna Windsor
An insulated water bottle
Why you need it: To stay hydrated
If you haven't joined the Swell army yet, you're missing out on the best insulated water bottle ever made. These sleek vacuum-sealed stainless steel vessels will keep whatever liquid you put in them cold for a full 24 hours (or hot for up to 12), which is surprisingly delightful every time you go for a sip. Stash it in your cupholder and you'll have a freshly chilled beverage at the ready all trip long.
Price: $35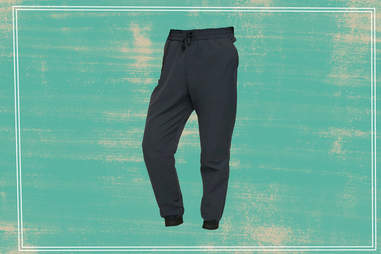 Outdoor Voices/Danna Windsor
Insanely comfortable pants
Why you need it: To keep your bottom half happy
If you're going to spend a full day on your butt behind the wheel, you owe it to yourself (and your backside) to do so in ultimate comfort. These ultra-soft joggers from OutdoorVoices are made from nylon and elastane and built for traveling. One reviewer describes wearing them as feeling "like [he's] riding an angelic stallion sent from the clouds to take [him] away," which suggests you may never want to take them off. Plus, unlike typical sweats or oversized joggers, these are cut to be a bit more stylish, so you won't risk looking like a schlub.
Price:$85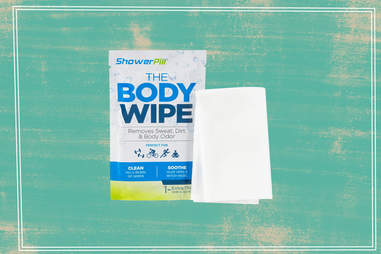 Amazon/Danna Windsor
Wet wipes for your whole body
Why you need it: To remain feeling (and smelling) fresh
People sweat, and depending how long you're on the road and the pit stops you hit, you may not be feeling (or smelling) as fresh as you'd like, especially in such close quarters. Luckily you can quickly and easily address the issue with these deodorizing body wipes, which make it convenient to clean yourself up when you know you won't get a shower for a while.
Price:$9.49 per 8-pack
Amazon/Danna Windsor
An emergency/first aid kit
Why you need it: Just in case things go sideways
God forbid you end up stranded on the road with a flat tire or worse, but if things do go south for any reason you should be prepared with a pack of basic emergency and first aid supplies. This 125-piece roadside assistance kit includes everything you might need, from jumper cables, tow ropes, and reflective road signs to bandages, gauze, and antiseptic pads, all of which pack neatly into a low-profile zip-up bag.
Price:$54.97
Amazon/Danna Windsor
Back-up snacks
Why you need it: Snacks are life
Second only to gasoline, snacks are the most critical component of a successful road trip. To keep your crew happy for the long-haul, quantity and variety are imperative, but true road trip warriors know you should also keep a back-up stash. Our pick is this boxed up sampler pack -- which you can easily store in the trunk -- and comes stocked with 20 single-serve sweet and savory "healthy" items including chips, cookies, protein bars, fruit snacks, nuts, muffins, jerkies and more.
Price:$42.47 for a sampler pack
Amazon
A subtle air freshener
Why you need it: To combat the scent of sweaty friends
There are few things more nauseating than the overpowering, cloying car air fresheners, but a long car ride with more than a few folks may require something to fight the, uh, musk. Enter the Moso Natural bag, which employs activated charcoal odor eliminators to neutralize bad smells without masking them with a fragrance. Just place it someplace in your vehicle and let it work its magic. It's also designed to keep working for up to two years, so you might as well keep in there all the time.
Price:$9.85