The Best Rolling Luggage for Every Kind of Traveler (and Budget)
We independently source all of the awesome products and experiences that we feature on Thrillist. If you buy or book from the links on our site, we may receive an affiliate commission — which in turn supports our work.
If you've ever been on a trip with someone who's a nightmare to travel with, you're keenly aware how important it is to pick your travel companions wisely. And while that's especially true when it comes to people, the same sentiment should be applied to the one travel buddy you never leave home without: your luggage.
You may be privy to a simple backpack or humble duffel if you're just going for an overnight, but there's a certain comfort that comes with toting a roller bag, packed with enough space to fit your entire wardrobe, and a set of wheels to smoothly glide through crowded airports and busy streets.
Of course, there are a staggering number of bag types to pick from. Hard shell or soft? Expandable or static? 360-directional wheels or straight-on? They're also all over the place in terms of price. So, to help you navigate the endless options and buy something that'll perfectly suit you for years to come, we've pulled together a list of roller bags (mostly carry-on sized) for every type of traveler and budget.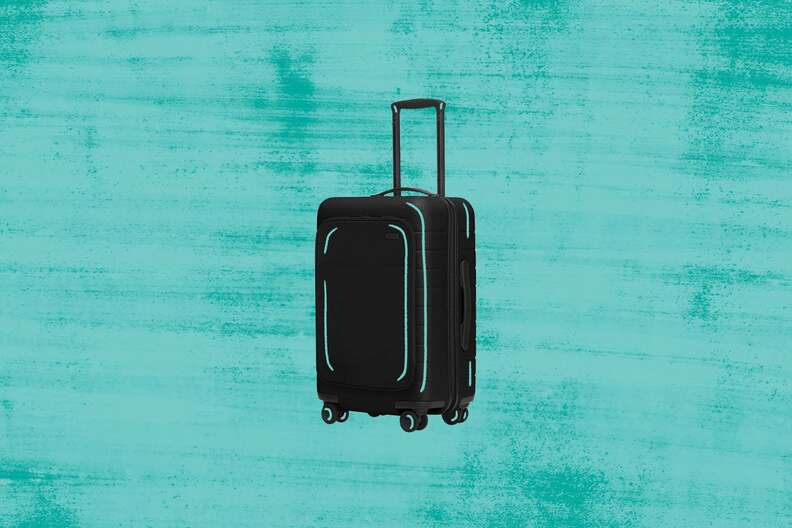 For the person whose phone is always dying
The Carry-On by Away
Price: $275
You packed your bags, you remembered to bring everything, you made it to the airport on time. You crushed it. But just when you think you have it in the bag, you realize your phone's running on empty. Yep, you did it again.
Away's classic Carry-On is one of its best-sellers for a number of reasons, one being the fact that it's equipped with a built-in TSA-approved battery powerful to recharge your phone up to four times on a single charge. Some other standout features include its durable polycarbonate shell and a TSA-approved combination lock to protect your belongings. Inside, there's also a compression system to get the most out of every cubic inch of space, and it rolls on 360-degree spinner wheels to make racing through the airport to catch a flight quick and easy. Plus, it even comes with a limited lifetime warranty.
For the chronic over-packer
Travelpro Platinum Elite Luggage
Price: $203
Some of us can't wrap our heads around the idea of "traveling lightly," and that's not necessarily a bad thing, as long as you have the right gear to accommodate your pack-rat tendencies.
Travelpro's Platinum Elite Luggage unzips to offer two inches of additional expansion so you'll have all space you need to pack way too many pairs of pants but, for some reason, never enough socks. In addition to all the extra space, the Platinum Elite features magnatrac spinner wheels for effortless movement, a Duraguard-coated fabric and nylon outer shell, and a four-stop adjustable handle. Other standout features include a fold-out "suiter" to stash clothes that need to arrive wrinkle-free, a toiletry bag, and a dedicated power bank pocket with USB cord (the power bank doesn't come included, though).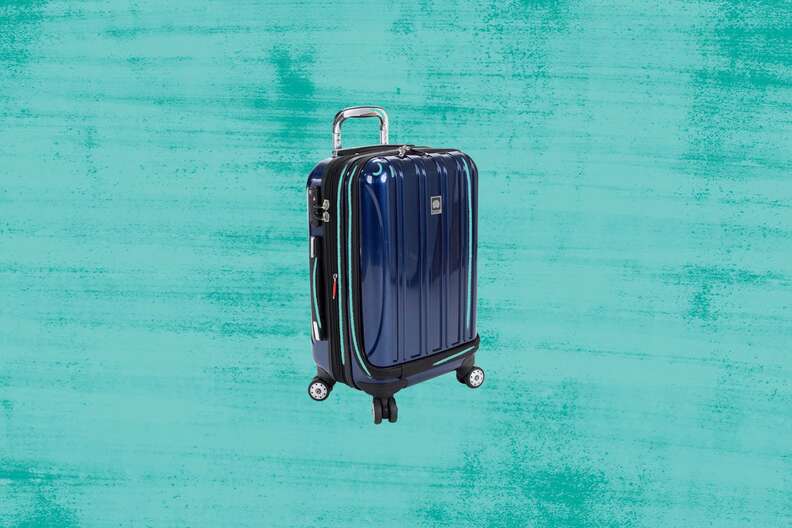 For the frequent bag-checker
DELSEY Paris Helium Aero Hardside Luggage with Spinner Wheels
Price: $115
It happens to all of us. Even though we pack a carry-on, we're one of the unlucky few forced to check a bag. We wait at the baggage claim for what seems like a decade, and when our bag finally arrives, it looks like it's been to hell and back.
Having a durable hardshell roller is a wise move, especially if you frequently end up checking your bag, and the Delsey Paris Helium Aero is an excellent choice (and doubly so if you're not ready to drop a ton of money). The bag features a tough polycarbonate outer shell, double spinner wheels, a two-position handle, and two fully-lined packing compartments with multiple pockets. It's also equipped with an easy-access hard-covered front compartment big enough to fit a 15.6-inch laptop and accessories.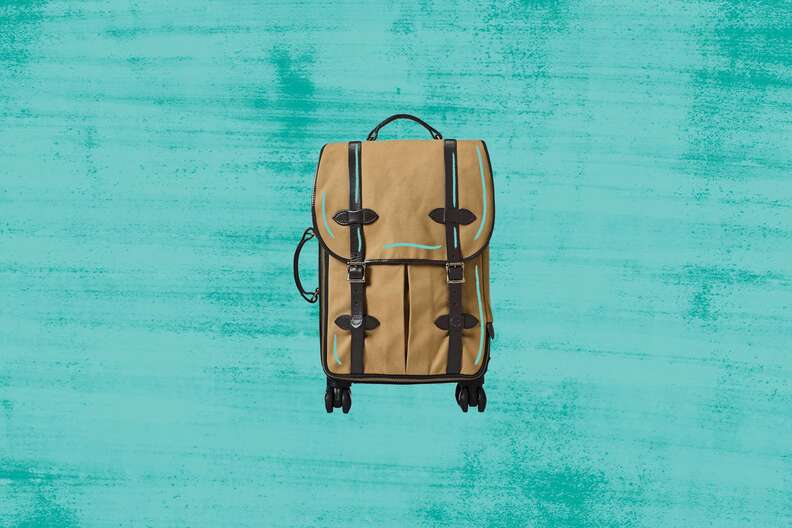 For the constant adventurer
Filson Rugged Twill Rolling 4-Wheel Carry-On Bag
Price: $650
For travelers who live for off-the-beaten-path moments (looking at you, backpackers), a rugged setup from a time-tested brand is the move. That's where this Filson Twill rolling carry-on comes in. It's tough, sure, but it's also freaking gorgeous.
To be clear, though, this thing is definitely built to take a beating. The shell is made from abrasion- and water-resistant twill, and sports top-notch Bridle Leather straps and handles. The entire bag is also lined with durable cotton and boasts four spinner wheels, along with a retractable handle that extends up to 22 inches. And while its sticker price may come as abit of a shock, it's built to last, and has earned raves from folks who've purchased it, with one noting that she's certain it will last her a lifetime, while another's only regret is that he didn't buy his years earlier.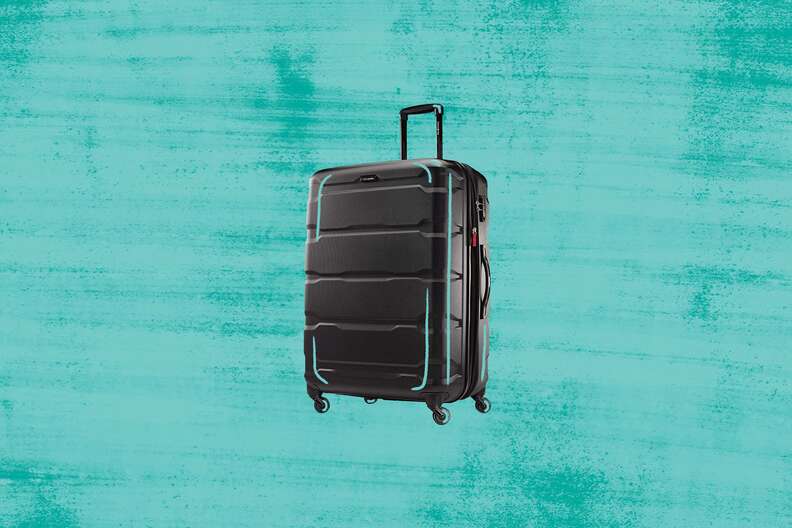 For the international gallivanter
Samsonite Omni Expandable Hardside Luggage with Spinner Wheels
Price: $93
If you're traveling internationally on the regular, you probably already know quite well that many overseas airlines require smaller-sized carry-ons than those in the US. Yes, it's annoying, but it doesn't make it any less true.
Samsonite's been making top-quality luggage for over 100 years, and its Omni Expandable Hardside carry-on is what we'd consider the perfect carry-on option for both domestic and international travel. It's specifically designed to give you the maximum amount of possible packing space in its modest 20" X 14.5" X 9.8" size(it's small enough to fit on the majority of domestic and International airlines with ease). Beyond that, it's packed with qualities that have come to define Samsonite quality, from the scratch-resistant, micro diamond polycarbonate outer shell to its oversized spinner wheels, side-mounted TSA-approved locks and push-button locking handle. Plus, it comes with the brand's 10-year limited warranty, which is all in all a pretty solid deal for under a hundred bucks.
For the traveler who spent all their money on the plane ticket
AmazonBasics Hardside Spinner Luggage
Price: $50
It's not hard to spend hundreds on a piece of luggage, but it's definitely not necessary, especially if you're the kind of person who only hits the road a couple times a year. That's where the AmazonBasics Hardside Spinner Luggage comes in.
First and foremost, this thing is yours for under $50, and for the features it offers and the excellent reviews it's earned, that's a steal. It doesn't use polycarbonate -- an industry standard at this point -- but it does feature an ABS hard shell, which is similarly super tough and scratch resistant. It also boasts four spinner wheels, a telescoping handle, and a fully lined interior with a divider and three zipped pockets.
For people who hate zippers
The Frame Carry-On Max From Arlo Skye
Price: $475
No amount of money spent will guarantee your bag will hold up forever, which is why so many brands offer solid warranties. Still, one of the most common problems that befall rolling luggage are busted zippers. They're notoriously the weakest part of any bag, and it's sort of expected they're going to call it quits at some point.
Arlo Skye offers something better. The Frame Carry-On Max uses a multi-clasp system (secured with TSA-approved locks) to keep your belongings tightly enclosed while removing one of the weakest links from the chain completely. It also features a polycarbonate shell with an aluminum frame and bumper corners, making it one of the most durable pieces of luggage on the market.
Beyond that, it's decked out with ultra-quiet 50mm Silent Run Lisof spinner wheels, a 10,500mAh rechargeable battery, and while $475 is admittedly a lot of money to drop on a bag, this may be our favorite pick on the list.
Want to know more about our favorite products and services, and get great deals on cool stuff? Sign up for the weekly Thrillist DealMail.