Presented By

The Best Rolling Luggage for Every Type of Traveler (& Budget)
Whether you're an overpacker or sometimes-backpacker—don't worry, we've got you.
Presented By

Design by Maitane Romagosa for Thrillist
Design by Maitane Romagosa for Thrillist
We independently source all of the awesome products and experiences that we feature on Thrillist. If you buy or book from the links on our site, we may receive an affiliate commission — which in turn supports our work.
If there's one rule you should always follow when planning a trip, it's to choose your travel companions wisely. This applies to any humans you might want to explore the world with, but the sentiment is also keenly relevant to the most important travel buddy of all: your luggage.
Now, there's a time and place for backpacks, duffels, and tote bags, but a good piece of rolling luggage is something everyone should own. These bags keep the weight of your belongings comfortably off your back and shoulders, make it easy to glide around the airport or sidewalk, and they are usually neatly stackable inside a car trunk, overhead compartment, or baggage hold. All told, rolling luggage can make a great gift for the traveler on your shopping list this holiday season.
But not all rolling luggage is built the same. You want the kind that's durable enough to last and feels like good bang for your buck (especially if it's expensive), but you also should be looking for a spinner bag that meets your specific needs. That's where we come in. We've pulled together a list of rolling suitcases for every type of traveler, including hard- and soft-shell luggage, expandable and static designs, and both budget options and splurges. Whether you're shopping for an outdoor adventurer or someone who frequently flies overseas, there's no need to worry about hunting down the perfect luggage—because we've already found it for you.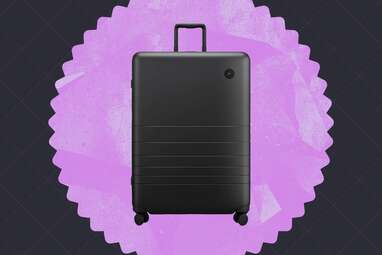 Design by Maitane Romagosa for Thrillist
This roomy check-in bag is an expanded size of the Monos award-winning carry-on. This is perfectly sized for the person who needs to pack a pair of shoes for every outfit, and wants to look put together doing it. The sleek, streamlined exterior has the finish of some of the trendiest luggage lines available now, but the Monos large check-in bag also comes with enough inches to hold up to 21 days' worth of stuff. It has a polycarbonate shell, telescopic handle, 360-degree spinning wheels, TSA-approved lock, and vegan leather detailing. It is available in eight permanent colors, plus five limited edition colors, including two pastel colors from the Monos x Magnolia Bakery collaboration.
Design by Maitane Romagosa for Thrillist
If you're not trying to pay more than $100 on a piece of luggage (let alone a few hundred bucks), there's no reason to spend outside fo your comfort level. Amazon Basics is known for its affordability, and the brand's 21-inch spinner bag is no exception on this front. This thing is yours for less than $75, and it's honestly a total steal for the price. It doesn't use polycarbonate—an industry standard at this point—but it does feature an ABS hard shell, which is similarly super tough and scratch-resistant. It also boasts four spinner wheels, a telescoping handle, and a fully lined interior with a divider and three zipped pockets. The bag comes in a few different sizes, and can also be purchased with a combination lock.
Design by Maitane Romagosa for Thrillist
Scroll on TikTok long enough, and you're likely to come across videos from Shay Mitchell, actress-turned-luggage entrepreneur. She is the creator of the Beís luggage line, which has a cult following on TikTok. The numerous color combination options, smart design, and viral marketing strategies mean that this is likely the luggage on the wishlists for the most online people in your life. Our pick is the admittedly less colorful Front Pocket Carry-On. The suitcase comes with a front zipper pocket designed to store your slim electronics. It's perfect for on-the-go video editors — the pocket offers quick access to laptops, and streamlines taking out electronics when going through TSA and customs. Other features that have made Beís luggage popular: a weight maximum indicator, TSA-approved locks, 360-degree spinning wheels, and a polycarbonate shell.
Design by Maitane Romagosa for Thrillist
Whether you tend to check your bag by choice or are often forced to check it at the gate, frequent flyers know that there are two types of checked luggage in this world: the kind that's sturdy enough to handle the journey, and the kind that emerges from the baggage claim looking like it's been to hell and back. For luggage that won't bite the dust after a few flights, a durable hardshell roller is the answer—and this Delsey Paris spinner bag is an excellent choice. The bag features a tough polycarbonate outer shell, double spinner wheels, a two-position handle, and two fully-lined packing compartments with multiple pockets. It's also equipped with a hard-covered front compartment big enough to fit a 15.6-inch laptop and accessories for easy access.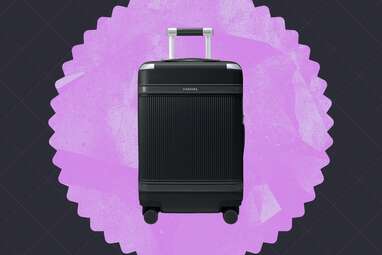 Design by Maitane Romagosa for Thrillist
Paravel offers a carbon-neutral carry-on crafted from recycled polycarbonate, recycled aluminum, and recycled vegan leather. This is the perfect gift for the person who prefers to take a train over flying, and who is always looking for more sustainable ways to travel. Paravel is the first in the industry to offset all carbon emissions generated by creating and shipping its luggage. This suitcase comes in five color options, has 360-degree spinning wheels, carbon steel bearings, an interior compression board, and a scuff-hiding textured finish. The Carry-On Plus fits in most overhead compartments but if you're worried about size, the Aviator also comes in a standard carry-on size.
Design by Maitane Romagosa for Thrillist
You packed your bags, you remembered to bring everything, you made it to the airport on time. You crushed it. But just when you start to relax, you realize your phone's running on empty. After all, you've been navigating with Google Maps, searching for restaurant reviews, and posting vacation pics to social—your phone has been working as hard as you have, and baby, it's tired. Away's classic Carry-On is popular for a number of reasons, including the fact that you can buy it with a built-in TSA-approved battery for your phone. The battery can be ejected from the suitcase so you can also use it when you're not near your luggage, has enough juice to charge your phone four times before it needs to be plugged in, and even has two USB ports for multiple devices. Battery aside, the Carry-On is also just a great piece of luggage. It has a durable polycarbonate shell with a compression system inside, plus some extras that don't usually come with a suitcase (like a TSA-approved combination lock, hidden laundry bag, and leather luggage tag). The 360-degree spinner wheels are vital when you're racing through the airport, and a limited lifetime warranty ensures you'll never have to go without this miracle bag.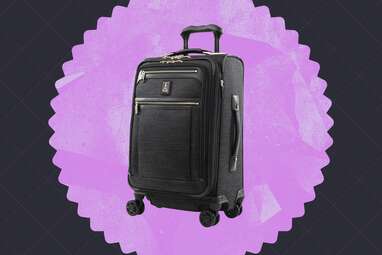 Design by Maitane Romagosa for Thrillist
If packing lightly just isn't for you, it's still possible to use a carry-on bag. The trick here is to look for a suitcase that expands, so you can shove in that extra sweater you've decided to add at the last minute, or make room for souvenirs. Enter Travelpro's Platinum Elite carry-on, which unzips to offer 2 inches of additional space. The bag's Duraguard-coated fabric and nylon outer shell have a little more give than a hardside bag, so it's easier to make extra items fit, and an internal tie-down system helps you compress it all down. The suitcase also has a number of useful extras to help you pack smarter, including a fold-out "suiter" to keep hanging clothes from wrinkling, a removable TSA-compliant bag for your liquids or toiletries, and a dedicated pocket for a powerbank with a USB cord (you'll have to supply your own battery, though).
Design by Maitane Romagosa for Thrillist
If you're traveling internationally on the regular, you probably already know quite well that many overseas airlines require smaller-sized carry-ons than those in the US. Yes, it's annoying, but it also happens to be true. Samsonite's Omni hardside carry-on is basically the perfect carry-on option for both domestic and international travel. It's specifically designed to give you the maximum amount of possible packing space in its modest 20- by 14.5- by 9.5-inch interior, but it's still small enough to meet requirements for the majority of domestic and international airlines. And beyond that, it's packed with qualities that have come to define Samsonite quality, from the scratch-resistant polycarbonate outer shell to its oversized spinner wheels, side-mounted TSA-approved locks, and push-button locking handle. Plus, it comes with the brand's 10-year limited warranty, which is all in all a pretty solid deal for less than two hundred bucks.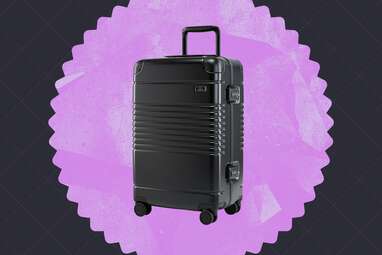 Design by Maitane Romagosa for Thrillist
No suitcase will last forever, and often the zipper will wear out before the rest of the bag. One way to sidestep this issue is to steer clear of zippers altogether. Arlo Skye's Frame carry-on bag is a rare option that uses a multi-clasp system (secured with TSA-approved locks) rather than a zip closure, so you can stop worrying about a broken zipper. Beyond this key feature, the suitcase also has a polycarbonate shell with an aluminum frame and bumper corners, making it one of the most durable pieces of luggage on the market. And if you're still wondering why the price tag is so steep, know that you also get ultra-quiet Silent Run Lisof spinner wheels and a rechargeable battery.
Opheli Garcia Lawler is a Staff Writer on the News team at Thrillist. She holds a bachelor's and master's degree in Journalism from NYU's Arthur L. Carter Journalism Institute. She's worked in digital media for seven years, and before working at Thrillist, she wrote for Mic, The Cut, The Fader, Vice, and other publications. Follow her on Twitter @opheligarcia and Instagram @opheligarcia.