Great Gifts for the Self-Care Splurgers in Your Life
We've cut through the noise to assemble some of the most exciting, covetable products in the wellness realm right now.
Design by Maitane Romagosa for Thrillist
Design by Maitane Romagosa for Thrillist
We independently source all of the awesome products and experiences that we feature on Thrillist. If you buy or book from the links on our site, we may receive an affiliate commission — which in turn supports our work.
For people who put physical and mental wellbeing first, self-care has become a professional sport. There are new trends and scientific developments to check out every day; potentially new, more holistic remedies around every corner. However, even when exploring the expanses of wellness-oriented products with eagle eyes for the most interesting, high quality, and thoughtful tools, some innovations are bound to slip through the cracks.
There's just so much out there, and there's only time for so many baths and mask seshes. We've cut through the noise to assemble some of the most exciting, covetable products in the wellness realm right now. These are the splurges that sit on wishlists for a special day—the indulgent home spa elements that make any moment more luxurious.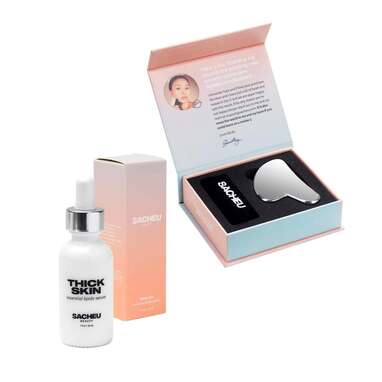 Sacheu
Why it's a great gift: While jade face rollers are a pleasant way to soothe skin and improve circulation, if you want real lymphatic drainage and sculpting, gua sha is the way to go. This style of facial massage uses a smooth, flat stone to gently scrape against the muscle groupings and contours of the face, stimulating circulation and collagen production. Traditional gua sha were made out of jade or quartz, which are porous and can harbor bacteria over time. This gua sha tool from Sacheu is 100% stainless steel, allowing for a clean, sanitary product that retains that earthy cool feeling of jade, and pairing it with the slippery, soothing Thick Skin oil is ideal for proper gua sha technique. Founder Sarah Cheung has plenty of tutorials and video guides to help you glide with confidence.
Monc13
Why it's a great gift: There is no candle splurge like a Trudon candle. The burnable experiences made by this centuries-old French parfumier are known as the "Rolls Royce of candles," packaged in Tuscan glass and hand-crafted by masters in Normandy, France. They are professionals at creating incredible perfumes, and this Cyrnos edition is inspired by Mediterranean shores, with top notes of lemon and myrtle, a heart of cedarwood, black fig, lavender, and pine, and base notes of cashmere, wood, and musk. "Artistic Mediterranean Coastline" is the ultimate glamorous bath vibe.
Parachute
Why it's a great gift: A properly sized bathrobe is an underrated wellness staple. Home bedding brand Parachute features four sizes of their robes, as well as a range of materials and textures. You can't go wrong with the Cloud Cotton, though—it's super soft on skin but light and absorbent, with 2-ply gauze and 100% long-staple Turkish cotton, and a generous range of neutrals and pops of color to choose from.
Whisper Bidets
Why it's a great gift: Secretly, we all want a bidet. We're just afraid to admit it. Embrace that comfort! There's no shame in appreciating a next-level clean. Whisper's bidet is extremely easy to install yourself in your home or apartment in a matter of minutes, and the subtle design instantly looks like a natural part of plumbing. No setting levels or buttons, just a simple dial to turn the water on and off, and a self-cleaning setting to keep things on the up-and-up. Buyer beware, though: once you own one of these increasingly popular wellness accessories, your friends will be eager to come over and try out.
Lyric
Why it's a great gift: A spa day is nice, but being able to get a back massage at your discretion is the definition of luxury. This higher-frequency form of massage therapy can help relax tight muscles and break up scar tissue and adhesions from the comfort of your own home.The Lyric is on our list this year because the sleek, stylish massage gun packs a powerful, controlled punch in a lightweight package, and then some. The cordless, bar-shaped device charges via dock, and it comes with an extending handle that allows you to easily hit hard-to-reach spots around your back and hips. It's also available in a range of stylish colors, and features a wifi-enabled panel for customizing the frequencies and settings.
Chillhouse
Why it's a great gift: Chillhouse—the brand behind the popular press-on nail art in modern designs—also makes these amazing, refrigerable Chill Globes perfect for completing the ultimate facial massage routine. Chilled surfaces do wonders for the skin, bringing down inflammation, acne, and improving circulation. There's a reason most facial procedures finish with a cold pack resting on the face. These adorable globes are ergonomically-suited for hands and faces of any shape, making it easy to soothe delicate areas like puffy under eyes and the lip contour. For best results, use with Sacheu's Thick Skin serum or any gentle CBD face oil.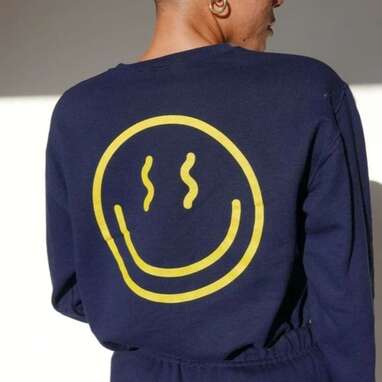 Chillhouse
Why it's a great gift: Let's be real—that Zoom uniform is at least two years old now. Refresh your homewear with this undeniably happy, comfy set also found at Chillhouse. The lightweight fleece crewneck and drawstring sweatpants come in four sizes, and the pill-resistant material will keep this set fresh enough for the streets when the bodega calls. People can't help but smile seeing the sweet, relaxed smiley icon, so you'll be spreading chill wherever you go.
Aesop
Why it's a great gift: Sometimes self-care means indulging the loved ones that help keep us sane. Do a little something for yourself and your pup with this refreshing pair from Aesop, featuring the Geranium Leaf body cleanser for humans and a gentle pet wash for them. The pet wash is scented with a little lemon rind, tea tree and spearmint, deodorizing fur with a mild enough formula to calm sensitive skin underneath.
Lauren Yoshiko is a Portland-based writer and co-host of
Broccoli Magazine
's podcast,
Broccoli Talk
. She was among the first journalists to cover the commerce and culture of cannabis starting in 2014 and her work has since appeared in
Willamette Week
,
Forbes
,
Rolling Stone
, and
Broccoli Magazine
, among others. Follow her on Instagram at @laurenyoshiko for Portland breakfast sandwich recs, stoned nail art, and moderate cat content.