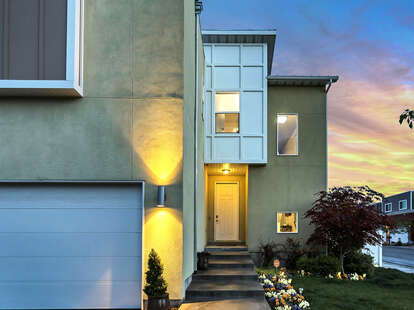 We independently source all of the awesome products and experiences that we feature on Thrillist. If you buy or book from the links on our site, we may receive an affiliate commission — which in turn supports our work.
There's nothing worse than going on a trip and feeling like your home is vulnerable. Did you leave the stove on? A door unlocked? A window open? Thankfully, there are so many smart tech gadgets these days that help secure your home and let you keep tabs on it from anywhere.
From smart cameras, to Wi-Fi-enabled door and window sensors, to leak and smoke detectors that alert you if something is amiss, these products will give you peace of mind when you leave your home—no matter how much time you're gone.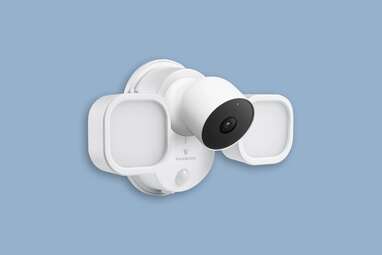 Wasserstein
Installing a security camera outside is a no-brainer to see who might be prowling around your home, day or night, and we love this mount from Wasserstein that includes floodlights for even more visibility. Google's Nest Cam is battery-powered and weather resistant, with 24/7 live view and three hours of free event video history. If it catches something, you'll get an instant alert via the Google Home app, and you can customize your alerts to only ping you about specific things.
The camera fits into the certified Made for Google floodlight mount, which provides 2,400 lumens of wide-angle LED lighting that's motion activated, thanks to a built-in light intensity sensor and motion sensor that turns on when motion is detected from up to 33 feet away.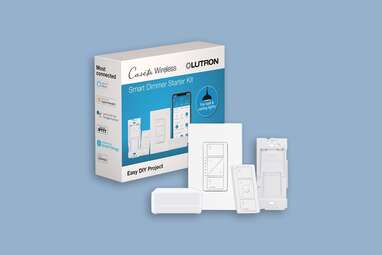 Amazon
This smart lighting set has a Smart Away feature that turns your lights on and off at random times, giving the illusion that someone is at home. The set includes a Lutron Caséta Smart Hub, a Caséta dimmer switch, a Pico 3-button dimming remote, and a Pico wall plate bracket. You can connect to any smart home device, or use the Lutron app to turn on and off or dim your lights from anywhere. Best of all, it doesn't use Wi-Fi, so no need to worry about it overwhelming your system or not working if there's an outage.
Amazon
Have you ever returned home from a trip to discover your house flooded from an undetected leak? Needless to say, it's the ultimate post-vacation buzzkill. But if you install these smart leak detectors, you'll have one less thing to worry about. If the unit detects water, it will sound an alarm and also alert you via the app. Small and slim, you can stick one behind your washing machine, refrigerator, water heater, and other high-risk areas for ultimate protection against leaks.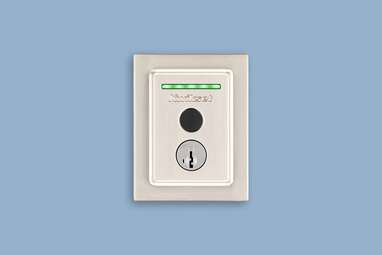 Amazon
A smart lock with keyless entry is an easy way to protect your home, and it's great for people who are anxious about whether they remembered to lock their door or need to let someone in while they're away. It works by fingerprint (and can store up to 50 users), so no one who hasn't been registered can get in. You can remotely lock and unlock your electronic deadbolt from anywhere, manage users, set schedules, check the status of your front door, and get notifications of activity, all via the Wi-Fi-enabled app.
Amazon
Place this camera inside your home to see what (if anything) is going on while you're out. It sports a 130-degree field of view and streams 1080p high-definition video straight to your phone. Add on an Arlo Secure Plan to store video clips in the cloud for you to review later, and to receive notifications and be able to dial 911 from anywhere if you see something amiss. This camera also allows you to hear and speak to visitors, contractors, or even pets through the two-way audio, and you can also trigger an alarm to deter an intruder. Worried about someone spying on you while you're in the house? The Arlo indoor camera has an automated sliding privacy shutter that can be closed when you're at home.
Amazon
Basic smoke and carbon monoxide detectors are essential for any home, but this one goes the extra mile. The Split Spectrum Sensor looks for both fast burning and smoldering, and tells you where the danger is, and the CO detector tells you where the carbon monoxide is located if any is detected. It also speaks in a friendly voice to give you an early warning when there's trace smoke or CO in your home. Plus, you'll get alerts on your phone if you're away from the house. Our favorite feature, though, is that every night when you turn off the lights, the Nest Protect tells you that everything is working—no more chirps for a low battery.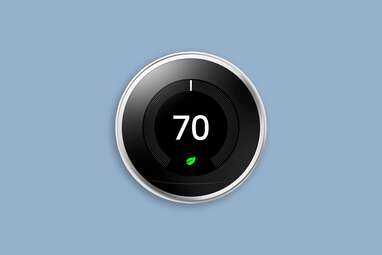 Amazon
Save on energy bills with the third-generation Nest, which can be used to monitor and maintain your home even when you're not there. You can set the temperature in your home and monitor your energy usage via the Nest or Google Home app, plus when you leave the house the Home/Away Assist automatically adjusts itself to an Eco Temperature so you're not heating or cooling an empty home. We also love that you're able to turn the A/C or heat on before returning from a trip, ensuring your home is at the ideal temperature as soon as you walk through the door.
Amazon
This device is one of the most budget-friendly ways to make it appear as though someone is in your home, even when it's empty. Simply plug it into any outlet, and then plug in a lamp or other electronic device. Set the smart plug to Vacation Mode and it will cycle on and off randomly, making it seem like the house is occupied. You can also create any schedule you want and control it from the app on your phone. It also works with Alexa and Google Assistant to allow for voice activation when you're in the house.
Amazon
Another alarm system that's easy on your wallet, these Wi-Fi-enabled door and window sensors send alerts to your phone if an entry point is opened or closed. It has a long battery life and doesn't require a costly monthly subscription like many other devices.
Amazon
Installing a video doorbell allows you to see and record anyone who comes to your door. Arlo's wired camera is easy to install and has HD video with a 180-degree view, a built-in siren, clear two-way audio, and motion detection zones. With the Arlo Secure Plan, you get advanced functionality like custom person, animal, vehicle, and package alerts on your phone, and you can add on a cloud storage subscription from just $3 a month.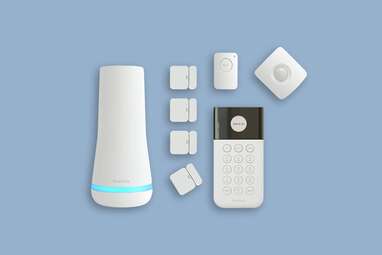 Amazon
Looking for a complete alarm package? The SimpliSafe Home Security System should be at the top of your list. Easy to install and configure, it comes with a keypad that requires no plug and will alert the police if breached; an Alexa and Google Assistant-compatible base station with a 95-decibel siren that also sends alarm signals to the monitoring center via a built-in cellular connection; four entry sensors that protect doors and windows; and two motion sensors designed for human detection (not pets) that can cover an entire room. Monitor things yourself, or add on a 24/7 professional monitoring option without a long-term contract. Best of all, the app lets you arm or disarm from anywhere.