These 7 'Smart' Kitchen Gadgets Will Instantly Make Your Life Easier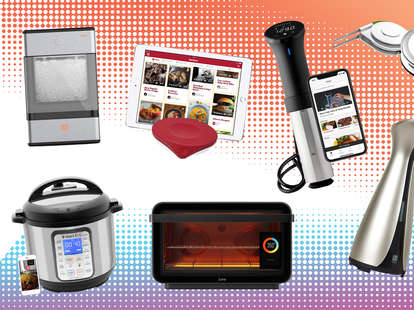 We independently source all of the awesome products and experiences that we feature on Thrillist. If you buy or book from the links on our site, we may receive an affiliate commission — which in turn supports our work.
It's easy to be intimidated by the surge of smart home products being pitched today. Do you really need a speaker to tell you the weather when you ask it? Jury's still out. However, there are plenty of "intelligent" pieces of tech that'll give you a leg up in the one place where you can probably use all the help you can get: the kitchen.
From Wifi-enabled sous vide setups and ice makers to motion-activated soap dispensers and whip-smart thermometers, these are some of our favorite smart kitchen devices and appliances that will actually help streamline your meal prep and dinner party-ing.
The Instant Pot Smart Wifi-equipped pressure cooker
Why it's great: You can cook entire hearty meals start-to-finish in under 20 minutes
Price: $140
If you've somehow eluded the Instant Pot craze of the last couple years, you're missing out. The programmable pressure cooker, which has been one of the hottest selling Prime Day and Cyber Monday products in recent memory, has become a beloved countertop appliances by kitchen whizzes and novice home cooks alike thanks to its ability to turn out next-level meals in a matter of minutes.
Old-school pressure cookers are notoriously finicky (and borderline dangerous), but the Instant Pot manages to make rapidly cooking everything from meats and stews to soups and even yogurt exceedingly simple. It's incredibly easy to use, with a touch panel decked out with one-touch settings for just about anything you'd want to make, and an arsenal of recipes. Plus it's Wifi-enabled and pairs with both Alexa and a dedicated app so you can receive alerts when things are finished, or browse from an arsenal of Instant Pot-tailored recipes.
Just a heads up: there's a slight learning curve when you first using it (we recommend watching how-to videos on YouTube to get comfortable), but if you're anything like us, you'll it'll quickly become your go-to kitchen tool.
The Anova Sous Vide precision cooker
Why it's great: Because sous vide cooking takes flavor to the next level (and this makes it easy)
Price: $160
It's easy to dismiss sous vide cooking -- the French term for vacuum-sealing food in a bag/container and heating it slowly at a precise temperature in a water bath -- as something only kitchen pros should attempt. And sure, it's a bit complicated. However, it's well worth the trouble considering how flavorful meats, veggies, eggs, and more taste when cooked in their own juices, and as long as you have the proper (smart) tool like this device from Anova, it's a breeze.
The cylindrical setup attaches to the side of any standard pot, then circulates and heats the water you've filled it with to the perfect temperature for whatever it is you're cooking in the bag (just adjust the settings via a dedicated app). You need time to sous vide properly, so don't expect to be whipping up meals in minutes, but once you get the hang of it you'll likely be using the Anova on the regular and turning out truly next-level steaks, roasts, chicken breasts, and more.
An automatic soap dispenser
Why it's great: It makes it much easier to clean up as you go
Price: $27
An extra set of hands are always helpful in the kitchen, but know what's even better? A device that doesn't even require using hands. Enter this nifty automatic soap dispenser, which is motion activated and dispenses a dollop of hand or dish soap on command. That means less mess while washing your hands mid meal-prep or after touching meat, and eliminates one tedious step while dish washing, so you can more easily clean up as you go.
A countertop ice maker
Why it's great: Because no party should ever run out of ice
Price: $493
There's nothing worse than a cocktail party, or any party for that matter, that runs out of ice. And while your freezer ice maker may be able to come to the rescue with some cubes in a pinch, your home bar (and guests) deserve the good stuff. That's where this nifty portable Bluetooth-enabled countertop ice maker steps in.
In 20 minutes, it can make enough nugget ice (you know, the good stuff) to keep the party flowing properly, and you can even set it to start producing fresh cubes from afar using your phone once you realize your stock will soon need replenishing. It's admittedly a bit pricy for what it is, but we'd argue it's worth it if you're frequently entertaining. Or, since it's totally portable, why not go in on it with a couple pals and pass it around as needed?
A dual Bluetooth-enabled thermometer
Why it's great: It takes the guess work out of grilling
Price: $80
No matter your level of grill mastery, it's easy to get a bit frazzled trying to figure out the perfect cook time for everything when you're cooking up full spread off different meat at the same time. That's where this Bluetooth-enabled dual thermometer comes in handy. It's capable of tracking the temperature of two different pieces of meat (or even different sections of a large turkey, for example) simultaneously via a dedicated dongle. That way you'll avoid overcooking that precious cut of beef, or worse, realize that it still needs a few more minutes over the coals after you've cut into it.
The June Oven
Why it's great: It's seven appliances in one, and you can check on your food from afar
Price: $499 and up
The notion that you need an oven that you can control with your phone may seem absurd, but you'll understand why it's so freaking useful once you start cooking with it. The June is especially useful if you have a small kitchen (it's roughly the size of a toaster oven), as it's actually seven different appliances in one: convection oven, air fryer, dehydrator, slow cooker, broiler, toaster, and warming drawer. What's more, it's equipped with an interior camera that can not only automatically identify what you're placing in it and suggest how to cook it, but also serves as a monitor of sorts for keeping tabs on progress from a different room. Plus, it also pairs with a dedicated app that comes packed with custom recipes, and even lets you turn it on remotely (e.g., if you want to start pre-heating before you get home).
The Drop Scale
Why it's great: It makes baking (and adjusting portion sizes) crazy simple
Price: $80
If you regularly find yourself trying to adjust the portion size of particular recipes, this smart scale is for you. The device syncs with your phone or tablet, and walks your through measuring (weighing) each ingredient as you add it whatever bowl you're using, and will even suggest substitutions if you don't have everything that a recipe calls for. Plus, for those times when you want to reduce or increase the serving size by an odd margin, it'll automatically do the proper math and instruct you accordingly.
Want to know more about our favorite products and services, and get great deals on cool stuff? Sign up for the weekly Thrillist DealMail.