Design by Maitane Romagosa for Thrillist
Design by Maitane Romagosa for Thrillist
We independently source all of the awesome products and experiences that we feature on Thrillist. If you buy or book from the links on our site, we may receive an affiliate commission — which in turn supports our work.
Summer is here, and with it comes the rays of the hot sun beating down on the earth. Why not make use of that energy by converting it into solar power, especially when you're already outside?
Camping requires a ton of gear, so it makes sense to harness solar energy to power everything from an oven to your phone to a flashlight. Avoiding batteries will cut down on weight and provide a more reliable source of power—and, of course, you'll be doing the environment a favor as well. Here are our picks for the best solar-powered camping gear, so you'll be ready to hit the trails, campsite, or wherever else you might be headed like a pro.
Unsplash/Amazon
Instead of rubbing two sticks together to cook your campsite breakfast and (pre-sunset) dinner, this lightweight and foldable solar oven harnesses the heat of the sun all day long to cook your food. The adjustability of the cooker and "sunsight" (a sun dial-like mechanism that helps you perfectly align the device) allows you to capture the sun any time of day—something other solar ovens have trouble with. Constructed of weatherproof and food-grade virgin polypropylene flute board, the oven won't tear or become waterlogged, and this new, larger version has enough oven floor space to hold a large roasting pan (just in case). Bring on the bacon!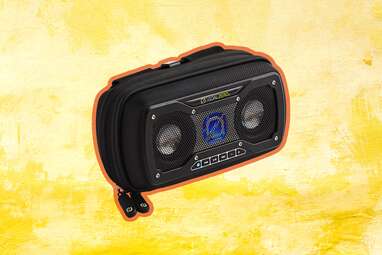 Unsplash/Amazon
Being able to listen to tunes while you set up camp, hang by the fire, and eat breakfast the next morning is, in our opinion, a camping necessity. This rugged set of solar rechargeable speakers is Bluetooth enabled and weatherproof, has superior sound quality, and uses solar power via an integrated panel to recharge, giving you 10 hours of listening per charge, no plug-in required.
Unsplash/GoSun
A cooler that doesn't need ice? It exists. This awesome cooler runs off a rechargeable power bank from solar masters GoSun. It can keep your food chilled for up to 14 hours in 80-degree temps, and the power bank can also be used to charge devices like phones and laptops. You can charge the power bank by plugging it in or connecting it to a solar panel or table (not included). No more heavy ice and spoiled food!
Unsplash/SolarBag
If you're heading deep into the wilderness, an easy method to purify water is always a good idea. The 3-liter SolarBag claims to reduce contaminants more than other purifiers via photocatalysis—all you need to do is leave the filled bag in the sun (the number of hours depends on location and type of water).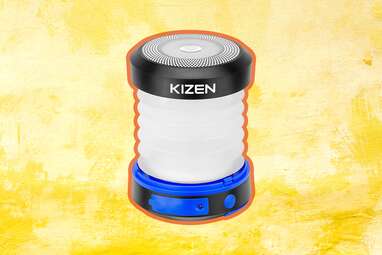 Unsplash/Amazon
This ingenious device combines a solar-powered lantern and phone charger, all in a collapsible puck-sized container. Waterproof and lightweight, the device can be charged via USB or the sun, providing 10 hours of LED light that works in three-brightness levels. As an added bonus, you can use it to charge your phone or other electronic devices.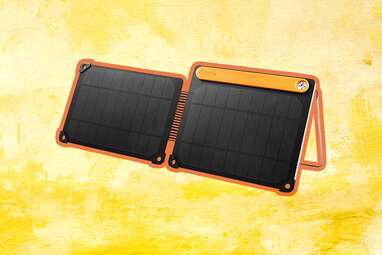 Unsplash/Moosejaw
This easy-to-use solar panel drinks in the sun via a high-efficiency monocrystalline panel and produces 10 watts of energy. A kickstand helps with easy positioning, and the integrated optimal sun system allows for the best alignment to capture direct sun rays for maximum charge. It has a USB port so you can charge your phone, tablet, laptop, or other electronic devices, or you can charge the actual battery at home before you even leave home. And if the 10+ isn't big enough, BioLite is soon launching the Solar Panel 100, which will produce up to 100 watts of power.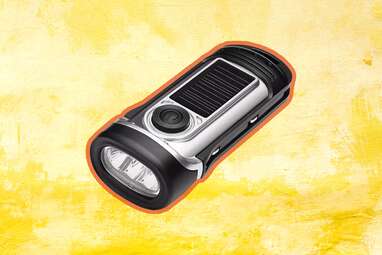 Unsplash/Amazon
A good flashlight is a must while camping, and it's best not to rely on batteries, which could die and often add weight to flashlights. This slim flashlight weighs less than a pound and operates via solar power or a hand crank if there's no sun to juice it up. It's also waterproof and has three brightness levels.
Unsplash/REI
Sometimes you just need a hot shower—even if you're technically roughing it for a few nights. This nifty device makes it possible anywhere there's sunlight, thanks to a blank tank that heats water in the sun. There's also a foot pump to add water pressure and a 7-foot-long neoprene hose to allow for overhead spraying. It packs up small and weighs just over a pound so it's easy to tote around on your next outdoor adventure, allowing you to relax and clean up even on the go.
Unsplash/Amazon
A headlamp can be extremely useful if you're pitching a tent, cooking, playing cards, or doing other things in the dark and need to use your hands. This one can recharge via an integrated solar panel or a USB plug, and it provides 25 hours of light from a single charge. It is also water resistant, and it rotates vertically 120 degrees so you can point the light exactly where you need it.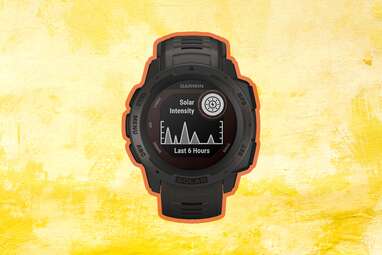 Unsplash/Amazon
This durable and water-resistant smartwatch is perfect for any outdoor enthusiast. It tracks heart rate, stress, estimated sleep, and pulse oximeter for activities like running, biking, swimming, and strength training, and you can connect it to your smartphone to receive text messages. It also has a built-in compass and barometric altimeter, plus multiple global navigation satellite systems (GPS, GLONASS, and Galileo) to ensure you really can't get lost. And of course, like everything on this list, it's rechargeable via an integrated solar panel. Time to get outside!
Devorah Lev-Tov is a Thrillist contributor.