The 14 Most Comfortable (and Surprisingly Stylish) Travel Sweatpants
You're young. You're adventurous. You're filled with zest, ready to explore locales you can't even pronounce...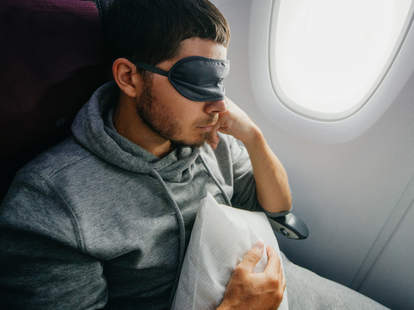 We independently source all of the awesome products and experiences that we feature on Thrillist. If you buy or book from the links on our site, we may receive an affiliate commission — which in turn supports our work.
You're young. You're adventurous. You're ready to explore locales you can't even pronounce. The one caveat, of course, is you hate the actual act of traveling. And sure, there's nothing comfy or glamorous about strapping into a tiny seat and cramping up in coach, but that doesn't mean you can't at least suit up in something that'll take the edge off.
To help make your globe-trotting a bit more pleasant, we've pulled together a bunch of jetset-ready men's and women's sweats for every vibe and price point that run the gamut from track pants to I-Can't-Believe-They're-Not-Workpants. Stay cozy out there.
H&M
H&M Cotton Blend Joggers
Price: $14.99
In our sweatpant study, we noticed one major trend: Joggers. Are. Everywhere. So, of course, we're obligated to flag the cheapest (and most well rated joggers) on the scene. These options from H&M come in over 12 colors. They're affordable, simple, and guaranteed to deliver a hearty dose of comfort.
Asos
Asos Collusion Nylon Snap-On Joggers
Price: $24
In these trendy snap-on track pants you can literally pop-off any time you'd like. With buttons that run from waist to ankle, you could quite easily jump off the plane, rip off your pants, and dive straight into the pool (let's hope you wear at least a Speedo under there).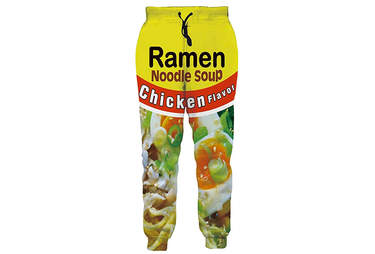 Amazon
Skyrainbow Ramen Noodle Joggers
Price: $25.99
Vegetarians, step aside. Let us present you with these wonderfully loud Chicken Flavored Ramen Noodle Joggers. Yes, they may get you a few funny looks in the security line, but the truth is these are a real Amazon gem. If you run into haters, just tell them you're a big Warhol fan.
Urban Outfitters
Urban Outfitters Oscar Track Pants
Price: $29
While these may remind you more of an old rug in your grandparents' house than a pair of sweats, what matters is they're insanely popular. They're also equipped with zip pockets, which is good news for anyone prone to accidentally leaving wallets and phones on airplanes.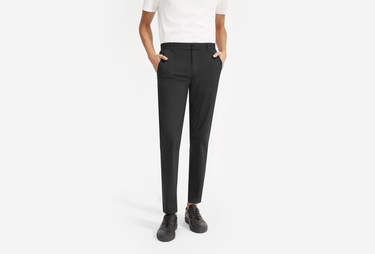 Everland
Everlane Air Chinos
Price: $58
A staple for any guy regularly sprinting from the boardroom to the airport, these 96% cotton/4% elastane chinos are glorified stretchy sweatpants. Even if you aren't a full-on businessperson, pair these bad-boys with a linen button down to give the concierge the impression you're important enough to warrant an instant room upgrade.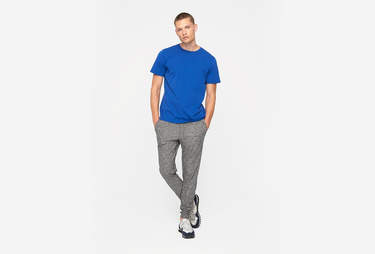 Outdoor Voices
Outdoor Voices CloudKnit Sweats
Price: $85
"The name is accurate - they feel like wearing clouds," says Elizabeth; "By far the best joggers I've ever had," comments Weston; "Dopesauce pants," remarks Eric. Convinced yet? These sweatpants, which come in a handful of textured muted colors, may be a bit on the pricy side, but can you really put a price on wearing clouds?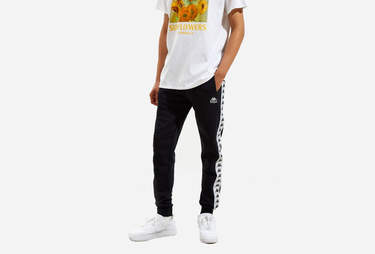 Urban Outfitters
Kappa Silver Band Alanz Sweats
Price: $90
These soft and supple slim sweats from the legendary Italian streetwear brand come in a handful of funky colors. They're also striped with the company's iconic logo of a woman and man leaning against each other along each leg.
Old Navy
Old Navy Mid-Rise Side Stripe Joggers
Price: $12.99
Have you ever thought "Ugh, if only I owned pants I could wear to the gym and work?" Well, even if you haven't, this is the solution you never knew you needed. These are both pleated and moisture wicking, and should do the trick whether you're running a marathon or scrambling to catch a train.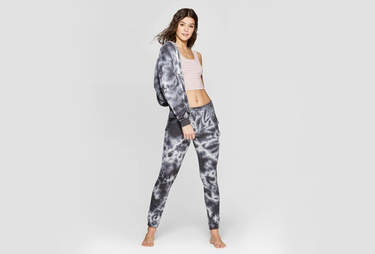 Target
Target Colsie Tie Dye Joggers
Price: $19.99
One of the coolest unexpected runway trends of this year is tie dye everything, and frankly, we're all about it. Fortunately, there's no need to pay designer prices to get in on the trend. These navy-tinged Target sweats seriously do the trick, but more importantly, they're super soft and perfect for the plane.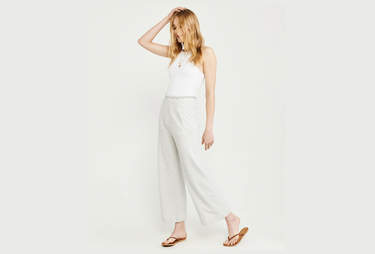 Abercrombie
Abercrombie Cinched Waist Knit Pants
Price: $23.20
Is it just us or do ruffles make everything fancier? Graduate from those bar mitzvah sweats you've hung onto since middle school and grab a pair of these. The wide-leg style gives you a stylish edge without compromising comfort. Say what you will about Abercrombie's preppy past, but the brand knows what it's doing when it comes to basics.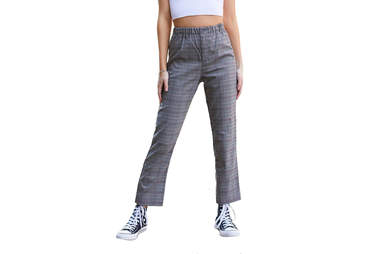 PacSun
John Galt Plaid Tilden Pants
Price: $35
Who is John Galt? That's a question you might ask about these snazzy track-pant spin-offs. Well, aside from an Atlas Shrugged character, it's Brandy Melville's private label. You don't really need to know either of those things, though, because what matters is these pants look fancy but secretly have an elastic waistband.
Urban Outfitters
Out From Under Jessie Rainbow Stripe Sweatpants
Price: $29.99
Taste the rainbow, wear the rainbow, BE the rainbow. These slouchy track pants are a solid comfort-first option whether you want to celebrate Pride every single day, or just can't settle on a favorite color.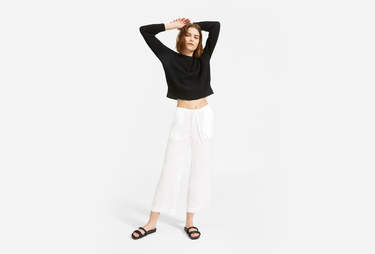 Everlane
Everlane Linen Pants
Price: $65
These classic linen pants are undoubtedly the perfect travel pant. They can take you anywhere from work to dinner to the pool to a party, and they even make a cameo as pajamas. They are... The Most Interesting Pants in the World. 
Bloomingdales
Sundry Cherries Embroidered Sweats
Price: $90
Though Sundry is a bit pricey for a casual brand, these pants are a relative steal. These pseudo leggings are form-fitting and a bit whimsical -- perfect if you want to flaunt that you've been busting your butt at Soul Cycle without being taken too seriously.