All the Tailgating Gear You Need to Upgrade Your Pre-Game This Football Season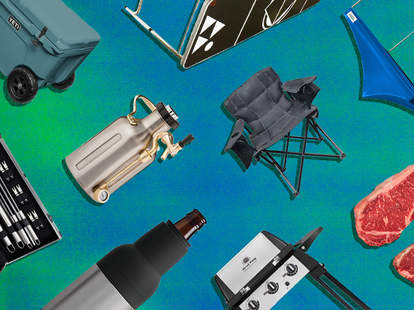 We independently source all of the awesome products and experiences that we feature on Thrillist. If you buy or book from the links on our site, we may receive an affiliate commission — which in turn supports our work.
Although you need a combination of grit, luck, and natural talent to even dream of getting to play football in front of millions of adoring fans every week, anyone can throw a successful tailgate without too much effort. That's not to diminish the importance of the booze and bbq-fueled pre-game ritual, though. It's as much a part of football season as the games themselves, and arguably the most fun part of going to one. Still, not all tailgates are created equal, and if you really want yours to dominate the competition and enter hall of fame territory, you need to stock up on the right gear.
So, to ensure you crush your pre-game celebrations like a pro this year, and elevate everything from your grilling station to your beverage and meat spread to the next level, we've rounded up all the essential top-notch gear you'll need to be the envy of any stadium parking lot.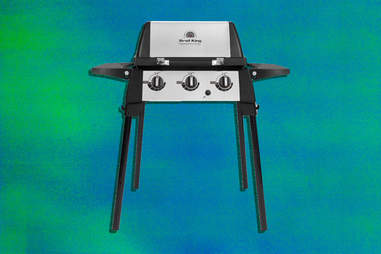 Wayfair/Frannie Jiranek
A top-notch portable gas grill
Why you need it:
To spare yourself the trouble of charcoal ash cleanup while amping up your cooking power
Charcoal grilling is fun and may add extra flavor, but when you're grilling in a parking lot, cleaning up mounds of hot ash and coals can be a bit of a nuisance. A simple hot plate isn't going to cut it, either, which is what makes this handsome propane-powered rig from Broil King your best bet. It employs three stainless steel burners to fire up whatever smorgasbord of meat you've brought with and also has detachable legs that easily snap on and off for simply stowing it away once you're done.
Price: $299
Dick's Sporting Goods/Frannie Jiranek
A big collapsible tent
Why you need it:
For copious shelter when nature's not cooperating
Football players often power through the harshest of elements on game day, so you shouldn't let a little inclement weather interrupt a proper pre-game. A snazzy and sturdy collapsible 12x12-foot tent like this one ensures you and your crew will be able to grill, drink, and chill comfortably when it's raining (or take a break in the shade when there's a bit
too
much sun). Even better, it packs away in a bag on wheels so it's pretty easy to transport.
Price: $129.99
Amazon/Frannie Jiranek
A GrowlerWerks uKeg 64-ounce carbonated growler
Why you need it:
Because no one wants to drink flat beer
Growlers are great when you want to take your favorite local craft brews to go, but a carbonated growler is what sets the beer-drinking pros apart from the amateurs. Once a growler's opened, its contents can go flat pretty quickly, but this rig will keep whatever sudsy beverage you fill it with cold, crisp, and freshly carbonated all day long (and even features a handy spout to easily pour pints). Plus if you're expecting a big crowd (or just a thirsty one), it also comes in a 128-ounce version.
Price: $149
Yeti/Frannie Jiranek
Yeti's Tundra Haul cooler
Why you need it:
To keep your snacks and booze ice cold for days on end
Considering tailgates themselves are essentially parties on wheels, it's only fitting that the cooler you bring with you has a set of wheels of its own. If you're ready to make the leap and splurge on a cooler that'll last a lifetime, Yeti makes far and above the best and most durable coolers on the market, including the easy-to-transport Tundra Haul. This thing can hold 45 cans (plus ice), and is equipped with the company's unmatched insulation power that keeps ice frozen for days. For diehard college football fans, they'll also add any officially licensed school logo to the lid for a modest fee.
Price: $399.99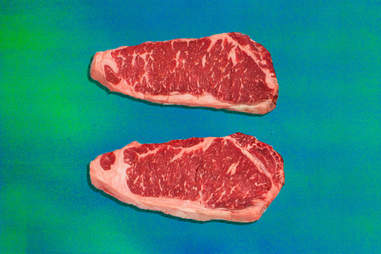 Porter Road/Frannie Jiranek
Porter Road's Grill Master Box
Why you need it:
To level-up your meat spread without stepping foot in the grocery store
Ditch the sad packaged burger patties and sub-par packs of hot dogs and instead treat yourself to a spread of upgraded meat from Porter Road, which spares you the hassle of even having to go to the grocery store. The
online butcher shop
and subscription service delivers fresh cuts to your door, and even curates special grilling packages like this one (which you can grab as a one-time purchase or sign up to receive on a recurring basis every few 1-8 weeks). Every Grill Master box comes with two dry-aged steaks (either boneless ribeyes or strips), two pounds of dry-aged burger patties, and two pounds of bratwurst -- a smorgasbord of choice protein that'll be the envy of anyone who gets a whiff. Just don't forget the condiments.
Price: $70 per pack
Walmart/Frannie Jiranek
A portable beer pong table
Why you need it:
To show off your special skills
You never get too old to play beer pong, but you do get old enough to be worthy of a beer pong table that doesn't reek of off-brand light beer. This easy-to-clean collapsible tabletop is perfect for some stepped-up casual drinking games ahead of the actual game, and doubles as a nice buffet station when not the center of attention.
Price: $81.31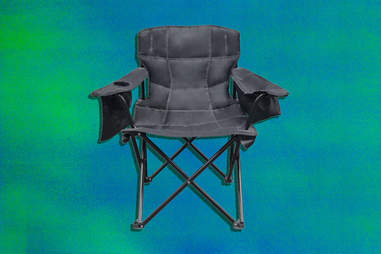 Wayfair/Frannie Jiranek
An exceptionally comfortable foldable chair
Why you need it:
To relax in the sort of soft padded luxury a folding chair can't provide
Sitting is one of the most important tailgating activities, which means you should take good care to do it well. Sure, go ahead and bring some dinky folding or plastic chairs for your pals to use, but you deserve a luxe throne of your own. This fold-up chair comes decked out in padding (on the back, the seat, and armrests), and even features a mini cooler built into one side. Also, don't worry about over-stuffing yourself with a few too many burgers and brats, since it's designed to support up to 500 pounds.
Price: $55.99
Walmart/Frannie Jiranek
A full and proper set of grilling tools
Why you need it:
Because a grab bag of orphan tongs and forks isn't going to cut it
Any grill master worth their salt rub knows a proper set of tools is essential to getting the job done right. Rather than cobble together a makeshift kit of whatever spatula or tongs you can find laying around, opt for this stylish 19-piece kit which comes stocked with everything you could possibly need: a knife, spatula, tongs, brush, skewers, and more. Even better, they all pack up neatly in an aluminum briefcase-style carrying case so you can easily grab and go.
Price: $24.99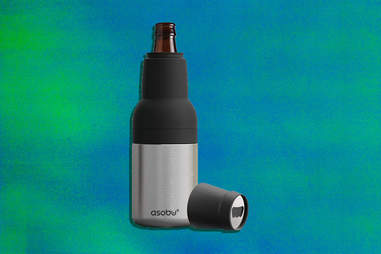 Amazon/Frannie Jiranek
A well-engineered coozie
Why you need it:
To keep your cold ones ice cold all day and all night
We are of the opinion that you can never own too many coozies, but if you're going all out why not get the best one? Let your friends slum it with your stash of foam cup and bottle sheaths and reserve this sturdy stainless steel/silicone version from Asubu for yourself. This thing is the elite sporstcar of coozies, designed to snugly hug a bottle or can (depending on what you're drinking) and features double-walled insulation capable of keeping whatever liquid's inside ice cold for hours on end.
Price: $29.99