The Best Gifts for Travelers Obsessed with Gadgets
From smart sunglasses to waterproof cameras, these nifty products will make your next trip as smooth as possible.
Design by Maitane Romagosa for Thrillist
Design by Maitane Romagosa for Thrillist
We independently source all of the awesome products and experiences that we feature on Thrillist. If you buy or book from the links on our site, we may receive an affiliate commission — which in turn supports our work.
As the pandemic finally recedes in the distance, travel lovers are back out in full force—but the travel industry is having a little trouble keeping up (cue lost luggage, canceled flights, and fluctuating gas prices, to name a few issues). In some instances, tech can come to the rescue, with helpful gadgets ranging from luggage trackers and smartwatches to a new e-reader and writer that can make any flight delay more bearable. Keep reading to find the perfect gadget for the traveler on your list this year.
Design by Maitane Romagosa for Thrillist
Apple AirTags are great for anyone who frequently misplaces things like their wallet or keys, but they also recently emerged as a must-have travel accessory. Why? As reports of lost luggage from flights around the world became more and more frequent this past summer, someone brilliantly suggested putting an AirTag in your luggage so you can find out if it accidentally ended up in Tangiers instead of your intended destination of Toronto. This set of four tags is enough to put into all your checked luggage, and still have one left over for your keys.
Design by Maitane Romagosa for Thrillist
Give the gift of music everywhere with this ultraportable Bluetooth speaker that manages a bigger sound that's extra-crispy and fully loaded with big bass. It has 14 hours of battery life, is waterproof, and even floats­—so bring it along on a river raft, beach day, or the pool. Toss it in a backpack for a hike or picnic and hit the Outdoor Boost button for a sound that's specifically meant for outside. Or, set it up in any hotel room or Airbnb for instant party vibes.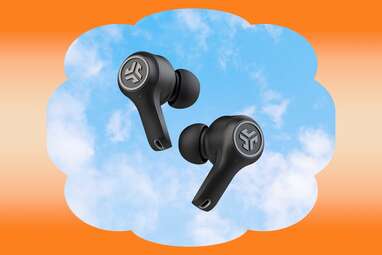 Design by Maitane Romagosa for Thrillist
For the friend who doesn't believe Apple is the be-all and end-all, these earbuds will prove them right. These active noise-canceling earbuds from JLab already ring in at way cheaper than Apple AirPods, plus they have a battery life of 48 hours and customizable audio settings, come with Tile technology (so you can find them through the app if they get misplaced), and allow for clearer phone calls thanks to C3 Calling, which has one mic picking up and canceling outside noise and another picking up and amplifying your voice.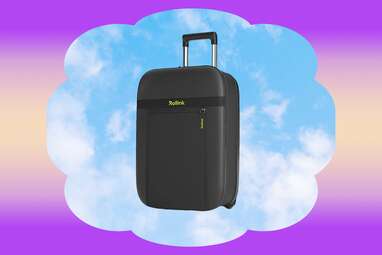 Design by Maitane Romagosa for Thrillist
For your traveling pal who has limited storage space, this is the world's slimmest collapsible luggage, folding flat to just two inches thick when not in use. It's made of a durable, water-resistant polycarbonate hard shell and has a height-adjustable telescopic handle, coated wheels for silent and smooth rolling, and a front pocket that holds a laptop. And even though it only weighs 5.5 pounds when empty, it has a capacity of 11.8 gallons and meets the requirements of most airlines' carry-on luggage specs. A fun range of colors makes this the perfect present for any business or leisure traveler.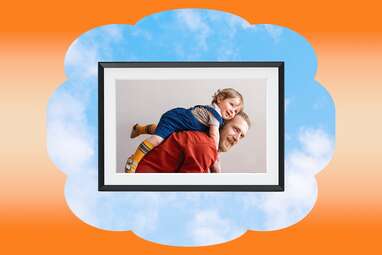 Design by Maitane Romagosa for Thrillist
Any avid traveler is sure to take plenty of photos of their adventures. Give the gift of a digital photo frame that lets them relive and remember their epic journeys anytime they want. The Wi-Fi-connected frame lets you send photos from anywhere, and it comes with unlimited photo storage and a full HD 1280 x 800 resolution with a 10.1-inch screen that displays clear, crisp photos. Plus, this one is actually attractive and will look right at home on any shelf.
Design by Maitane Romagosa for Thrillist
Power banks might be ubiquitous, but this one takes things up a notch, and your recipient is sure to appreciate its superior capabilities the next time they head out on a trip. This one can charge most phones eight to 10 times and other USB devices multiple times before needing a recharge itself, and its easy-to-read LED display tells you how much power remains. Plus, it can charge four separate devices simultaneously and has a superfast charging speed. Simply put, this is the queen of portable power banks.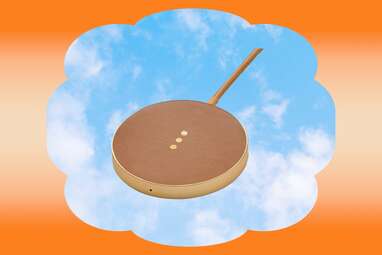 Design by Maitane Romagosa for Thrillist
For the loved one who already owns a designer luggage set, this stylish snap-to, fast-charging magnetic charger comes in either Italian leather or Belgian linen in eight different colors, and would be a handsome addition to their travel tech bag. It's classy, practical, and easy to use a phone while it's charging thanks to an extra-long cord and magnetic connection to any MagSafe iPhone.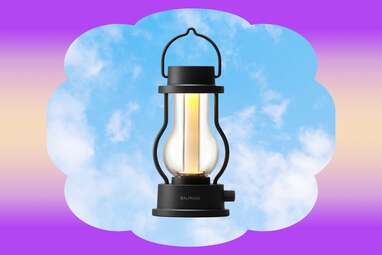 Design by Maitane Romagosa for Thrillist
This smart LED lantern is perfect for anyone who likes to glamp, enjoy van life, or finds themselves on a boat more often than not when on vacation. But truthfully, this thing is so stylish it can even be used at home on a regular basis. It's a sleek, modern-looking, multi-purpose light source that features a carrying handle and rechargeable battery; and it's water resistant, making it ideal for both indoor and outdoor use. It also has three light settings: candle, amber, and warm white, ensuring the vibe will always be correct.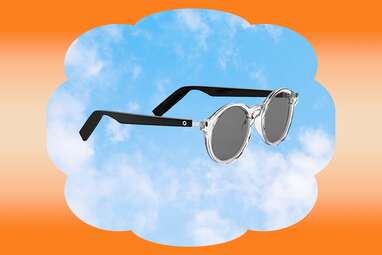 Design by Maitane Romagosa for Thrillist
Give the gift of James Bond coolness and functionality with these supremely sweet smart sunglasses. For anyone who's ever dreamed of talking into a tiny mic on their sunglass armband and making things happen, these Bluetooth-enabled sunglasses will make that dream a reality. You can listen to music, talk on the phone, and send a text on the go, all without moving a muscle. Plus, they feature UV-protecting polarized lenses and come in multiple styles.
Design by Maitane Romagosa for Thrillist
Smartwatches make traveling seamless with everything ready at the touch of your wrist; and for those focused on their health, they don't have to worry about losing tracking data while on the go. Powered by the super-fast and powerful Qualcomm Snapdragon 4100+ Wear Platform, this watch tracks activity goals, steps, sleep, heart rate, cardio, and blood oxygen levels. Activity modes with GPS keep runners and hikers on track, and advanced sensors provide the data for any health and fitness tracker apps. An easy-to-read display allows for easy use of apps, contactless payments, music, social, news, stopwatches, and Alexa, if you have an Android user on your hands.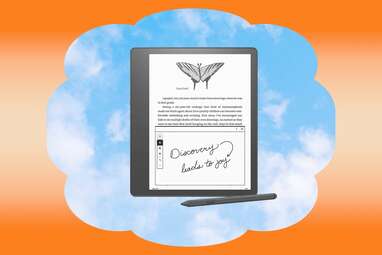 Design by Maitane Romagosa for Thrillist
Amazon is releasing a brand new Kindle for the holidays this year: the Kindle Scribe, which is perfect for travelers who love to read and write, and anyone who spends a lot of time in airports and planes. This gadget has the world's first 10.2-inch 300 ppi glare-free paperwhite e-reader, plus a premium pen for taking notes inside the book. The pen can also be used for journaling, list-making, weekly planners, and more, and it can all be digitally organized and exported. Usable day or night—even the glaring sun on the beach is powerless to prevent avid readers from finishing that last chapter—and taking notes while they do it.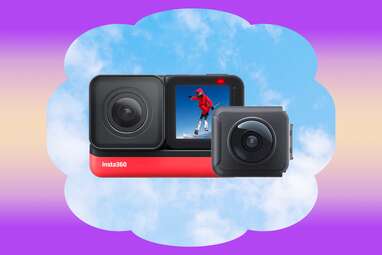 Design by Maitane Romagosa for Thrillist
Adventurous travelers looking to record their escapades for posterity will obsess over this superior camera with Super 5.7K resolution that easily transforms from a 360-degree camera to a wide-angle action camera with the switch of a lens. And it's perfect for capturing daring exploits even while in motion, thanks to a gimbal-like image stabilization—no additional gimbal necessary. If you've got a diver or surfer on your list, the camera is waterproof up to 16 feet and mountable pretty much anywhere via the included bracket.