These Suitcase Organizers Will Take the Stress Out of Packing
If you haven't experienced the glory of packing cubes yet, get ready for your life to change.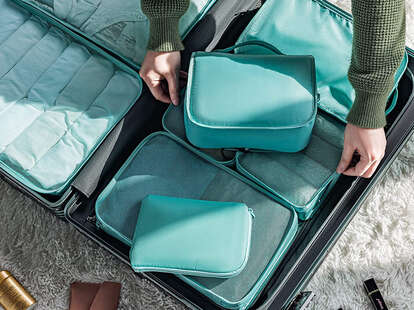 Amazon
Amazon
We independently source all of the awesome products and experiences that we feature on Thrillist. If you buy or book from the links on our site, we may receive an affiliate commission — which in turn supports our work.
It's a scenario we're all familiar with: sitting on top of our suitcase, trying to successfully zip it up, and praying it won't exceed the airline's weight limit. Travel is a blessing, but packing can definitely be a curse.
To avoid this nightmare, offer a simple solution for you: suitcase organizers. Not only will packing cubes and toiletry bags speed up your pre-vacation process, but they'll also allow you to save room for all the souvenirs you'll be bringing back from your trip. There are a lot of options out there, so we've rounded up some of the best-rated, best-selling suitcase organizers on Amazon to help you find what works for you.
From packing cube sets and garment bags to other clever organizational tools you've never even heard of, here's what you'll need to master the art of packing smart.
Amazon
Packing cubes are the secret to staying organized (and not getting stressed) as you pack. This set includes four packing cubes of different sizes, a shoe bag, and a laundry pouch, all fashioned from a breathable and waterproof fabric to protect your stuff.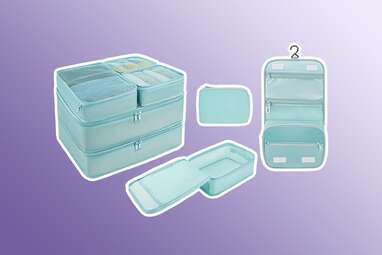 Amazon
If you find you need even more packing power, try these cubes from DIMJ. Available in over a dozen bright colors, the set includes two large cubes, one medium cube, two small cubes, one shoe bag, one hanging toiletries bag, and one cable case. Put all your clothes and accessories in their designated spots, then enjoy some worry-free travel knowing all your sartorial babies are snug and safe.
Amazon
While packing cubes are great for clothing, you don't want your other miscellaneous travel products to feel left out. These mesh bags are perfect for storing everything from cameras and cords to toiletries—especially since the see-through design makes these pouches totally TSA-friendly.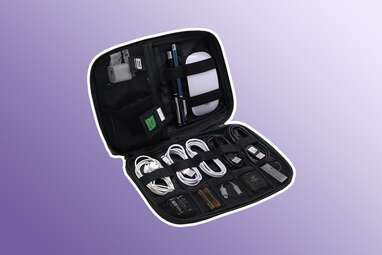 Amazon
Traveling with your work gadgets? This electronic organizer will make your life easier. It has multiple mesh pockets, elastic loops of various sizes to keep cords and cables neatly stored, and even a designated pouch for SD cards. If you want to avoid the headaches of damaged tech on vacation, this is definitely worth the small investment.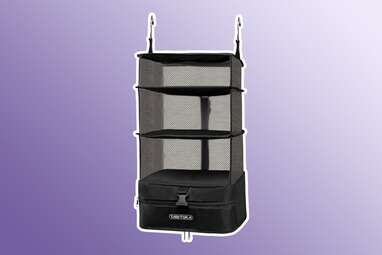 Amazon
If you're booking a hotel for several nights or have nice clothes you don't want to get wrinkled, this portable hanging shelf will serve you well. The product folds down to act like a packing cube in your suitcase, then expands to reveal three shelves, two hangers, and a zip-up pouch to give your clothes some breathing room at your final destination.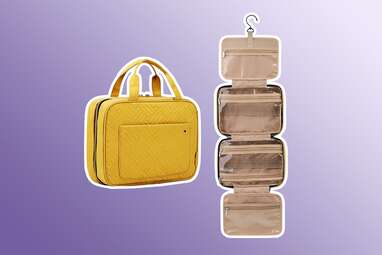 Amazon
No matter how simple or involved your morning and/or nightly routine is, toiletry bags are a must for traveling with your grooming and beauty products. This one from Bagsmart will not only keep them organized, but also help you avoid any accidental spills in transit thanks to elastic inner straps that hold bottles upright. However, if they do happen to tip and spill, no worries—they're also secured in zippered pockets and waterproof fabric.
Amazon
Packing for cold weather can be a huge pain, thanks to bulky coats and sweaters that tend to monopolize suitcase space. However, there's a simple hack that will allow you to fit winter gear in a suitcase: compression packing bags. All you need to do is stack your clothes inside the bag, release all the air you can by rolling them (or by using a vacuum), and zip the now-flat pack closed. This set comes with 12 pieces in a variety of sizes.
Amazon
For delicates like formal dresses and suits, a garment bag is your best bet to ensure everything stays protected (and relatively unwrinkled) during your journey. This one is 43 inches long, can hold up to five outfits, and boasts a zippered pocket in the front to carry other accessories like ties and belts. Plus, it's equipped with a durable hanger and handles for easy folding and carrying.