The Best Travel Headphones Under $150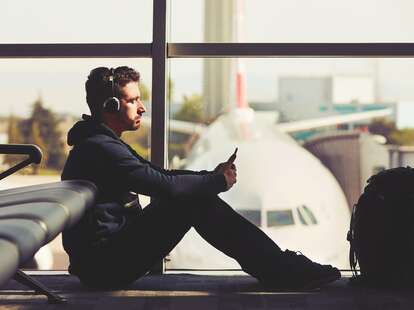 We independently source all of the awesome products and experiences that we feature on Thrillist. If you buy or book from the links on our site, we may receive an affiliate commission — which in turn supports our work.
Between high-tailing it to the airport, waiting in long security lines, and dealing with the cacophony of commotion bouncing around inside an airplane, being able to silence the outside world while you're traveling is an invaluable luxury. Luckily, you don't have to pay top-dollar for a private first-class suite to get it. A good pair of noise-cancelling headphones can give you just the respite you require when you need a little zen amidst all the madness.
To help keep you in the chill zone the next time you fly, catching up on your favorite podcasts or playlists while remaining oblivious to the screeching baby across the aisle, we've put together a list of the best noise-cancelling headphones under $150 on the market right now.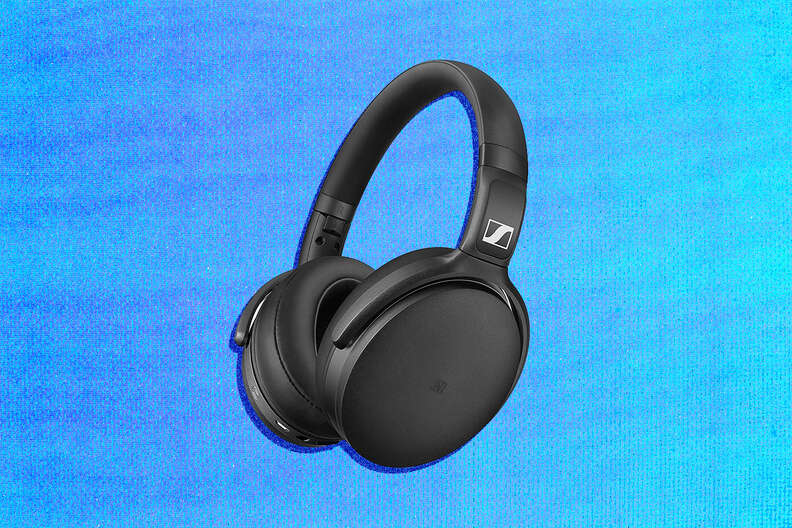 For the audiophile who hates cords
Sennheiser HD 4.50 SE Wireless Noise Cancelling Headphones
$149.95
After nearly eight decades of manufacturing audio equipment, Sennheiser has earned its place as the go-to headphone company for a who's who of recording artists and DJs. They produce consistently top-notch products, including quite a few that'll set you back well over $300. However, this more budget-friendly wireless set still delivers spectacular sound (reviewers rave about the brightness and bass levels). They also come equipped with activated noise cancellation, which measures the outside noise via internal and external microphones and adjusts the sound to a frequency that cancels them out (they don't completely silence the outside world, but muffle it well enough so that you can actually tune out what's happening around you). Add to that the sleek design, comfy ear pads, and 19-hour battery life, and it's tough not to consider them a must-have travel companion.
When you can't be bothered to regularly recharge
Plantronics BackBeat Go 810
$143.28
Boasting up to 22 hours of listening time on a single charge, these handsome Bluetooth wireless headphones from Plantronics are a godsend if you forget to fully juice them up before take-off. They also come equipped with dual mode noise cancellation, which allows you to easily toggle between quieting high and low noise environments. Plus, if you download its companion app, you can customize the balance of the audio levels so that your music/movie/podcast sounds exactly how you'd like it.
If you need a pair that'll stand up to years of abuse
V-Mode Crossfade LP2 Over-Ear Headphones
$149.98
For those of us who tend to literally throw everything in a bag and hit the road, investing in something that can stand up to years of being dropped and tossed around is a good move. Enter the V-Moda Crossfades, which feature some exceptionally resilient hard-shell ear cups. While they don't come equipped with active noise cancellation, they do comfortably seal against your ears in such a way that they muffle everything very well (you'll definitely struggle to hear what people right next to you are saying) without requiring batteries or recharging to get the job done.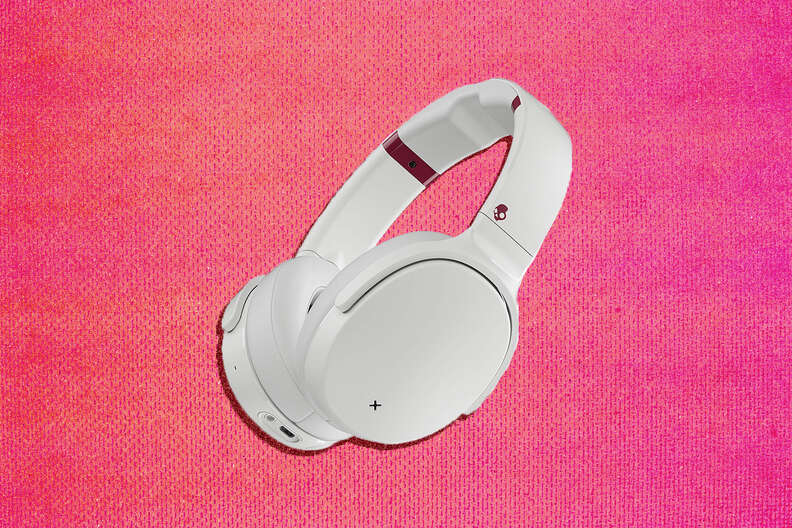 If you like a pop of color and don't need to drown out a jet engine
Skullcandy Venue
$129
Looking for something with a little more aesthetic personality? These Skullcandy Venues come in three different colors and offer a suite of handy features plus standout sound (many reviewers were impressed with crystal clear high and middle ranges and its rumbly bass). In addition to fairly solid active noise cancellation (they may not block out as much as others on this list), they offer a 24-hour battery life, a rapid-charge feature that gives you five hours of power in just 10 minutes, and built-in tracking tech that helps you to easily retrace your steps should you accidentally misplace them.
If you insist on earbuds only
Plantronics BackBeat GO 410 Wireless Headphones
$112.22
If you're not sold on over-ear headphone life, you can still enjoy some peace and quiet with the right set earbuds. This lightweight wireless pair from Plantronics does the trick thanks to a dual-mode active noise-cancelling feature similar to the over-ear counterpart made by the same brand. They snugly sit inside your ears and provide solid sound quality (though perhaps not as strong or vibrant as the over-ear options), and get you eight hours of battery life on a single charge. Helpfully, they're also equipped with magnetic smart sensors, which conserve battery life by detecting when they're not in use, and come with a special cable so you can easily charge in-flight via USB while still enjoying your tunes or movie.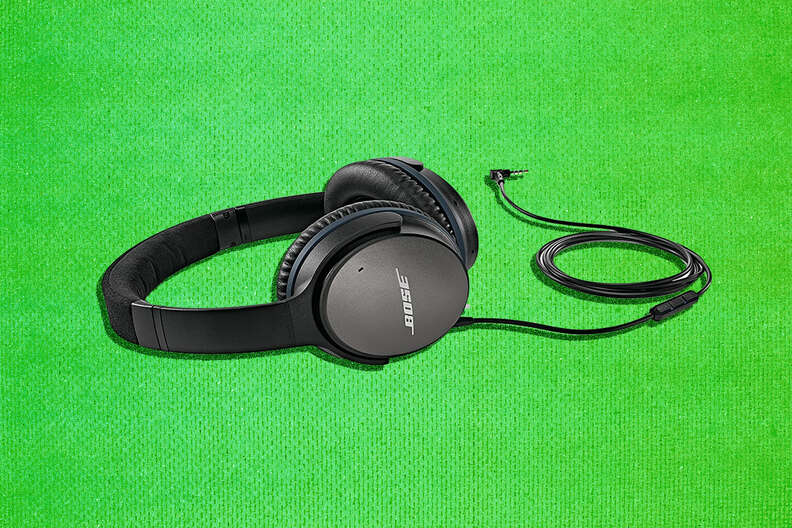 For the audiophile who doesn't mind being tethered to a cord
Bose QuietComfort 25 Acoustic Noise Cancelling Headphones
$129
Bose has built itself up to be synonymous with top-of-the-line audio products because of headphones like the QuietComforts. While the wireless version may be slightly more convenient, this wired model is a powerful player in the noise-cancelling space at a wallet-friendly price point. Each pair features Bose's advanced noise reduction tech (powered by AAA batteries), and deep and powerful sound that'll treat you to peace and quiet all flight long. Many reviewers are also impressed by how comfortable and lightweight they are, which is a big plus if you prefer to travel with a smaller bag (they even fold up and stash in a handy carrying case).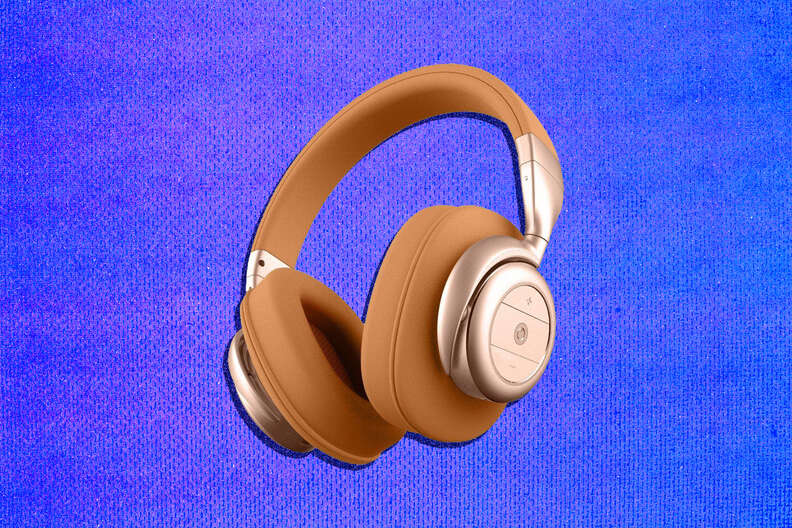 For budget-minded folks who want extra cushioning
BÖHM Wireless Over Ear Cushioned Headphones with Active Noise Cancelling
$69
For those of us who demand a bit more comfort on the ears, these sophisticated wireless headphones from BÖHM are a solid match. Sporting extra-padded ear cups, they're designed for long-term listening sessions, which is perfect if you're crossing over multiple time zones. As for technical specs, they're equipped with both active and passive noise cancelling (which is effective at blocking out deeper sounds around you) and boast a 16-hour battery life on a quick two-hour charge. The sound quality may not be as stellar as some of the higher-end models on this list, but considering a pair will set you back less than $70, these are an excellent option if you're on a tight budget.