6 Highly Rated, Easy-to-Pack Travel Pillows Under $60
These neck pillows will maximize your sleep while reducing your back and neck pain.
We independently source all of the awesome products and experiences that we feature on Thrillist. If you buy or book from the links on our site, we may receive an affiliate commission — which in turn supports our work.
Ready to travel this summer? Not before having all the gear you need to make your journey a seamless one, starting with the best travel companion: a neck pillow.
Whether you're about to hop on a long car ride trip or fly to the other side of the world, having a neck pillow is essential to truly relax even in the most uncomfortable seats. And we get it: Carrying a bulky accessory throughout your trip is not exactly ideal, but when you find the right one, it is completely worth it.
But not all neck pillows are built the same. Some come in the traditional half moon shape, while others resemble a scarf or a whale tail. No matter what shape or material you prefer, we've scoured the internet to find the best-rated neck pillows to help you get some restful sleep on your next long trip.
Amazon
If you're looking for a classic neck pillow that's both comfortable and easy to pack, consider this one from Soft Digits. It features a contoured design that's elevated in the back for stabilizing support and preventing your head from falling forward. It also boasts memory foam that molds to fit your neck position for a more comfortable and longer sleep. Plus, it conveniently comes with an eye mask and ear plugs so you can sleep like a baby anywhere you go.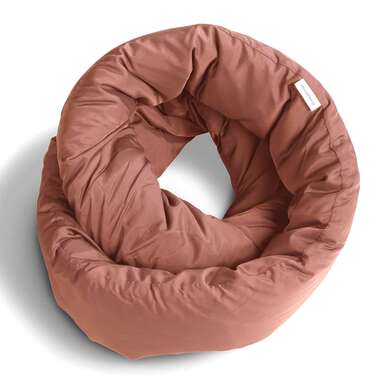 Amazon
This pillow can be adjusted multiple ways to help you achieve your preferred sleeping position. Its infinity symbol shape allows you to wrap it as you wish to get the right neck and chin support or use it as a noise-cancelling pillow. Whether you're commuting, traveling, or relaxing at home, this pillow will have your back (and neck).
Amazon
Pick the window seat and bring this neck pillow with you to get the best rest during your travels. The J-Pillow boasts a 3-way support design that helps keep your head, neck, and chin supported while offering cushioning for the side and back of your head. Also, it comes with its own pouch that you can easily attach to your suitcase to keep your hands free.
Ostrichpillow
This neck pillow boasts an ergonomic design with extra-firm memory foam, offering full neck support to maintain the proper spinal posture to prevent pain. It also features an adjustable velcro band closure for a customizable fit and a soft and breathable fabric to keep you cozy anywhere you go. When you're done using it, the pillow can be compressed by 60% to fit in its travel bag.
Amazon
If you don't want to carry a bulky pillow with you but are still looking for something that provides neck support, consider this ultra thin one from trtl. While it's basically a scarf, it packs a hidden internal support that contours to any neck, jaw, and shoulder shape so no one has to struggle to find the perfect sleeping position.
Amazon
A window seat is sadly not always easy to get. In that case, consider taking the inflatable Travelrest neck pillow, which you can use as a head rest no matter where you're seated. Simply attach the strap to the seat or wear it around your body to keep it stable and get comfortable. When you're done using it, the pillow easily deflates into a small roll and can be attached to your carry-on handle.