The Best Travel Pillows to Bring on Your Next Flight
From memory foam neck pillows to cozy blankets with makeshift pillowcases, these travel accessories will help you stay relaxed at 30,000 feet.
Shutterstock
Shutterstock
We independently source all of the awesome products and experiences that we feature on Thrillist. If you buy or book from the links on our site, we may receive an affiliate commission — which in turn supports our work.
There are certain carry-on essentials we never travel without, from portable chargers to wireless headphones. But when it comes to staying comfortable—and even getting some quality sleep—on flights, one product reigns supreme: the neck pillow.
While napping at 30,000 feet might seem impossible, packing some cushy reinforcements is one of the easiest ways to relax on a flight. Luckily, there are travel pillows available for pretty much every type of flyer, whether you want sturdy neck support or complete sensory deprivation.
We did a little digging to find some easy-to-pack, highly rated neck pillows that you can buy right now. Pick the one that works best for you, and get ready to make every flight feel like first class.
Unsplash/Amazon
This classic, U-shaped neck pillow will work for most sleepers, with a memory foam structure that is both sturdy and plush. The adjustable rope lock ensures your head won't flop around while you sleep, while the sweat-wicking fabric will keep you cool throughout your flight. And in case you're looking for even more sky-high comfort, the pillow also comes with a bonus pair of earplugs and a sleep mask.
Unsplash/Amazon
With more than 13,500 five-star reviews, this Bcozzy number is one of the highest-rated neck pillows on Amazon. Its circular design helps support your neck from every angle while sitting upright, which is especially helpful if you can't recline your seat all the way back or lean against the window. It also comes in four sizes and a dozen color options, so you'll definitely find something to match your personal style.
Unsplash/Amazon
Another Amazon bestseller, the Trtl pillow wraps around your neck like a scarf and provides sturdy but soft support. It's a little funky looking (kind of like a disembodied turtleneck, hence the name), but reviewers swear it comfortably holds your head upright while you sleep. It also folds flat and only weighs half a pound, so you can easily throw it into your carry-on without taking up much space.
Unsplash/Amazon
If you're the type of person who changes sleep positions 20 times per night, this is the travel pillow for you. It looks a lot like an infinity scarf, only it's much plusher and can be molded and configured to fit any position imaginable. It's also made from high-quality bamboo fabric, which is both breathable and machine washable.
Unsplash/Amazon
Much like an ostrich who proverbially sticks its head in the sand, you can wrap this pillow around your temple to achieve total sensory deprivation. Its microbead filling helps block out light and dampen sounds, meaning you don't have to pack an eye mask or earplugs in your carry-on. It is available in four colors, and each pillow has an elastic cord adjuster to make sure it won't shift at all during your in-flight snooze.
Unsplash/Amazon
With a memory foam design providing brace-like support, the Ostrich Pillow Go is sturdier and more durable than your average travel pillow. It wraps snugly around your neck and stays in place courtesy of a velcro strap, and its breathable fabric sleeve is extremely soft to the touch (and machine washable!). As an added bonus, the pillow can shrink down to 60% of its usual size to fit in the handy carrying case.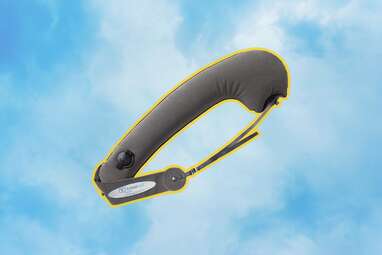 Unsplash/Amazon
If you don't love the idea of wrapping fabric tightly around your neck, fear not: There are still travel pillows out there for you. This one from Travelrest looks more like a plush seatbelt, fitting right above your shoulder and then slinging around your body for stability. That means it doesn't offer 360-degree neck support like some other pillows on this list, but it should work just fine for side sleepers. The neck pillow is also completely inflatable, so it will take a little effort get it in working condition—but the fact that it folds down to roughly the size of your fist is definitely a plus for most travelers.
Unsplash/Amazon
Airplane cabins can get chilly, and there's no guarantee that blankets will be handed out to all passengers on flights (especially if you're sitting in economy). This microfleece blanket from EverSnug will not only keep you warm on your next flight, but it also doubles as a pillow when you're ready for some shut-eye: Simply fold up the blanket and stuff it into the carrying case, and you immediately have a soft place to rest your head. Note that the pillow won't offer the same neck support as the rest of the products on this list, but it will definitely make things much cozier if you can recline your seat a little bit.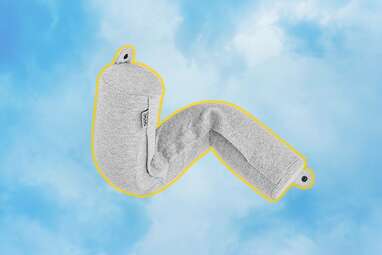 Unsplash/Amazon
This Dot&Dot number is like the Swiss army knife of travel pillows. The memory foam pillow can be twisted and contoured to fit any need, whether you want 360-degree support for your neck, a cushion for leaning against the plane window, elevation for your legs, or basic lumbar support. The cotton cover is soft and breathable, and the pillow can easily snap onto your luggage for easy transport.