The Best Travel Pillows for Every Kind of Sleepy Jetsetter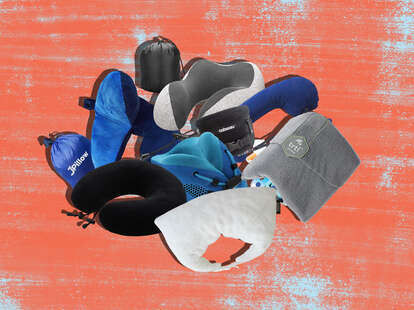 Danna Windsor
Danna Windsor
We independently source all of the awesome products and experiences that we feature on Thrillist. If you buy or book from the links on our site, we may receive an affiliate commission — which in turn supports our work.
Traveling is one of the most rewarding experiences you can invest in. Flying, however, frequently isn't. Unless you have the miles, points, or money for business class, you're likely to be stuffed inside a large glorified tuna can filled with sniffling strangers, screaming babies, and stale air.
Luckily, there is one surefire way to mitigate the hellishness of a long-haul flight in economy: by sleeping through it. However, unless you're dosing yourself with Ambien, getting comfortable enough to conk out for a few hours is much easier said than done. A humble travel pillow, though, can make all the difference.
They come in all different shapes and sizes, with fancy neck supports, weird contours, and run the gamut in price. The key is to find one that suits your particular sleeping style. So, rather than settle for whatever overpriced off-brand setup you find in the airport Hudson News, we've pulled together a selection of the best travel pillows for every kind of flyer.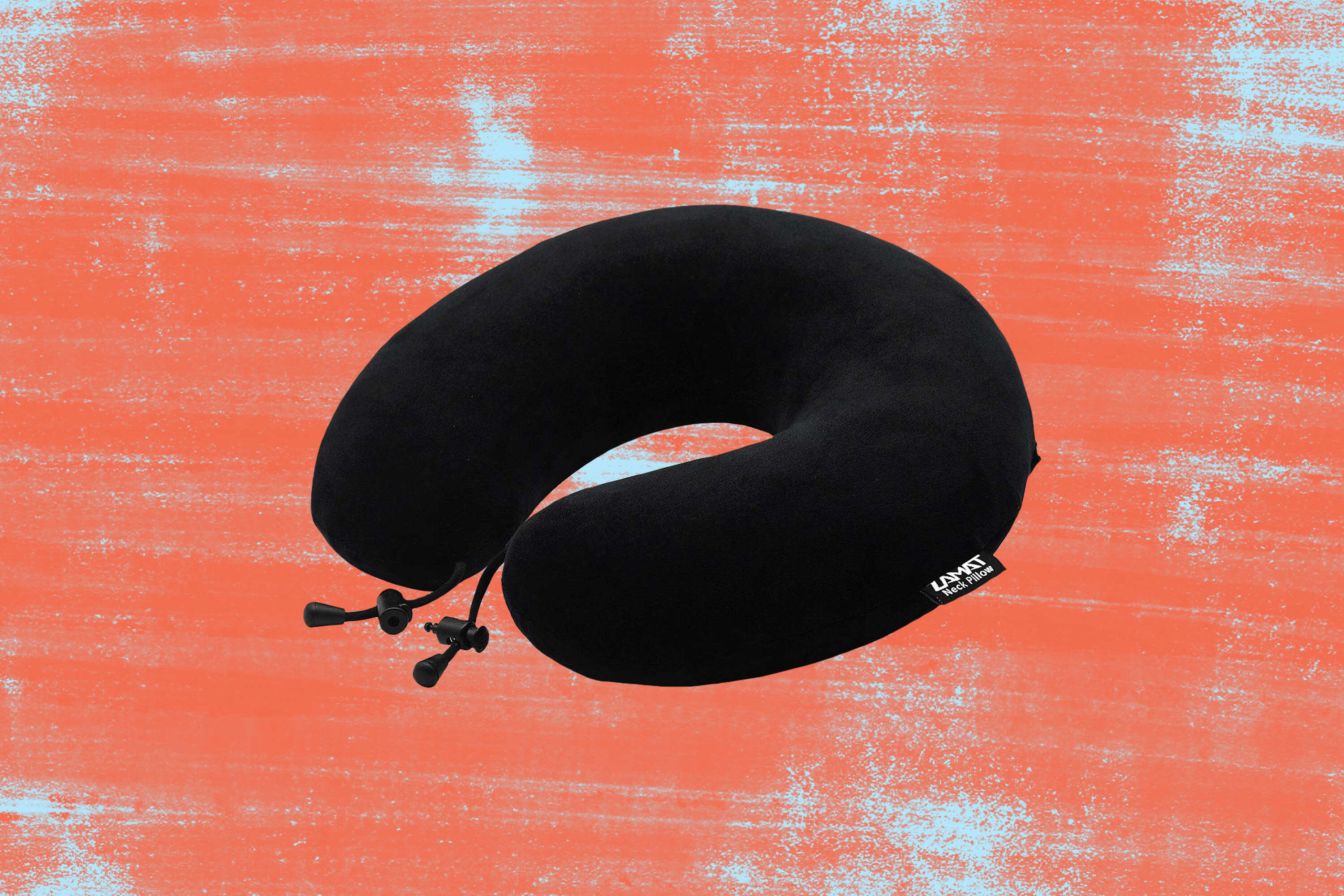 For the traveler who just needs the job done
ZAMAT Breathable Comfortable Memory Foam Travel Pillow
Price: $14
If you just need something basic and aren't looking to spend much, this Zamat pillow is perfect. It's made from 100% memory foam and features a soft, machine-washable velour cover. It's also super compact and easy to store, featuring a built-in draw string that ties easily around a bag or backpack straps. It's a classic no-frills neck pillow that also sports an adjustable toggle to ensure a perfect fit. And at 14 bucks, you won't be left in tears if you accidentally leave it in your hotel.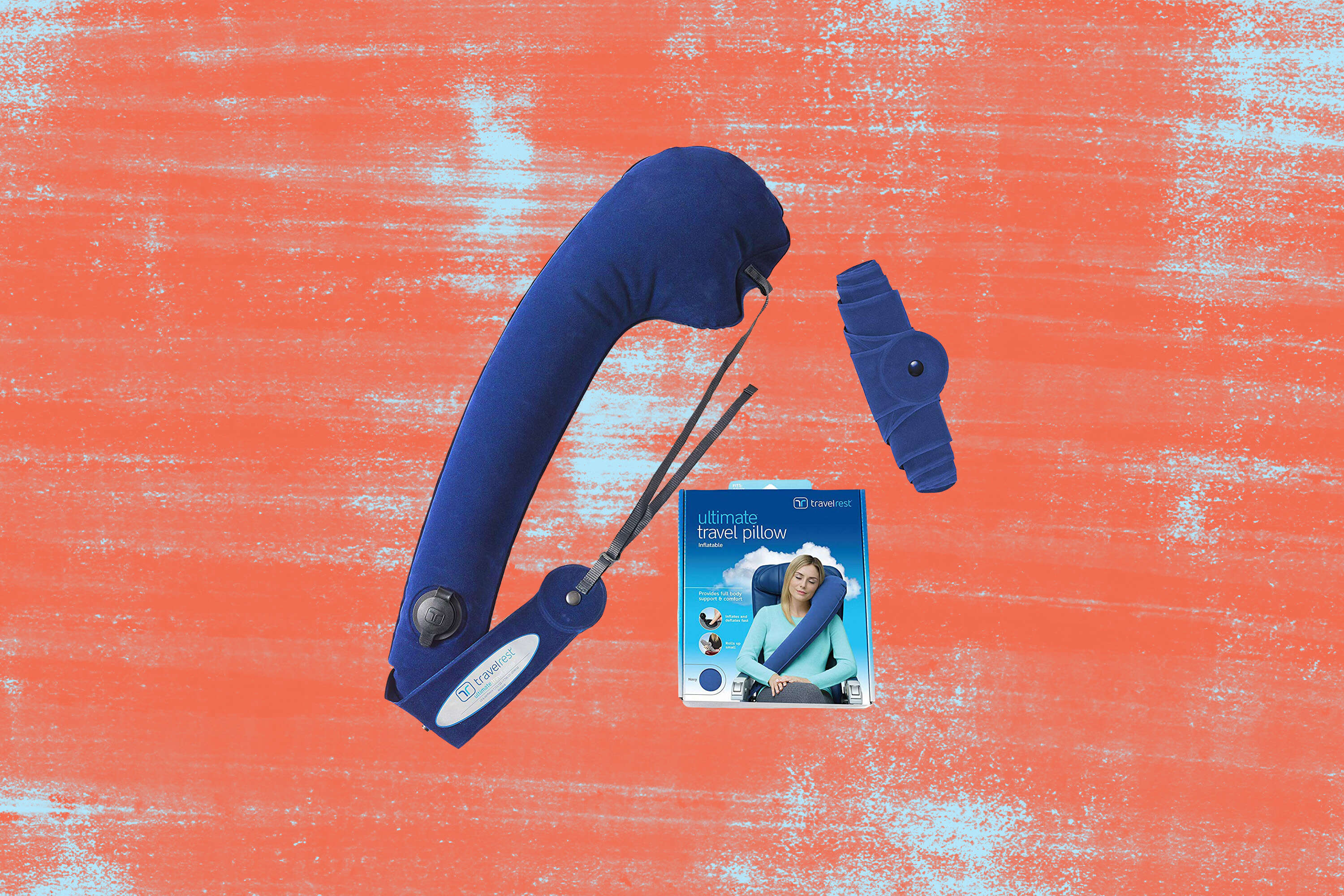 For the unapologetically sleepy traveler
Travelrest Ultimate Travel Pillow & Neck Pillow
Price: $27
Most travel pillow shoppers will wind up buying something that's a careful amalgamation of comfort, durability, cost, and packability. But then there are others -- those beautiful, unabashed, unapologetic road warriors whose sole purpose is making sure they have the most comfortable option possible. That's where the Travelrest Ultimate comes in. It's intentionally big, featuring an elongated design to give users full lateral support for the body, which in turn is supposed to make it easier to relax and fall asleep. It can be strapped to a car seatbelt, slung over a plane headrest, or even strapped directly to your body.
And though it's essentially half a body pillow, it's not difficult to pack or travel with, since it's inflatable. When empty, it rolls up into the size of a smartphone and can be easily tossed into even the most cramped carry-on.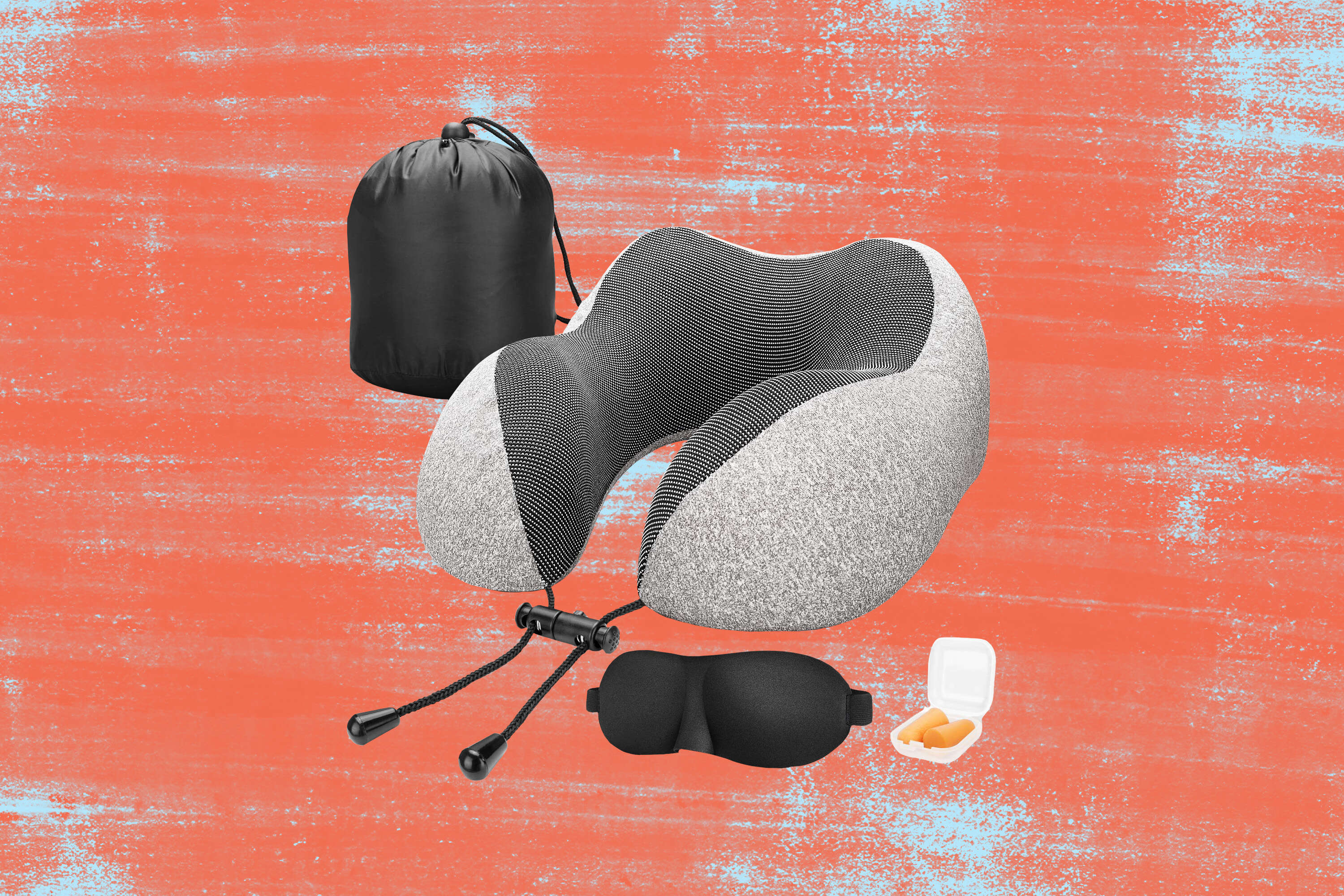 For the traveler who needs a little extra support
MLVOC Travel Pillow
Price: $19
The biggest issue with sleeping on a plane -- or bus, car, train, etc. -- is that sleeping sitting up wreaks havoc on your posture and often strains your neck. It's the worst. And if you already have a tight neck or shoulders, finding some decent rest can prove to be downright painful.
If you're looking for a pillow that'll help keep your posture aligned while catching some Z's, the MLVOC Travel Pillow is a solid choice. It features a contoured design specifically shaped to align your neck, provide chin support, and prevent your head from falling forward while you're dozing. It also boasts an adjustable rope lock at the opening of the pillow to adjust the angle and tightness to your particular neck size and placement.
What's more, the sweat-resistant machine washable cover is made from breathable ultra-soft magnetic therapy cloth, and its high quality memory foam molds to fit your face.
For the traveler who wants science-backed comfort
Cabeau Evolution Cool Travel Pillow
Price: $60
We don't mind forking over extra cash when it's legitimately worth it, as is the case when it comes to Cabeau's Evolution Cool Travel Pillow. This thing utilizes its own proprietary dual-density memory foam to keep things extra comfortable. It also has several cooling vents that allow for air flow so your neck and head don't overheat, plus its contoured shape is specifically designed to provide 360-degree support no matter how you're resting (via an adjustable magnetic clasp).
The only drawback to this one -- aside from its $60 price tag -- is that it's a bit bulky. To make up for it, though, it comes with a durable travel bag and is equipped with pockets and a clip-on strap to tether it to your carry-on or backpack.
For the traveler who prefers the window seat
J-Pillow Travel Pillow
Price: $30
One of the worst things about traveling by train, plane, or car is trying to get good rest in a window seat. Many of us are convinced that the window seat is the best choice if you're trying to fall asleep -- secluded from the aisle and decked out with its own headrest. However, it rarely is -- it's hard and shaky and will leave you with a kink in your neck just the same as any other seat.
The J-Pillow uses a three-prong system to fit around your neck, while also providing a comfortable face rest that allows you to utilize all the window space you do (or don't) have, without having to worry about straining your neck or resting your cheek or temple on a cold hard window. Its patented design also features a chin support that arches up when your head is resting on it, which means you won't have to worry about your head falling down, either.
For the traveler who needs to save space
Trtl Travel Pillow
Price: $30
By far one of our favorites on the list, the Trtl is less a "pillow" so much as a neck wrap. Still, we've found it to be one of the most helpful when it comes to actually catching some decent shut-eye in a cramped coach seat.
Its patented design uses a strengthened rib support brace -- which fits every size neck, shoulder and jaw -- and is scientifically proven to help reduce strain on your neck while providing excellent head and neck support. It also utilizes super soft fleece and foam to create a kind of hammock-like effect for your noggin. Plus, it folds up nearly flat, meaning it's easy to tote anywhere even if you're packing light.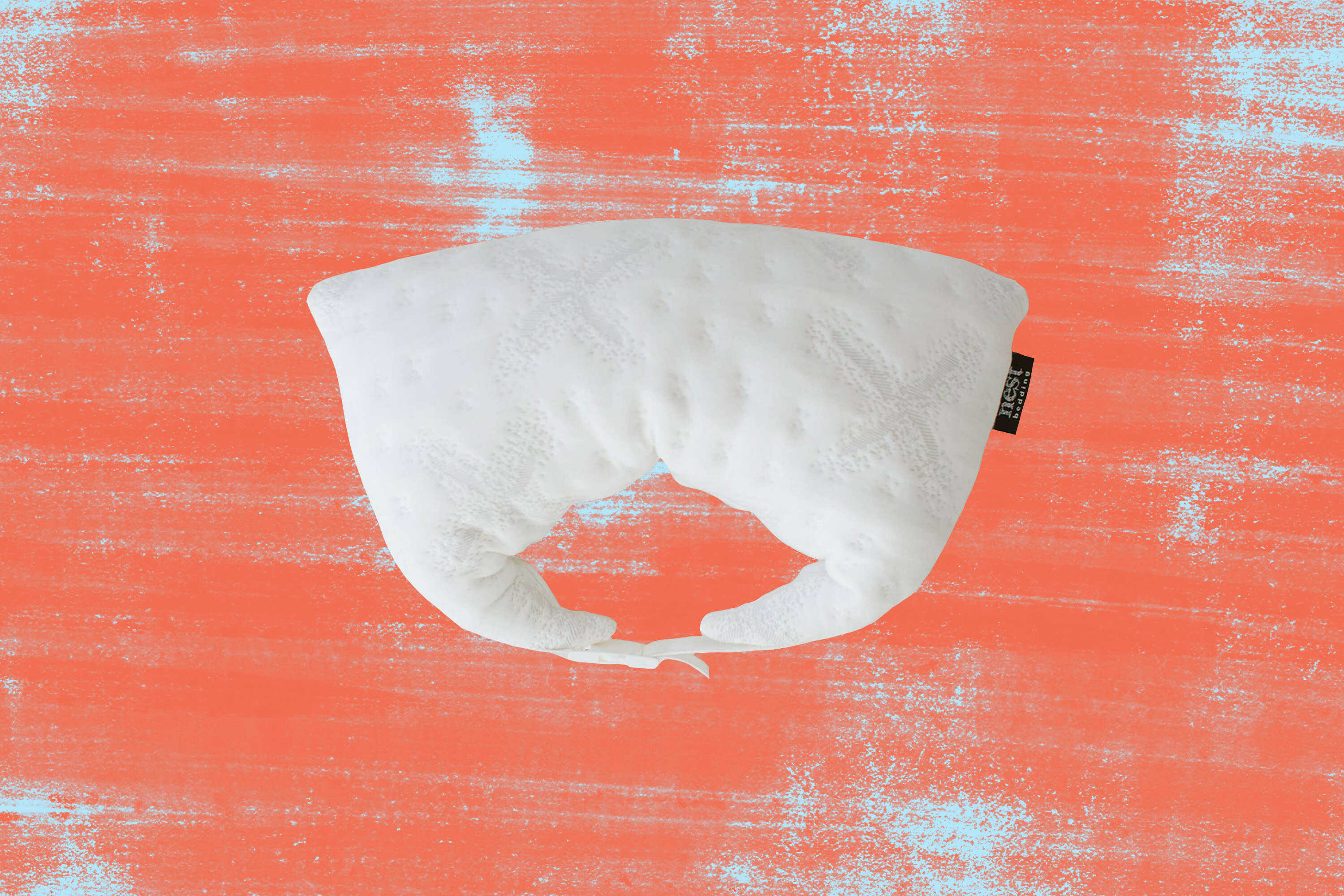 For the traveler with an eye for design
The Easy Breather Travel Pillow
Price: $60
We'll be the first ones to admit that travel pillows are all a bit, well, ugly. You're not wearing a travel pillow to be pretty, though; you're doing it because you want some solid rest.
As far as attractive travel pillows go, the Easy Breather is at the top of the list. It features a simple, clean, effective design, plus a plush zipper cover for easy washing, a quick-release clasp that'll keep the pillow secured to your neck, and a rugged protective compression pouch for light packing.It can be used to keep your neck straight and provide comfort from the back, or it can be turned to the side and used as a big fluffy shoulder pillow.
We also have to give The Easy Breather a nod for its versatility. It's not just a transit pillow; it can be used in your hotel room, on your favorite chair at home, in your tent, or anywhere else you may need a little extra support.
Want to know more about our favorite products and services, and get great deals on cool stuff? Sign up for the weekly Thrillist DealMail.