The 10 Best Vacuum-Insulated Water Bottles for Summer Adventures
Keep your drink cool and your body hydrated.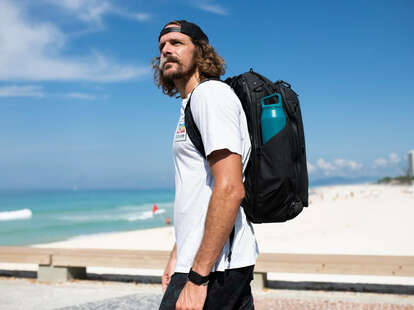 MiiR
MiiR
We independently source all of the awesome products and experiences that we feature on Thrillist. If you buy or book from the links on our site, we may receive an affiliate commission — which in turn supports our work.
I won't explain why you should be drinking water every day, or why it's a good idea to use a travel mug for coffee during your morning commute. It's my hope that life has taught you these lessons at some point. Instead, let's look at the wild world of water bottles—specifically, insulated water bottles—that are designed to meet all your water-drinking, coffee-guzzling needs. There are a ton of options out there in all sizes, shapes, colors, and prices, so I'm here to help you stave off search fatigue as you seek out the best vacuum-insulated water bottles.
Below you'll find ten phenomenal vacuum-insulated bottles that can seamlessly transition from your car's cup holder to your calloused hand whether you're camping or strolling around town. These bottles will keep ice cold water flowing on the hottest of beach days, your coffee piping hot on spectacular summer mornings, and your beer fresh when you get to the end of that 2-mile day hike. These are the best vacuum-insulated water bottles to take on your summer adventures.
REI
One of the oldest and most respected names in outdoor water retention, CamelBak comes through yet again with the Chute Mag—an excellent 20-ounce double-wall vacuum-insulated water bottle. The Chute Mag thrives at the beach or on day hikes, where it'll keep your water ice cold when you need it most, and your soups piping hot for those sunny beach days… or chilly beach nights.
If you prefer to buy this bottle from Amazon, you can find it there, too.
RTIC
RTIC's motto is "Overbuilt, not overpriced." And that's exactly what you'll get when you check out their colorfully named "Bottle". The Bottle comes in four sizes (26-ounce, 32-ounce, 36-ounce, and 40-ounce) and 15 colorways. Like all vacuum-insulated bottles on this list, the Bottle can be used for hot liquids as well as ice cold gazpacho (or cocktails, or water). The Bottle will keep ice for up to 24 hours and is equipped with a no-sweat exterior that won't get your hands, pack, or table wet.
If you don't feel like buying the bottle from the manufacturer's site, the brand also sells the bottle on Amazon.
Hydro Flask
Hydro Flask started off selling its bottles at a farmer's market, and now are about as ubiquitous as Canada Goose jackets in the winter or unnecessary hats at Coachella. The brand offers water bottles, tumblers, food storage containers, beer koozies, coolers, accessories, and more, but the biggest hit is probably the 32-ounce Wide Mouth bottle with a straw lid. Each bottle has been engineered with double-wall insulation, meaning ice will stay ice for up to 24 hours and your hot coffee/tea will stay hot for up to 12 hours. Plus it's BPA free (all Hydro Flask products are) and dishwasher safe.
Buy the bottle directly from the brand, or find it on Amazon, if you prefer.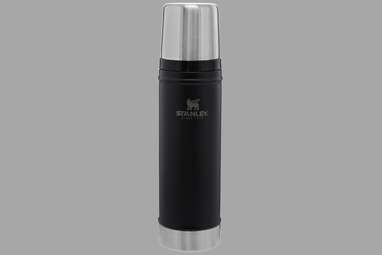 Stanley
Stanley laid the foundation for its success by creating the iconic thermos used by workers everywhere. So it only made sense to expand into the water bottle territory. The brand has a ton to choose from, but the most utilitarian and classic of them all has to be the Classic Legendary Bottle. It'll hold ice cubes for four days, keep any cold liquid you pour into it cold for 24 hours, and keep hot liquids steaming for 20 hours. The Classic was built for those with a proclivity to drop things, so don't be afraid to be rough on it. Plus it comes with a detachable insulated cup, making it extremely useful as a beach cocktail kit.
Stanley sells this water bottle on its website, or you can nab the legend on Amazon.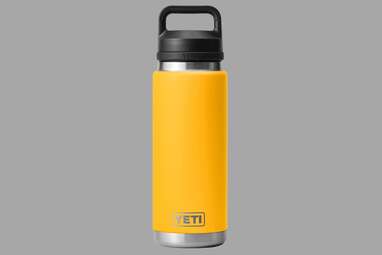 Amazon
If you've ever been to a picnic, barbecue, beach day, boat day, or camping trip, there's about a 100% chance someone has a Yeti product and loves to tell you about it. And this isn't me being flippant—Yeti has created a veritable slew of almost-indestructible coolers, tumblers, storage units, and drinkware. For the latter, we've got the five-star Rambler. The Rambler is available in 12-, 18-, 26-, 36-, 46-, and even 64-ounce versions. I prefer the 26-ounce bottle, as it's easy to carry in a backpack, yet provides enough water for a day spent walking in the woods. It's dishwasher safe, 100% leak proof, and like most Yeti products, won't break on you if you happen to drop it a few thousand times.
Amazon
Another heritage brand, Coleman, has been making durable outdoor gear since 1900—starting with their everlasting gas lamps. Fast forward to today and you'll see they have a catalog full of camping gear (tents, grills, tables, chairs, lights, etc) and, of course, a vacuum-insulated water bottle called the FreeFlow Autoseal. It'll hold 40 ounces of hot or cold liquid (it stays hot for 20 hours or cold for 58 hours), and boasts the brand's Autoseal technology, which basically means you won't spill on yourself in between sips. It's available in a handful of colorways and clocks in nicely at around $30.
MiiR
MiiR products have always done a fantastic job merging design with functionality, keeping their collections aesthetic, fun, and purposeful. The Wide Mouth vacuum-insulated water bottle is no different. The bottle is available in four sizes—16-ounce, 20-ounce, 32-ounce, and 42-ounce—and six muted colorways, so you can finally match your Carhartt beanie with your water. These MiiR water bottles are also all BPA-free, sweat-free, and will even fit in your cup holder (if you happen to buy the 16- or 20-ounce size).
The brand sells through Amazon, in addition to its own website.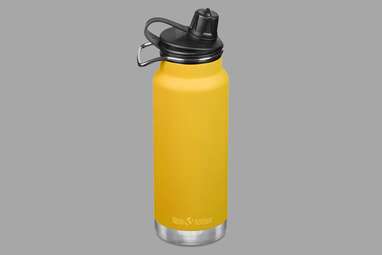 Klean Kanteen
Klean Kanteen burst into the adrenaline-fueled market of bottled water back in 2004, and nothing has ever been the same. People began to realize the increasingly detrimental use of plastics in everyday life, and Klean Kanteen gave them one way to do things differently: switch to reusable steel water bottles. Although Klean Kanteen offers a wide array of vessels, one of the best has to be the Insulated TKWide with Chug Cap. It has a 32-ounce capacity, features an interchangeable lid (use the chug lid for hiking and the sip lid for coffee, etc), and is made from 90% recycled steel.
Find the bottle on Klean Kanteen's website, or on Amazon.
Snow Peak
If Stanley thermoses and Coleman mugs aren't really your aesthetic, Snow Peak is here for you. The brand has created a design-forward collection of insulated titanium and stainless steel bottles. A favorite is the Titanium Aurora Bottle. It'll hold 27 ounces of your favorite liquid (or snack, or whatever) and boasts a 1-millimeter thick titanium body, making the bottle almost impossible to break. If you're curious about the benefit of titanium over steel, one glaring perk is this: users say it doesn't give you that metallic aftertaste.
The bottle is available on Snow Peak's website, or on Amazon.
Amazon
Any product under $40 that has over 1,500 five-star reviews is worth checking out. Enter: the Zojirushi Stainless Steel Mug. The brand was established in 1918 as a producer of hand-blown vacuum bottles, and it appears they're doing something right. The mugs are available in 16-ounce or 20-ounce sizes and are lauded in reviews. Take a look at this one from an Amazon user: "First, let me say I work in Antarctica, I am outside a lot and like to take my coffee with me. This mug has far exceeded my expectations. From working outside in -30F weather to sipping while typing on my computer in the office, my coffee stays hot." I don't see myself ever going to Antarctica and drinking coffee, but if I do, you better bet I'm bringing a Zojirushi with me.