Surface/Unsplash
Surface/Unsplash
We independently source all of the awesome products and experiences that we feature on Thrillist. If you buy or book from the links on our site, we may receive an affiliate commission — which in turn supports our work.
Whatever your feelings about meditation and mindfulness, there's a good reason to give it a shot: it can give you a whole slew of incredible benefits, from boosting brainpower to helping you manage pain, stress, or depression. If you're ready to get into the practice, there's no need to head to the mountains for a full-on silent retreat (though if you want to, that's rad). Airbnb's Online Experiences are full of meditation classes from experts all over the world. So whether you simply want to learn about another culture or learn some meditation skills that you can apply to your daily life, this is a great way to get started without making a massive commitment.
Your options here run the gamut from chanting with a Japanese monk to learning about sun salutations from experts in India, attending a laughter-focused wellness workshop to self reflection while listening to Parisian piano-playing. Whether you're interested in music, cultural rituals, or adorable sheep, there are no shortage of mindfulness classes you can take online.
Here are ten of our favorites:
Airbnb
Meet Johnson, a musician who works as an art and dance therapist in Nairobi, Kenya. During his unique Airbnb experience, he'll play multiple instruments as he takes you through Kenyan traditions, encouraging you to sing, dance, and practice self affirmation. This hour-long experience starts at $16 per person, but seems especially popular for small groups. Be sure to dress for movement and have water on hand, since you'll be dancing during the event.
And if you happen to find yourself phsyically (not virtually) in Nairobi? Well, Johnson has an in-person drumming and meditation experience, too, complete with a chance to taste Kenyan cuisine.
What participants say: "This is truly a unique experience as Johnson guides participants through mindful meditations, affirmations, and a gorgeous musical journey! He ties in many areas of well-being and shares his beautiful Kenyan culture as well."
Airbnb
Asif Sultani is a remarkable man. After fleeing Afghanistan as a child, he became a skilled martial artist and International Olympic Committee Refugee Scholarship recipient. While he narrowly missed out on qualifying for the Olypmic team in 2021, Sultani continues to focus on refugee advocacy—which is why it's so powerful to get the opportunity to learn from him during this 1-hour online Airbnb Experience. During the sesion, Sultani will tell you about his personal history, from leaving his homeland to creating his current life in Australia. He'll talk about resilience and mindfulness, and how to thrive by letting go of fear. At the end of the session, he'll lead you in an empowering meditation that he's found very effective for physical and mental performance. If you want to learn how meditation can help you achieve your goals, or you simply would like to learn more about Sultani's inspiring life, this is the experience to book.
What participants say: "Asif is a powerful athlete and storyteller who has many unique experiences to share. He really speaks from the heart and his journey was extremely motivating. I really enjoyed his focus on mindfulness and presence. The guided meditation at the end was peaceful and inspiring at the same time."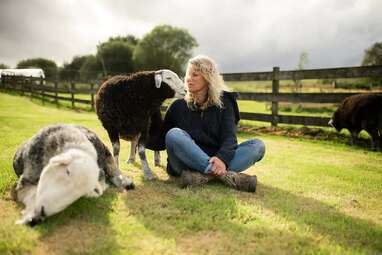 Airbnb
There's nothing more peaceful than observing grazing sheep in the Scottish countryside—except for observing grazing sheep in the Scottish countryside from the comfort of your home, of course! Join a video call and take in the beautiful views of host Beccy's farm, look at the sheep and learn all about them, and feel the calm take over. Your host will lead breathing exercises, as well as a 15-minute meditation (sometimes run by Beccy's yoga instructor daughter Rivkah), during which you can enjoy the soothing sounds of the farm. Book individual, small-group, or large-group experiences—Beccy's farm is open to all, and her meditation class starts at $17 per person.
If you care to meet the sheep in person, Beccy also hosts an in-person Airbnb experience in Stirling, Scotland. She also rents out a cottage and a camper van if you need a cozy base in the Loch Lomond area.
What participants say: "This was such a magical experience! It feels like the thoughtful care Beccy puts into her sheep is also put into this experience. It was a calming way to start my day and I even came away with techniques I can use to de-stress every day. Plus, I learned to really appreciate sheep beyond their cute looks. I highly recommend this experience!"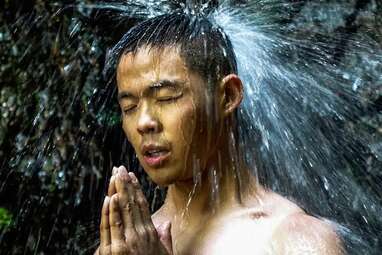 Airbnb
For $18 per person (or a group rate), join host Lee as he shows you around Shinto shrines in the forests of Kyoto, giving you an opportunity to learn more about the religion and culture. Lee will tell you all about forest bathing and how people meditate at the famous Fushimi Inari shrine, and will give you the opportunity to sit virtually with him for a mindfulness meditation beneath a waterfall.
To visit the shrines and waterfalls with Lee IRL, check out his Kyoto-based, in-person Airbnb Experience.
What participants say: "If you're looking for an hour-long meditative session in the woods, this isn't for you. If you're interested in a fun guide to help you learn about a different part of the world, share the beauty of nature, help you understand the value of different forms of meditation and just relax and share a laugh, Lee is a great fit. I was pleasantly surprised by the laughs and light spirit and his willingness to make it interactive. Would recommend!"
Airbnb
Yoga, music, and meditation combine in this hour-long class run by childhood friends Keshav and Shreya, who livestream from Delhi, India. Keshav specializes in yoga and meditation, while Shreya is a trained classical Indian vocalist and music teacher, which makes them the perfect pair to run this session for individuals (starting at $16) or groups. The class begins with chanted mantras, then a series of yogic Sun Saluations, followed by some breathing exercises. Shreya will wrap up the hour by playing a traditional stringed instrument called tanpura in a peaceful concert. Don't worry about coming with a yoga background—this class is great for beginners, too.
If you'd prefer to connect with Keshav offline, he has a handful of in-person experiences in the New Delhi area, including one that focuses on local religions and religious sites and one that focuses on street art.
What participants say: "Highly recommend! If you are looking to connect your body, mind and soul, look no further. This session was a mix of yoga and a beautiful music meditation. The host was upbeat, charismatic, and made us feel comfortable. Shreya has an angelic voice and guided the team through an incredible moment of mindfulness. The yoga was a workout that pushed our limits and gave us useful tips for the future."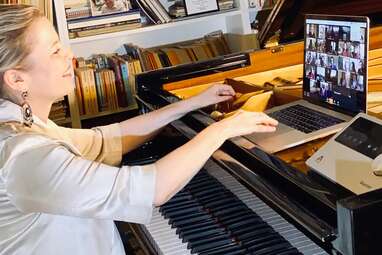 Airbnb
If you like music but aren't totally sold on the idea of meditation, this musical experience has proven to be a hit with other skeptics (though it's also great for anyone who likes music and meditation, too). Your host Beate will play beautiful piano compositions for you from her gorgeous home in Paris, then guide you as you meditate to the music. According to reviewers, this hour-long experience is great for individuals, small groups, or large corporate teams. Multiple guests mentioned returning to this experience over and over again because they enjoyed it so much. Prices start at $25 per person.
If you're ever in Paris, you can opt instead for Beate's IRL Airbnb Experience, in which you get to experience the magic of her meditation concert from her artful Paris apartment.
What participants say: "I was mesmerized and absolutely blown away by Beate's meditation, music, and welcoming presence. This is not only something I'd recommend to others but something I'd love to share with a number of people I know. For just over an hour, we were all transported to her living room in Paris."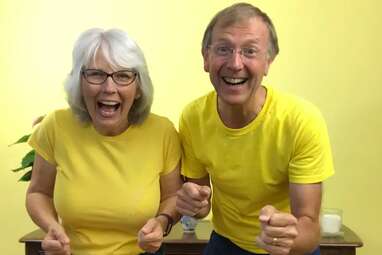 Airbnb
It might sound strange, but if you sign up for this experience, you're signing up to laugh—not because London-based hosts Tom and Catherine are comedians, but because they are "qualified laughter leaders" who will teach you how to use laughter to achieve psychological and pysiological benefits. Your hosts will delve into the science aspect, lead you through relevant activities (expect lots and lots of laughter), and then help you calm down with a guided meditation. According to participants, Tom and Catherine do a great job of creating a comfortable environment where it's safe (and fun) to laugh. Book their laughter session for around $23 per person, or book the experience for groups of up to 100 people.
What participants say: "So much fun! I haven't laughed this much in sooo long. Our group especially loved the guided meditation at the end. Was a wonderful ending to a unique experience!"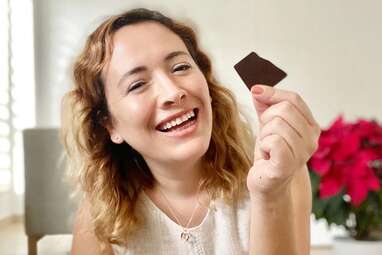 Airbnb
Bring chocolate to this online meditation class, where Mexico-based host Ana introduces participants to meditation, focusing on gratitude, peace, and joy. Part of the class involves learning to "appreciate the chocolate from another level." (Don't worry: If you are a rare chocolate-hater, you can bring raisins, almonds, or a small piece of fruit instead). The experience lasts a blissful hour, but hopefully the relaxation will last even longer. Prices start at $16 per person, but you can also book a group session.
If you happen to find yourself in Mexico, you might want to take advantage of Ana's happiness meditation on the beach in Playa del Carmen, or her self-love meditation retreat day in Tulum.
What participants say: "We loved our time with Ana. Her voice is very soothing and calming which helps. It was amazing to think about chocolate in a different way and to be grateful for what we have. The small wonders of the world are something neglected and it was good to be reminded of them. Thank you, Ana!"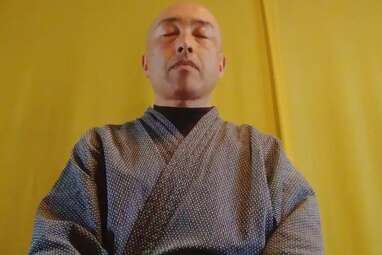 Airbnb
Spend 45 minutes with Japanese Buddhist monk Kuniatsu on Zoom and learn all about chanting meditation. Guests note that this experience is especially great for anyone who's new to chanting meditation; Kuniatsu will teach you all about it, then lead you through a short meditation session at the end. You'll love his gentle sense of humor, and you'll learn a lot about how and why meditation works. If you want to sign up by yourself, prices start at $13, but there are also group rates if you'd prefer.
Kuniatsu sometimes offers in-person meditation sessions as well, including a popular forest meditation in Kyoto, as well as a morning meditation and candle meditation in Osaka.
What participants say: "This was a relaxing meditation. Kuniatsu did a good job leading an interactive session and explained the benefits of meditation and chanting before we started. He is a charming storyteller."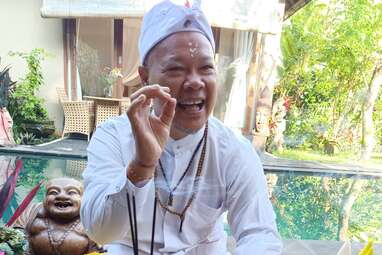 Airbnb
This calming glimpse into Balinese Hindu culture comes from Made, whose knowledge has been passed down from his ancestors. He'll help you meditate and practice a breathing exercise, then make offerings and a blessing. The ritual involves Sanskrit mantras and bell-ringing, plus a discussion a the end. The experience costs $26 per person (though can be booked for a group), but if you want a particular blessing, Made can prepare offerings for births, deaths, or weddings for an extra cost.
Made also offers an experience in Bali, during which you can visit a water temple and undergo a ritual with Made's guidance. If you need a place to stay while you're in town for the ritual, check out Made's three-bedroom accommodation.
What participants say: "Made was great! Very personable and helped us participate in the ritual at our pace. Even though we were over zoom, he made us feel like we were in the same room. We walked away energized, feeling peaceful, and had our blessed water to use after the ceremony."