11 Waterproof Beach Accessories to Add to Your Packing List
Don't waste a day at the beach worrying about your gear getting ruined by the waves.
Design by Manali Doshi for Thrillist
Design by Manali Doshi for Thrillist
We independently source all of the awesome products and experiences that we feature on Thrillist. If you buy or book from the links on our site, we may receive an affiliate commission — which in turn supports our work.
You probably already have some tried and true beach gear you throw in your bag every time you head to the shore, whether it's a bottle of SPF 45 or a couple new paperbacks. But if you really want to have a stress-free day on the sand, you need to make sure your stuff doesn't break down the second it gets splashed with water. Trust us: Few things ruin a beach day faster than dropping your iPhone into the ocean.
That's where these waterproof essentials come in. From practical gadgets like dry bags and phone cases to products that are solely invented to maximize fun (hello, waterproof playing cards), these 11 accessories definitely deserve a spot on your packing list this summer.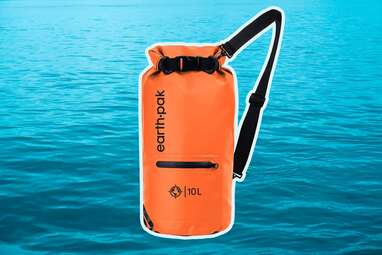 Amazon
We're sure your canvas beach tote is cute and all, but you should really invest in a dry bag if you want your haul to actually be protected from the elements. And we mean really protected—you can completely submerge these bags and they still won't let any water inside. There are tons of dry bag options available, but this Earth Pak one earns high marks for both durability and affordability.
Sort of like a miniature dry bag for your phone, this JOTO pouch can fit virtually every smartphone on the market (anything up to seven inches). It can also hold your credit cards and cash, and the clear design means you can snap photos or check your email without even having to remove the phone from its case.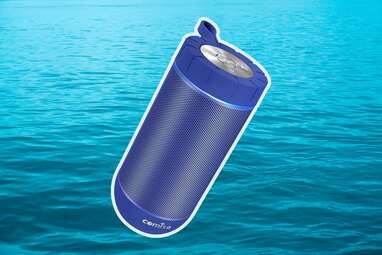 Amazon
Whether you're hanging out with friends or enjoying a solo beach day, good speakers are a must—as long as they can withstand the water, of course. This portable speaker from Comiso is splashproof, yes, but it also comes with necessary features like a wide Bluetooth range and 24-hour battery life. The vibrant color options are an added bonus.
Amazon
When properly sealed, this case will protect your AirPods even when it's submerged three feet underwater. We would advise against taking it with you on a dive, but it obviously will work just fine if you accidentally drop it into a puddle or tide pool.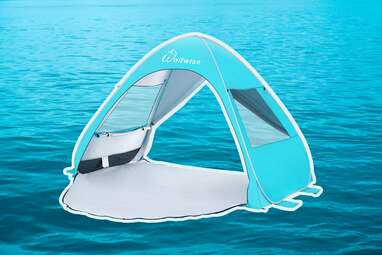 Amazon
When you're ready for a little break from the sun, retreat into this ultra-portable pop-up tent. Its ​​polyester coating has SPF protection to block out the rays, and unlike a regular canvas tent, it can be placed over wet sand without any icky seepage. It also comes in handy in case you get caught in an unexpected bout of rain.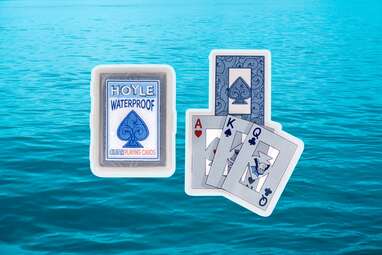 Amazon
Since your beach arsenal should be imbued with equal parts fun and practicality, this set of waterproof playing cards (printed on plastic card stock) hits just the right note. The standard deck has the size and look of a regular set of cards, only these won't get soggy after getting sprayed with ocean mist.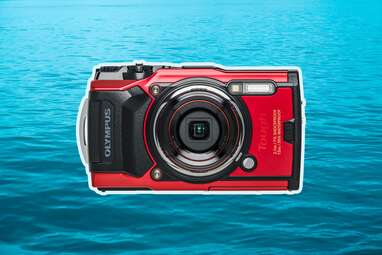 Amazon
You can easily run to your local CVS and buy a disposable underwater camera for about $25, but the shots won't even come close to what you'll get with this Olympus number. The Tough TG-6 is the company's sixth-generation waterproof camera, with all the high-quality bells and whistles the brand is known for plus the ability to function a whopping 50 feet underwater.
Amazon
Speaking of bells and whistles, GoPro's newest action camera lets you capture both photos and videos at depths up to 33 feet. (If you've always wanted to be a Blue Planet cameraman, this is the next best thing.) Of course, GoPro cameras work in pretty much any environment, so everything from parasailing adventures to impromptu fashion shoots on the beach with your friends can get the ultimate HD treatment.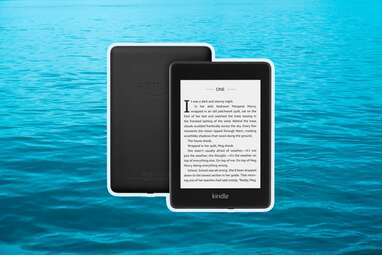 Amazon
No beach day is complete without a trashy paperback or two, but any bibliophile knows the warped madness that occurs when a book's pages get wet. Enter the Kindle Paperwhite—a lightweight e-reader that can hold up to 32 GB of books, magazines, and audiobooks. Even better? The newer models are waterproof, making them safe to use on the beach or in the bath.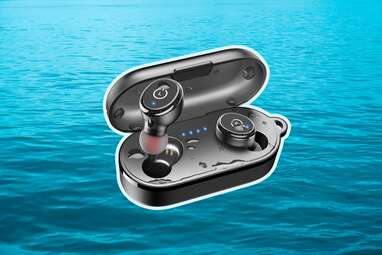 Amazon
Waterproof headphones are a revelation. These gadgets let you enjoy uninterrupted tunage while swimming, showering, or working up a serious sweat, and we honestly can't think of a better way to enjoy music at the beach. These earbuds from TOZO have more than 196,000 five-star reviews on Amazon, with customers raving about their sound quality, battery life, and ease of use.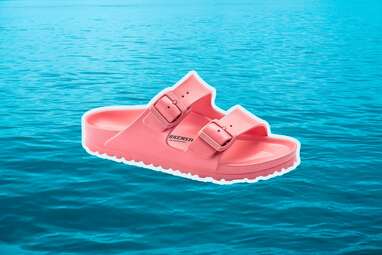 Amazon
If there's one thing the world can agree on, it's that wet socks and shoes are legitimately the worst. That's why a great pair of waterproof sandals are a must for any beach trip or water-adjacent outdoor adventure. These Birkenstock beauties are just as comfortable and durable as the trusted brand's other shoes, and they are also available in 30+ colors ranging from coral peach to metallic gold.