10 Women-Led Brands on Our Radar Right Now
Discover the female-fronted businesses we love to support.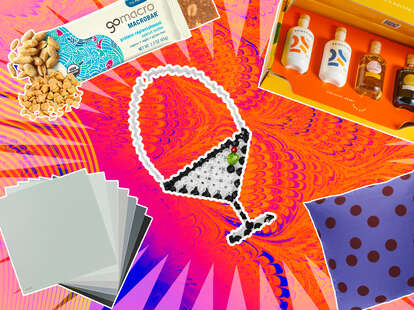 Maitane Romagosa/Thrillist
Maitane Romagosa/Thrillist
As more and more brands flood the marketplace, consumers are becoming more intentional about the products they buy and companies they support. Just as important as price, quality, and availability is the ethos of a business.
It should come as no surprise, then, that women-led brands are top of mind—especially during Women's History Month. According to the Global Entrepreneurship Monitor, as of 2019, an estimated 231 million women worldwide consider themselves entrepreneurs, and 21 female-founded unicorns (valued over $1 billion) were minted just last year. From food to home goods to fashion to fitness, female voices are making themselves heard in every category—and consumers are doing way more than just listening.
Want to learn more? Below are just ten of the women-led businesses on our radar that you can shop right now.
Founder: Cami Téllez
Category: Apparel/Intimates
Like most little girls, Cami Téllez grew up thinking hot pink G-strings defined sexiness. What started as a quiet idea has since blown up into a multimillion-dollar brand for Téllez, who started Parade while studying for college finals. At just 24 years old, Téllez is now the CEO and creative director of her very own company, an underwear brand that aims to redefine what it means to feel sexy. Parade's easygoing approach to intimates is to thank for its success. Its mantra, "Sexiness isn't one dimensional," allows every customer to see themselves reflected in the brand. Bras and underwear range in sizes from XS to 3XL, are made of soft, breathable recycled fabric, and come in a variety of bold colors and patterns.
Founders: Vanessa and Kim Pham
Category: Food
Omsom is Vanessa and Kim Pham's love letter to their culture. As daughters of Vietnamese refugees, the sisters found themselves scouring American grocery aisles for the flavors of home. When they discovered nothing, they created it: Shelf-stable sauce packets filled with authentic Asian flavors and ingredients. "Starters," as the founders refer to them, allow customers to create Vietnamese Lemongrass BBQ or Korean Spicy Bulgogi with ease. With the help of their tastemakers—including Chefs Nicole Ponseca of Jeepney and Jimmy Ly of Madame Vo—the sisters are reshaping the industry, one massively flavorful meal at a time.
Founder: Emily Sugihara
Category: Accessories and home goods
While you might know Baggu from its original nylon totes, the company has since expanded into a fully realized lifestyle brand. Emily Sugihara was simply solving a problem in the marketplace—a lack of sustainable, reusable shopping bags in cute patterns—when she founded the company with her mom, Joan, but the marketplace had bigger plans. Today, Baggu is not just a household name in bags and accessories; it's a home goods brand, complete with decorative pillowcases, bath towels, and reusable cloths sold by more than 1,000 retailers.
Founder: Stephanie Hall
Category: Dining/Hosting
Stephanie Hall created Estelle Colored Glass in dedication to her grandmother of the same name, whose love for antiquing and colored glass inspired those around her. Estelle's Sunday dinners were grandiose, and setting the table with vibrant pieces was her signature. Hall enjoyed finding these pieces with her grandmother so much, she decided to share this passion with the world. Her collection of "jewels for your table" include glassware (like vibrant champagne coupes), decanters, and cake stands.

Meet one of the Mujeres Fuertes of Zacapa Rum, a powerhouse group of women who share a love for Zacapa and breaking down boundaries in traditionally male-dominated industries. Miami-born Chef Grace Ramirez grew up around rum and when she's not repping Zacapa as its global ambassador, you can find her working with World Central Kitchen, a chef relief team that provides meals to people in need during difficult times.
Founder: Maddie Lymburner
Category: Fitness Apps
Having amassed 3.64 million followers on YouTube since 2015, fitness guru Maddie Lymburner launched her own paid app just last year. The structured workout guides are an extension of her channel, which is known for its "dance party workouts" set to a specific theme or artist. Now, its several-week-long programs combine easy-to-follow classes, healthy recipes, activity tracking, and interactive profiles to help users reach their goals.
Founder: Rachel Jones
Category: Pets
Trill Paws is a combination of founder Rachel Jones's two obsessions: her dog Kevin and all things pop culture. The products are simple, trendy, and a little silly. For example, ID tags come with punny phrases like "Have your people call my people" and "Not all those who wander are lost, but I am." If you always wished your dog could rock a gold chain and hot-sauce-shaped tag, this brand will become your obsession, too.
Founder: Susan Alexandra
Category: Jewelry & Accessories
Inspired by a craft she saw in a small Chinatown shop, Susan Alexandra created her own brand—and a new trend in fashion. Before her, beaded purses were relegated to the back of your mother's closet, only to be used for weddings and Bar Mitzvahs, but Alexandra thought they deserved a spotlight. Whether dressed with brightly colored butterflies or resembling a martini, the designer's bags are nothing but pure fun for the everyday. Now, the collection includes hair accessories, jewelry, housewares, and more in that same playful style.
Founder: Nicole Gibbons
Category: Home & Design
With a simple mission—to take the hassle out of paint shopping—Nicole Gibbons launched Clare in 2018. The direct-to-consumer experience allows you to order peel-and-stick, mess-free swatches before committing to a color, then sends gallons and tools straight to your door once you do. Gibbons's collection is carefully curated to help customers pick a paint color that'll brighten up their homes and lives.
Founder: Jola Sonkin
Category: Food
When Jola Sonkin's mother, Amelia Kirchoff, was diagnosed with cancer in 2003, she decided to switch to a plant-based macrobiotic diet. As she battled the disease, Kirchoff cooked and baked with whole, sustainable ingredients, creating the first MacroBar recipe right there in her kitchen. Nearly two decades later, the duo are selling their vegan, plant-based protein bars in over a dozen flavors—educating consumers about a sustainable way of life while nourishing them, too.
Founder: Aishwarya Iyer
Category: Food
When Aishwarya Iyer discovered that not all olive oils are created equally, she decided to take matters into her own hands, both creating products people love and educating the world about the dark underbelly of the industry. While many brands on the market are adulterated (mixed with inferior quality oils, like soybean, sunflower, palm, or canola), Brightland is pure. Its products—like the Awake and Alive Duo—are made only with fresh California olives, then packaged in UV-protected glass for freshness. The result is a line of oils and vinegars filled with good fats, antioxidants, and nothing else.