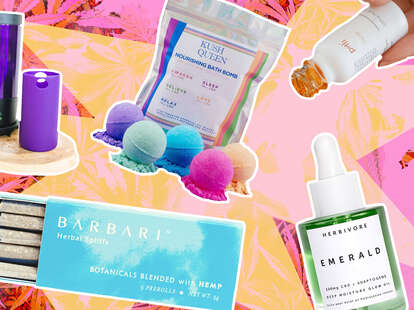 Maitane Romagosa/Thrillist
We independently source all of the awesome products and experiences that we feature on Thrillist. If you buy or book from the links on our site, we may receive an affiliate commission — which in turn supports our work.
Time stops for no hemp company. This month and every month of the year, women working across every step of the CBD supply chain are busy keeping this market interesting, inviting, and in motion. Although there remains plenty of discrepancy between the number of male and female-founded businesses in cannabis and hemp, there are a significant amount of influential standouts owned and operated by women. Women who not only make space for fellow female entrepreneurs, but see the blank space of products women have been waiting for; the problems that haven't yet been solved.
Here are a few of our favorite innovations in CBD from the minds and manufacturing facilities of women, as well as the unique backstories that brought them to life.
Ten years ago, Shanel Lindsay was just another young lawyer establishing herself at a Boston firm. A lawyer with a few plants in her spare bedroom she'd turn into edibles. Lindsay had enjoyed cannabis for years, first falling for the plant when dealing with a painful ovarian cyst. But when a brush with the law proved to her how little decriminalization did to lessen cannabis stigma, she threw herself into advocacy and started innovating a subtle, easy device for people to make their own edibles at home. Key detail: make edibles at home *without the weed smell.* Ardent officially launched in 2015 with the Nova, a compact canister-shaped machine built to infuse butter or oil with up to an ounce of flower or 5 ounces of kief. The Ardent FX debuted in 2020, offering a larger, more user-friendly 1-button infusion device (with a THC/CBD setting) that you can also use to cook your final product (banana bread, spaghetti sauce—even infuse topicals).
When you think CBD bath bombs, one name immediately comes to mind: Kush Queen. Founder Olivia Alexander has worked in cannabis for years, starting with a medical dispensary gig back in 2006. However, despite all of the industry's progress over the subsequent ten years, Alexander still saw a lack of cannabis products that spoke to wellness regimens. She also noticed a persistent degree of skepticism when it came to topicals, as in whether they were any more effective than an edible; whether they did anything at all. She founded Kush Queen CBD in 2017 with the goal of welcoming in women who love cannabis and newbies curious about it with an accessible, effective CBD topical. As I've stated before, baths are truly meant to be enhanced with cannabinoids. Submerging muscles in salty water, allowing every inch of skin to soak in the CBD for the duration of the bath—it's like the ultimate consumption method for the topical form. Many brands have since added a bath bomb offering, but consumers have been in love with Kush Queen's dozens of scents and CBD concentrations for years now.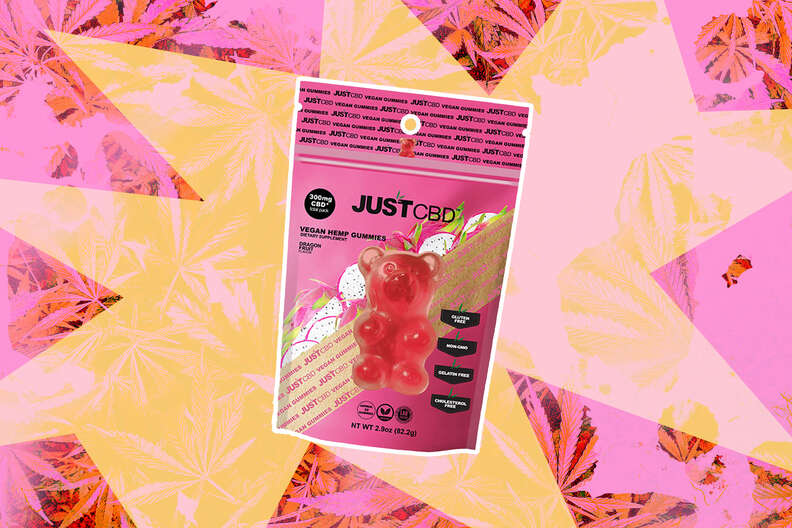 When Shehzeen Mitha co-founded this Florida-based CBD company, the mother of twins was most interested in helping people feel confident when exploring CBD. Not just comfortable to learn more about cannabinoids, but self-assured when it comes to transparency and ingredients. She couldn't deny the universal appeal of gummy edibles, but went the extra step to create three versions: true candy options like sour rainbow belts, a vegan line in more grown-up flavors like Dragon Fruit and Strawberry Champagne, and a sugar-free version that won't spike your blood sugar every time you need to chill out. The brand sells a variety of hemp-derived products with clear labeling and dosage information, and serve as a potent reminder that not everyone seeking discreet, accessible products is uninterested in tasty, fun treats. Moms still like gummies!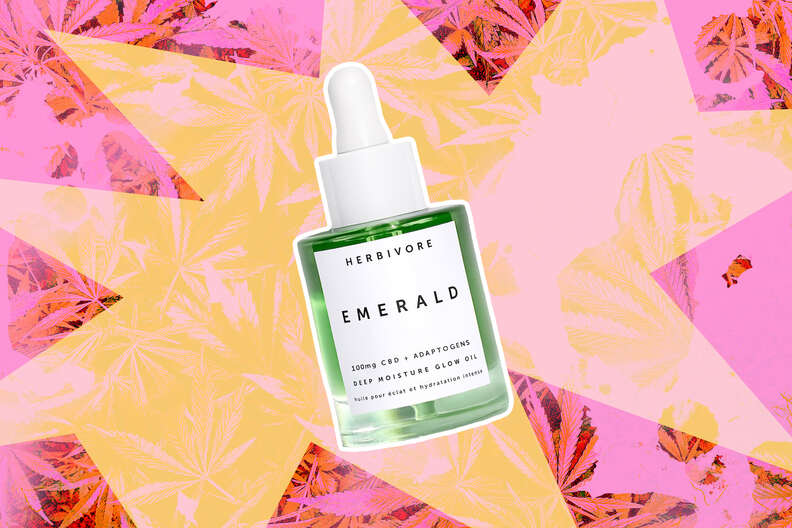 In 2011, Julia Wills received a DIY soap making kit as a gift from her husband, Alex Kummerow, and technically, she just never stopped making plant-based skincare. The couple went on to co-found Herbivore with a set of simple, potent skin oils, building on that original line in time with trends like AHA exfoliation, bakuchiol and yes—CBD. Now, there are a motherlode of CBD face oils out there. It's affordable to produce, hard to mess up too badly and consumers have maintained high demand for a moisturized glow. But Herbivore's oil stands a head above most. That's because it's made with CBD extracted from hemp as well as hemp seed oil, which is richer with fatty acids. Factor in the ashwagandha and turmeric root, and this little emerald-hued oil lassoes all the effects of the most interesting natural ingredients right now.
This culinary CBD brand gives new meaning to the notion of an Asian-American company. When co-founder Felicity Chen came home from college, she found her father had begun beekeeping. So when she was trying to open her mom's mind to the medicinal properties of cannabis, she added some to her honey. With that first jar, Potli was born. Chen was joined by friend and co-founder Christine Yi to formulate a CBD-infused apple cider vinegar, olive oil, and recently, "Dream Honey" made with CBN and melatonin. They still harvest honey from Chen's parents' backyard and 50 hives throughout the East Bay. But the CBD chili oil—another family recipe-based product—is what I think sets them apart. Each petite glass vial has a childproof, screw-top cap, perfect for adding to the rest of your purse condiments. It's very mild, but the subtle warmth and tang is just right on everything from pizza, pasta, eggs, or even a grilled cheese sandwich—yummm.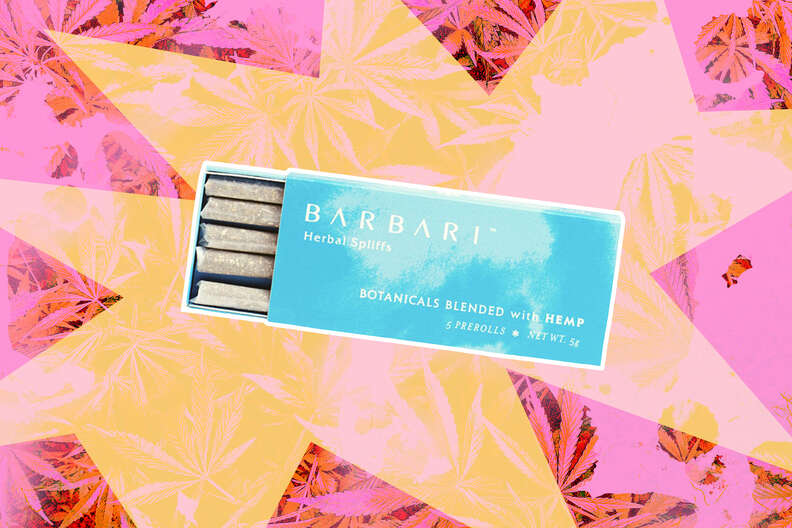 Anyone else still thinking about lucid dreaming after binging Netflix's Behind Her Eyes? Barbari's co-founders Meryl Montgomery and Valarie Šakota were ahead of the curve in more ways than one with their herbal smoking blends and 50/50 herb-hemp spliffs, a couple of which contain flowers with very mild hallucinogenic properties. Airplane Mode spliffs are made with hemp, raspberry leaf, sage, rose, lavender, and blue lotus—known for supporting lucid dreaming. They sell the herbal blends by the jar, which you can use to make tea or elevate a bath soak as well. Perhaps most notably, Montgomery and Šakota built a business structure that consistently gives a percentage of proceeds back to community organizations supporting the arts and social justice, long before there was a social media push to do so. Currently, they're donating to The Family Preservation Project (FPP), which promotes individual and system level change in order to reduce the collateral consequences of parental incarceration on children, families, and the community.
Lauren Yoshiko is a Portland-based writer and co-host of
Broccoli Magazine
's podcast,
Broccoli Talk
. She was among the first journalists to cover the commerce and culture of cannabis starting in 2014 and her work has since appeared in
Willamette Week
,
Forbes
,
Rolling Stone
, and
Broccoli Magazine
, among others. Follow her on Instagram at @laurenyoshiko for Portland breakfast sandwich recs, stoned nail art, and moderate cat content.