The Best Wireless Headphones for Working Out
We independently source all of the awesome products and experiences that we feature on Thrillist. If you buy or book from the links on our site, we may receive an affiliate commission — which in turn supports our work.
Working out without music is a certain level of masochism that many of us will simply never understand. And while curating a go-to playlist to fuel your sweaty sessions at the gym or on the trail is important, investing in the right workout headphones to crank it is critical. That last thing you want is to be bobbing along on the treadmill or mid-deadlift and get caught up in wires, or settle for something that doesn't play nice when it's covered in puddles of sweat.
To make it easy for you, we've pulled together the best wireless Bluetooth workout headphones to match every budget and activity level. Unfortunately, you're on your own when it comes to getting motivated to, ya know, work out.
Amazon/Danna Windsor
The best pick for running, rowing, and biking
JayBird Tarah wireless headphones
Battery life: Six hours on a full charge
Truly wireless earbuds are the obvious choice if you're going to be moving around a bunch, but how are you supposed keep them from accidentally flying out of your ear and into the street mid-run or bike ride? This excellent pair of wire-tethered (though otherwise wireless) earbuds from JayBird have your back. They fit snugly in your ear (pick from three sizes of silicone ear gels), but should one accidentally pop out -- or you want to take them out momentarily -- they'll stay tethered around your neck thanks to a nifty shirt clip. They're also fully sweat- and water-proof (one reviewer accidentally threw them in the washing machine and they continued working just fine), and boast exceptional sound quality for the price point. 
Price: $99.99
Amazon/Danna Windsor
The overall best wire-free earbuds for exercising
Jabra Elite Active 65t
Battery life: Five hours one a full charge (and charging case carries 10 additional hours of power)
If you'll settle for nothing but the absolute best, this is the pair for you. The entirely wireless Jabra Elite Active 65ts have earned rave reviews across-the-board for incredible sound, comfort, and durability. Specifically, they fit snugly in your ears (you pick the ear gel size that works best for you), and feature handy fingertip controls on the exterior to manage volume, change tracks, and more. Plus, while you can crank them up, they also feature a special "Hearthrough" mode that filters in the surrounding ambient noise (and gently softens your music), when you're approaching traffic or want to be extra aware of the sounds around you. Plus, they come with a 2-year warranty that guarantees they'll stand up whatever water, sweat, or dust you may bombard them with.
Price: $186.37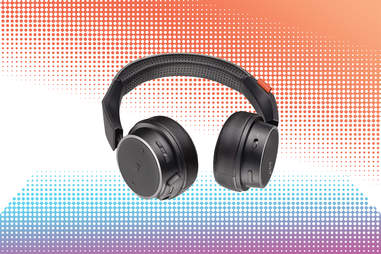 Amazon/Danna Windsor
Your best bet if you want something that covers your ears
Plantronics Backbeat Fit 500
Battery life: 18 hours on a full charge
If you're partial to listening through something that fully covers your ears, these Plantronics are a no-brainer. They're not only covered in a sweat-resistant nano coating (your gym bag and nose will appreciate that), but they're also jacked with 40mm drivers that provide deep, rich sound and serious bass. They're also remarkably lightweight, yet rest snug enough on your head to stay put even when you're bouncing around.
Price: $72.94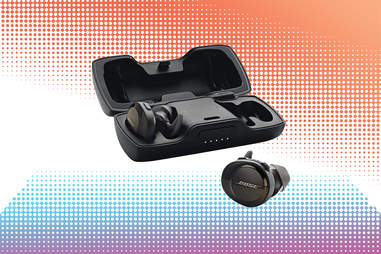 Amazon/Danna Windsor
The best pair for serious audiophiles
Bose Soundsport Free
Battery life: Five hours on a full charge (and charging case carries 10 additional hours of power)
If you're adamant that your megamixes sound absolutely stunning while you sweat and crank out reps, these truly wireless Bose earbuds are what you want. Apart from packing the sort of world-class audio tech that's earned Bose its stellar reputation in the headphone and speaker industry (these things are crystal clear and powerful), they're sweat and weather resistant courtesy of a water-repellant mesh. Beyond that, they feature fingertip command buttons to easily answer calls or change the track, and a tracking system and app that makes it easy to find an earbud if you've misplaced one. They're certainly not cheap, but you're getting what you pay for.
Price: $199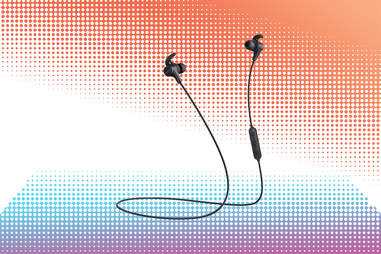 Amazon/Danna Windsor
The best pair if you don't want to spend more than $30
Aukey Latitude Lite
Battery life: Eight hours on a full charge
For the folks who aren't ready to drop a ton of cash and just need something simple that gets the job done (and done well), consider this pair from Aukey. They come with three sizes of ear tips for a secure fit and a simple control panel built into the neck wire. And while they may not beat out some of the others here in terms of sweat-resistance, durability, or premium sound quality, they've nonetheless earned lots of positive reviews from users who swear by them.
Price: $29.99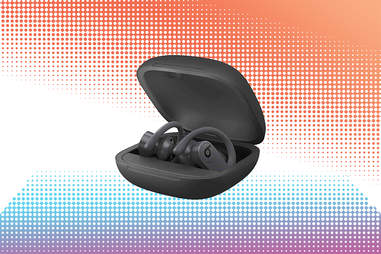 Amazon/Danna Windsor
The best pair if you want incredible sound and quick recharges
Beats PowerBeats Pro
Battery life: Up to nine hours on a single charge (and charging case provides additional 24 hours)
If you're a big fan of Beats' top-notch over-ear headphones but need something that'll give you a lot more freedom of movement (and happily submit to your sweatiness), the PowerBeats Pros are great. They're extremely lightweight and sit secure on your ears courtesy of ergonomic hooks, and come equipped with internal optical sensors and motion accelerometers to automatically start and stop playing whenever you put them in or take them out. Plus, they feature intuitive volume and track controls, and come with Beats' special "Fast Fuel" capability, which gives you 1.5 hours of juice with a quick five minute charge. 
Price: $249.95
Amazon/Danna Windsor
If you want something truly wireless on a budget
JLab Air Sport Wireless
Battery life: Six hours on a full charge (and charging case provides 34 additional hours) 
For anyone looking for a truly wire-free setup without spending more than $100, you'd be wise to get your hands on this pair from JLab. They're sweat-resistant and conveniently auto-connect to your device via Bluetooth straight out of the case. They also sound great for a pair at this price point and are equipped with a feature dubbed "Be Aware Audio" which, when enabled, integrates ambient outside noise so you can hear what's going on around you.
Price: $69