9 Black-Owned Etsy Shops You Should Bookmark Immediately
Make these shops your go-to sources for home decor, artwork, bath essentials, and more.
We independently source all of the awesome products and experiences that we feature on Thrillist. If you buy or book from the links on our site, we may receive an affiliate commission — which in turn supports our work.
February is Black History Month in the US, a time for people to reflect on and celebrate the contributions of African Americans throughout our country's history. It's also an opportunity to help support and elevate Black-owned independent businesses. And one of the best and simplest ways to show your support is to put your money where your mouth is. Like it or not, your shopping choices can directly affect long-term change when it comes to wealth distribution in our country. And while any month is the right month to support Black-owned businesses, February is the perfect time to trade your go-to, big-box retailers for some exciting new shopping hubs.
Etsy is always a great option when it comes to supporting small businesses and independent makers, and the shopping platform is currently highlighting some incredible Black-owned shops on its homepage that make and sell a wide variety of items we're certain you'll want to stock up on. Whether you're looking to invest in new original artwork, furniture, or bath products, these nine Etsy shops more than deserve your attention—and money—this month and every month.
Keep scrolling to scope out some of our favorite picks from these can't-miss makers and business owners.
Etsy
When Ntebo Archer and her husband moved into their first house, she had big interior design dreams—but a small budget. She delved into thrift shopping and soon found a knack for refurbishing and making furniture. While her passion was initially channeled into decorating her own home, the self-taught maker now sells her rustic, wood-made home decor pieces on her Etsy shop, Archer Home Designs. Her small but mighty selection of products has an average 5-star rating from customers, with her rustic coffee tables remaining the most popular.
Etsy
New Jersey-based entrepreneur Shaina Adams creates inclusive coloring book pages and paper crafts, inspired by her own three children. She felt compelled to create something for kids who were unaccustomed to seeing their likenesses in toys, and now sells items like finger puppets and paper dolls on her Etsy shop, Paper Play and Wonder.
Etsy
Husband-and-wife duo Val and Ray Talbert are the founders and owners of Tal & Bert, an Etsy shop specializing in handmade, raw mineral geode planters and candles. The couple started their company in their home studio in Pittsburgh, and it has since grown into a brick-and-mortar storefront that sells their own items along with products from other local businesses (85% of the brands they feature are either woman-owned or minority-owned).
Etsy
Born in Jamaica and based in Florida, Melissa Koby turned to art in 2020 as a way to process what was happening in the world. Her "Quarantine Series" earned her a global fan base, and her pieces on Etsy continue to touch on social justice and celebrate people (especially women) of color. According to Koby's website, "The people in my artwork are faceless because I want everyone to be able to see themself in each piece. I want to normalize looking past the color of the skin of the people. I want each viewer to focus on how the art itself makes them feel."
Etsy
An interior and retail designer by trade, Atlanta-based Erin Carter found her design projects slowing at the start of the pandemic. She turned to making concrete items as a creative outlet, and her family encouraged her to open an Etsy shop to sell her products. The resulting shop, Perpetual Bliss Co., features gorgeous handmade home decor and sculptural candles.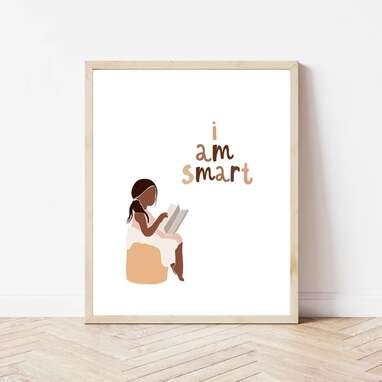 Etsy
Inspired by a conversation she had with her daughter about her curly hair, Latanya Nowatnick designs inspirational illustrations for children of color. The California-based mother of two creates the artwork for her Etsy Shop, Dilly Curls, to help her daughter—and other kids—build confidence, happiness, and self-esteem within themselves. Her prints are delivered via email within minutes of your order and payment, and you can print them as large or small as you like.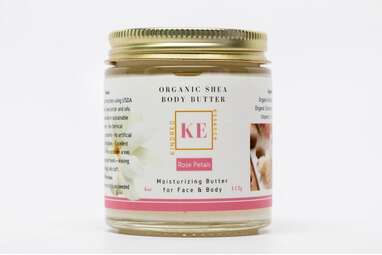 Etsy
Sisters and scent experts Sandra and Jennifer Mapp opened Kindred Essence in 2008, a collection of organic candles and bath products designed to promote self-care. Their products make excellent gifts, whether you choose a bar of exfoliating soap for your main man or rose petal body butter for your most indulgent girlfriend.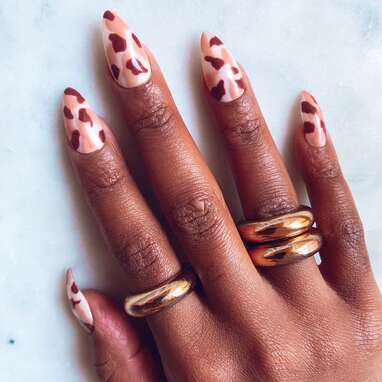 Etsy
One of the most compelling reasons to shop at Etsy is the site's huge catalog of customizable products. And customizable nail art? Even better. Atlanta-based designer Sidney Shanae Walker shares her artistic gifts via Sidney Shanae Company, her Etsy shop that specializes in handmade press-and-go nails. Each kit comes in shapes ranging from medium almond to long stiletto, and you can message Shanae directly to brainstorm your custom-made design.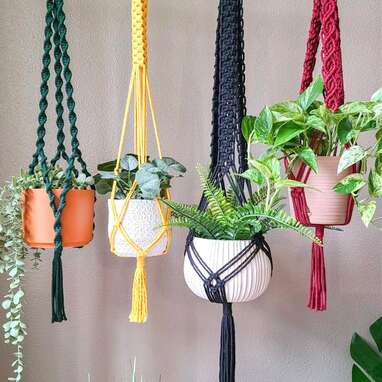 Etsy
Casey Alberti first discovered macramé in 2020 as a way to recover from a personal tragedy—every time she finished a project, she felt like a tiny part of her depression was healed. She is now the artistic force behind Sweet Home Alberti, an Etsy shop that sells colorful, intricately knotted hanging planters and wall hangings. Whether you want some rainbow-colored holders for your plant babies or some custom wall art to brighten up your space, this is definitely the Etsy shop for you.
Caitlin Morton is a travel and lifestyle writer based in Kansas City. You can follow her on Twitter
@CaitlinMorton23
.