Design by Grace Han for Thrillist
Design by Grace Han for Thrillist
We independently source all of the awesome products and experiences that we feature on Thrillist. If you buy or book from the links on our site, we may receive an affiliate commission — which in turn supports our work.
We live in a world that is constantly in flux—evolving, adjusting, devolving, readjusting. So it only makes sense that in this modern world, you'd naturally need camping gadgets in order to disconnect from your day-to-day fill with, well, gadgets. We love to go camping to get away from the rigamarole of our daily lives, to connect with nature and crack hard seltzers at 11am. Some of us like to turn off our phones and yearn to discover our more primal selves. And that's wonderful… for some. But if your version of inner peace isn't achieved by leaving your phone behind, then you should naturally bring something that can charge your phone in the woods—and any other tech that makes sense for you.
We think the best way to camp is the way that makes you feel the most happy and at peace. Modern camping gear has made leaps and bounds when it comes to the devices we can employ to make us feel more comfortable, safe, and relaxed in the wilderness. And even those who aren't looking to charge their phones could benefit from a high-tech camp stove or a cleverly designed headlamp. To wit, we found eight amazing tech products for camping that will only enhance your experience off the grid, so you can spend more time telling stories with friends around the fire and less time looking for new batteries for that burnt out headlamp.
Design by Grace Han for Thrillist
A portable power station is a must-have these days when you consider how much tech we bring with us into the outdoors (phones, cameras, lanterns, air mattresses, you name it). And Jackery makes ten models, ranging in price from a $140 battery to a $3,600 mini power plant. The smallest is great for phones and USB-compatible devices, while the higher-end models can power things like stoves, fans, Margaritaville Frozen Drink Machine, and even a full-sized refrigerator.
Design by Grace Han for Thrillist
Bringing a portable speaker into the woods is a blessing and a curse—someone with questionable taste will eventually hijack the tunes, but it's still worth bringing just for some background vibes. The JBL Charge 4 is an excellent pick for just that. The speaker is waterproof, made of rugged plastic materials, and offers 20 hours of playtime. It'll even charge your phone via USB port… y'know, in case the Jackery Power Station is busy making those margs.
Design by Grace Han for Thrillist
The Ledlenser ML6 should be on every car camper's checklist. This rechargeable lantern boasts the ability to adjust its brightness from 25 to 750 lumens of white light—this basically means you can choose to light up your entire camp, or simply transform it into an in-tent reading lamp. The runtime averages around 70 hours (it all depends on how bright you keep it, how long you run it, etc). Like the JBL, the ML6 has a built-in power bank, so you can charge your phone or other devices. Use the attached hook to hang it from a tree or line, and use the magnetic base to stick it on your car—or your refrigerator as a postcard holder.
Design by Grace Han for Thrillist
Absorbing the great and mighty power of the sun, the GoSun will bake, steam, roast, sauté, and read your horoscope. Ok, so it can't do that last thing (yet), but it will cook a full meal in as little as 20 minutes under direct sunlight, as well as hit temps as high as 550 degrees. The system doesn't need electricity, use wood, or require batteries. It'll even cook aforementioned meals on cloudy days and in overcast conditions. Set up and take down is incredibly simple, and the GoSun is able to hold enough food for two to four people.
Design by Grace Han for Thrillist
Frankly, it sucks to be out in the dark and have your headlamp battery die, especially if you're hiking or collecting wood far from camp. Enter the Actik Core headlamp from Petzl: a durable headlamp that runs on three AAA batteries and also enlists the help of a rechargeable battery as a backup plan. It's a brilliant idea that could potentially save your life, unless you're like me and don't wander more than 20 feet from the campfire.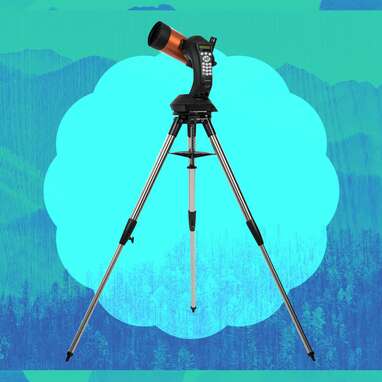 Design by Grace Han for Thrillist
Stargazing is easily one of the top three reasons I camp. And sure, you can lay on the cold grass, look up, and say, "There's the Big Dipper," but this NexStar Telescope will allow you to say things like, "There are the rings of Saturn," instead. You'll even be able to see deep-sky objects like galaxies and nebulae. I'm admittedly no telescope expert, but I can tell you this model is user-friendly, simple to set up, and definitely portable (and reviewers tend to agree).
Design by Grace Han for Thrillist
The BioLite CampStove 2+ micro-stove is powered by kindling and twigs—but it's more than just a stove. Burning these fuel sources will also charge the stove's battery, which in turn will allow you to charge your phone, if you need to. The battery is attached to the main chamber and uses a small fan to create a vortex inside… thus ensuring you get a smokeless fire and your tiny pile of twigs burns effortlessly. To fully make use of this modern marvel, grab the Complete Cook Kit which comes with an attachable grill and a French press kit that'll boil a liter of water in 4.5 minutes.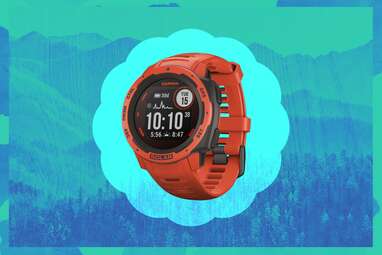 Design by Grace Han for Thrillist
Ask anyone who's ever been lost in the woods, and they'll tell you it's a terrifying experience. But hopefully it's an experience you'll never have to endure if you equip yourself with this solar-powered, water-resistant GPS watch from Garmin. The smartwatch gives you an accurate altimeter (altitude), barometer (air pressure), and GPS (location). It can run up to 54 days on solar power alone, and aside from possibly saving your life, it also will tell you the time and light up at night.