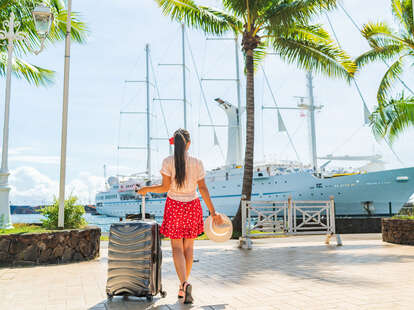 Maridav/Shutterstock
Maridav/Shutterstock
We independently source all of the awesome products and experiences that we feature on Thrillist. If you buy or book from the links on our site, we may receive an affiliate commission — which in turn supports our work.
When you're planning a Caribbean cruise vacation, your mind is probably occupied with visions of the crisp sea breeze wafting through your hair or the sun gently caressing your skin. The last thing you want to think about is the practical minutiae of how to get from home to that small slice of heaven—and that includes coming up with a packing list. Sure, you've thrown a few swimsuits and flip-flops in your suitcase, but what are the other essentials you need for a magical tropical getaway?
To help make your packing process as painless as possible, we've enlisted the help of some experts with extensive experience in planning and enjoying Caribbean cruises. Keep reading to discover the absolute cruising must-haves, some practical items, and a few super stylish additions to pack before you set sail.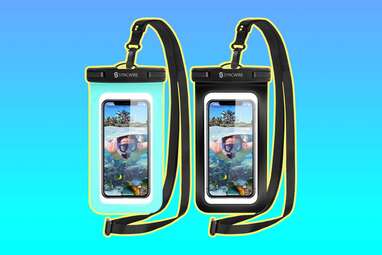 Unsplash/Amazon
Susan Stafford is the co-founder of The Event Architects, a firm specializing in corporate meetings, conventions, and retreats, including corporate cruises. She is also an avid Caribbean cruiser and highly recommends a waterproof phone pouch. "Most shore excursions in the Caribbean include water activities," she says. "You don't want to leave your phone unattended, miss out on picture opportunities, or get your phone wet! Therefore, invest in a good quality waterproof pouch to keep your phone securely around your neck and available for pictures."
These Syncwire cases will definitely fit the bill, and they can even be used to take underwater photos with your camera phone. Just be sure to select a case that fits your phone model!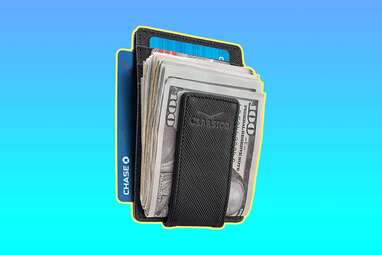 Unsplash/Amazon
"Having your entire wallet with you is not needed [on a cruise], so before you head out on your trip, grab a slim wallet that will hold just the necessities," advises Emily Smith, a former travel agent turned travel writer and founder of The Female Abroad. She is particularly fond of the Claasico's slim design that allows it to fit seamlessly into most pockets and makes traveling with a money belt a breeze. Smith says that small bills will come in handy even on all-inclusive cruises.
"There are lots of people who will help you along the trip that are not covered by gratuity packages, like bell services, excursion [leaders], drivers, and housekeeping," she adds. "Even for staff included in the gratuity packages, feel free to give them an extra tip because a couple of bucks can make service surprisingly faster for you; you may even get additional perks or better service."
Unsplash/Amazon
A tropical Caribbean cruise is a perfect option for a sun-drenched getaway. But Kristin Winkaffe, an Ohio-based luxury travel advisor and founder of specialty travel company Winkaffe Global Travel, reminds vacationers to protect their skin from the sun's piercing rays. "Take care of your skin and opt for the more protective mineral sunscreen. Elta MD is my favorite (and the one recommended by my dermatologist). I don't leave my house without their tinted face sunscreen!"
Unsplash/Amazon
Stafford echoes Winkaffe's sunscreen suggestion, but adds that cruisers must be mindful of a destination's regulations when shopping for options. In 2020, the U.S. Virgin Islands implemented a ban on sunscreens with ingredients that could potentially harm coral reefs and other marine life. Stafford recommends reef-safe sun protection like Sun Bum's Day Tripper kit. The package includes SPF 30 sunscreen lotion, lip balm, and a cool-down aloe lotion, all neatly packed in a cute fabric pouch with a zipper. All the products are cruelty-free, paraben-free, vegan, and water resistant for up to 80 minutes at a time.
Unsplash/Amazon
Keeping track of your sunglasses on a cruise is like an extreme sport. Stafford is a fan of the Luxe Performance adjustable sunglass strap, with strong temple grips and high tension adjusters that ensure a secure and comfortable fit—even when waves get particularly choppy. The strap is compatible with most popular brands like Ray-Ban, Costa, and Oakley and comes in a variety of colors.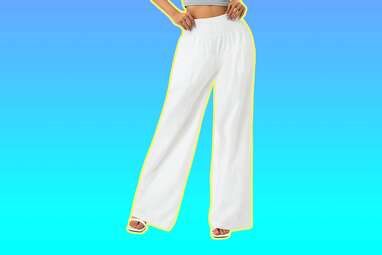 Unsplash/Amazon
Smith adds palazzo pants to her cruise packing list for a stylish but relaxed look while on board or on shore. "Palazzo pants in cotton or linen and light colors are a must, and these [Gugpi ones] are a great option," she says. "When it is 90+ degrees outside and the humidity is super high, nothing is more comfortable than loose-fitting, breathable clothing that absorbs sweat. The nice thing is that you can dress them up or wear them casually, too." The pants are 100% cotton, have a flattering high-waisted fit, and come in sizes ranging from small to 2XL.
Unsplash/Amazon
Don't underestimate the importance of a good pair of shoes when traveling. Some cruise excursions might require closed-toed shoes, while others require water shoes. Stafford advises erring on the side of caution when selecting the perfect pair for a Caribbean cruise vacay.
"If your excursion does not have specific requirements, you should still cover your feet accordingly. Will you be doing a lot of walking? Will you want shoes you can easily get in and out of at a beach? Consider waterproof shoes, as you never know when you will be caught in a rain shower or find yourself traipsing through puddles and even mud."
Doussprt offers both men's and women's water shoes constructed from a breathable material and available in multiple colorways. According to the company, these aqua shoes are suitable for many water- and land-based activities like hiking, cycling, swimming, surfing, sailing, snorkeling, kayaking, windsurfing, and more.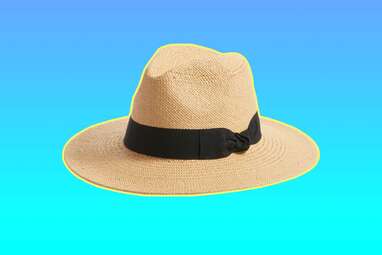 Unsplash/Nordstrom
For those days when you want to sit out on the deck or hit up a beach on land, a hat is a sun protection essential. But a wide-brim hat can be difficult to lug onto the flight before joining the cruise where, Jaffe says, "it will inevitably get smashed anyways." Her solution is a packable straw Panama hat like this one from Nordstrom, which can easily tuck into your carry-on bag without losing its shape.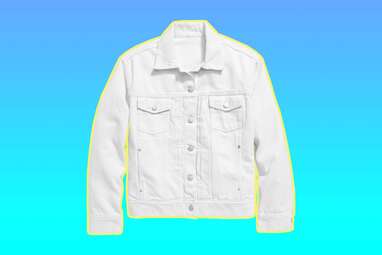 Unsplash/Old Navy
Stafford swears by carrying a jacket or sweater on cruises. "Must cruise ships overcompensate for the Caribbean heat by jacking the air conditioning down to arctic levels inside," she says. "If you are at all cold-natured, you will likely need a jacket or sweater inside the ship on your Caribbean cruise." Carry your favorite piece or try this durable but soft denim jacket from Old Navy.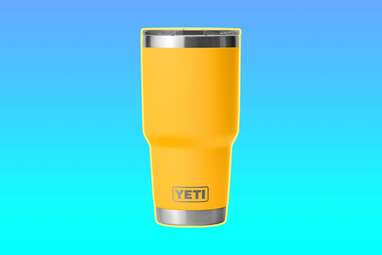 Unsplash/Amazon
"It's HOT in the Caribbean," stresses Stafford. "Ice melts and drinks warm very quickly. You will be glad to have your own double-walled tumbler with you even if you are lounging someplace with drink service." Her pick is the Yeti Rambler 30-ounce tumbler. The sleek, stainless steel receptacle is rust resistant and features double-wall vacuum insulation to keep your drink as cool as possible. The Magslider lid prevents leaks and spills but is also easy to open and close, and the color palettes range from blue to copper. You can even customize it with your name to keep it safe from common area mix-ups.
Unsplash/Amazon
All towels are provided on-board cruise, but Stafford says it's still wise to carry your own for excursions. "Many first-time cruisers do not know many shore excursions or Caribbean beach locations do not include towels (although some do)," she explains. "Be sure to check the specifics for your venue in advance and grab a towel from the ship if need be."
You can borrow a towel from the ship, but if you prefer to bring your own, Stafford recommends this large Dock & Bay option. It's quick-drying and doesn't take up too much space in your luggage.