9 Carry-On Essentials That Make Economy Feel Like First Class
While we can't guarantee extra legroom, these products will make flying in coach a little less miserable.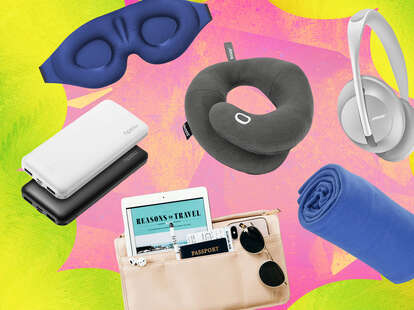 Design by Maitane Romagosa for Thrillist
Design by Maitane Romagosa for Thrillist
We independently source all of the awesome products and experiences that we feature on Thrillist. If you buy or book from the links on our site, we may receive an affiliate commission — which in turn supports our work.
With so many flight delays and cancellations happening around the world right now, air travel is a little more stressful than usual—and that stress doesn't exactly get better when you're crammed next to a bunch of angry people in the economy cabin. Luckily, there are plenty of carry-on essentials that can make even the most cramped flights a little more bearable, even if you can't afford to upgrade to first class this time.
From noise-cancelling headphones to one of the best neck pillows on the market right now, here are nine products to throw in your carry-on bag for your next flight. They are all lightweight and extremely packable—and guaranteed to make you forget you're hurling through the air in a crowded metal tube (at least for a little while).
Unsplash/Amazon
This travel pillow has more than 13,500 five-star reviews on Amazon, with most customers raving about the support and comfort levels. The pillow softly wraps around your neck to fully support your head from the front and back while sitting upright—definitely a must in the stiff seats of economy. You can also choose from about a dozen patterns and colors, and there are sizes for both children and adults.
Unsplash/Amazon
Unless you can upgrade to premium economy or first class, you can expect to feel pretty cramped in your seat. This foot hammock helps relieve at least a little bit of that discomfort: Simply loop it over your tray table, adjust it to the preferred height, and tuck your feet into the sling for an infinitely more comfortable seating position.
Unsplash/Amazon
While most flights have seatback entertainment these days, there's absolutely no guarantee that your personal screen will actually work (I recently had a broken screen on a 7-hour flight, and trust me: It sucked). This handy phone mount is a great backup, allowing you to clip your device onto the tray table in front of you and enjoy some hands-free entertainment. You can adjust the mount both vertically and horizontally, and it's designed to fit practically every size of smartphone on the market.
Unsplash/Amazon
Whether you need to block out the sun or your seatmate's reading light at 3 a.m., an effective eye mask is a must on any economy flight. This one is contoured so it doesn't smash against your eyes, is fully adjustable, and is made from silk so you can feel fancy AF. It even comes with earplugs as an added bonus, ensuring complete sensory deprivation.
Unsplash/Amazon
Noise-cancelling headphones are another must-have travel accessory, and these ones from Bose are among the absolute best. Each pair comes with 11 levels of active noise cancellation (ANC) and clear, crisp sound quality to help you drown out your snoring neighbor. But perhaps most impressive is the battery life: You can listen to music for up to 20 hours on a single charge.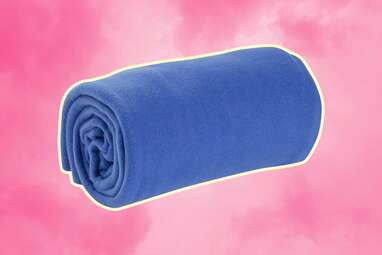 Unsplash/Amazon
Unless you're on an international or long-haul flight, there's a good chance you won't be given a blanket in economy class. That doesn't mean you don't deserve to stay warm and comfortable on your 3-hour trip, though, which is where this ultra-lightweight blanket comes in handy. The microfleece throw only weighs 13 ounces (so lighter than a bottle of Diet Coke) and can roll up to fit into your carry-on without taking up too much space.
Unsplash/Amazon
While many planes feature outlets or USB ports in economy class, you might find yourself on an older plane or be seated next to someone who doesn't feel like sharing outlets. It's better to come prepared with a portable power bank so you can keep using your phone even on the longest of long-haul flights. These dual power banks can fully charge your device between two and four times (depending on your make and model) and are incredibly slim and compact—roughly the size of an average smartphone.
Unsplash/Amazon
When you're cramped in a row with two or three other people, you can kiss any chance of having a private moment goodbye. So unless you really want your seatmate to have a full view of your work spreadsheets or R-rated movies, this laptop privacy screen is your best bet. Just select your laptop size (options range from 13.3 to 27 inches) and either use adhesive strips or tabs to attach the filter to your computer. Now sit back and enjoy your movie of choice, no matter how steamy.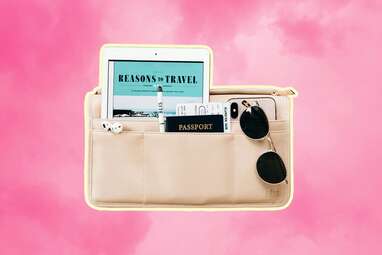 Unsplash/Beis
Space is extremely limited in economy class, which means the fewer items you have to hold on your lap or stuff under your chair, the better. This organizer from Beis attaches to the seat in front of you, with compartments for tickets, credit cards, passports, sunglasses, and pretty much anything else that you might need to grab during your flight. The fact that it looks incredibly chic is an added bonus.