Design by Maitane Romagosa for Thrillist
Design by Maitane Romagosa for Thrillist
We independently source all of the awesome products and experiences that we feature on Thrillist. If you buy or book from the links on our site, we may receive an affiliate commission — which in turn supports our work.
When it comes to your bathroom, it's likely not the place you'd envision as a beacon of luxury, and that's doubly true if yours feels a bit underwhelming, even on a good day. That doesn't mean indulging in a much needed self-care break at home is impossible, though. There are many ways to transform any bathroom into a spa-like retreat without any significant renovations required. To help you get started, we consulted hotel spa directors from across the country for tips on how to recreate a proper spa day experience at home, and what products they recommend to help you unwind.
From lamps and candles to set the mood, to relaxing treatments you can easily enjoy at home, here's what the experts say you'll need to turn your bathroom into a personal sanctuary.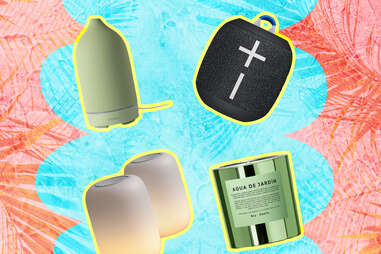 Setting the mood
The first step to creating a spa-like environment is by creating the right vibe in your bathroom. "The most important thing is to fully immerse yourself in your spa experience by healing, soothing, and satisfying all five senses," says Ellen McGinnis, Corporate Director of Spa at Omni Hotels & Resorts. "Set your intention of relaxation and self-care, and designate this time for yourself, free from distractions and disturbances." To achieve this, she recommends adding dim, ambient lighting and soft music. "As simple as it may sound, a great quality candle can be the perfect way to set the tone for a restful self-care routine," she says. If you're looking to take it even further, Jake Donnelly, salon & spa coordinator at Joseph Anthony Retreat Spa & Salon recommends adding towel warmers, salt lamps, hanging fresh eucalyptus (make sure it's organic), and a great relaxing playlist. "All of these tips will use the senses of sight, sound and smell to create the most relaxing at-home spa experience," he says.
Shop lamps, candles, and other gadgets to set the mood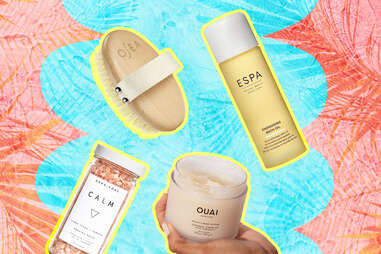 Must-have products for spa-like treatments
While your home bathroom may not come with a massage therapist or on-site sauna, you can fairly easily recreate an experience that mimics that typical sort of spa circuit. It's all about the products you use while drawing a bath. "Create a soothing signature fragrance—like those found at many Omni spas—by layering a combination of Himalayan salts,Epsom salts, and essential oils," McGinnis suggests. She also shared that at Omni spas they use Aromatherapy Associates, an award-winning aromatherapy brand that prides itself on its hand-crafted essential oil formulas.
Another treatment you can try at home is dry brushing—a gentle massage with a firm, natural bristle brush—as Hotel Contessa's spa director, Gigi Guiette suggests. "Dry brushing your body is the best way to allow the skin to breathe, brushing in the morning gets circulation going and moves impurities through the lymphatic system," she says. And to top it off, Donnelly swears by a 24 carat gold eye mask while you're soaking in the tub. "They help to depuff and hydrate the delicate under eye skin, and feel great while wearing them!"
Shop products for a spa-worthy bath
Upgrade your towels
A particularly luxurious element of a true hotel spa experience are the towels and robes you get to use and wear. Guiette has the perfect trick to upgrade ones you already own into the versions they use at Hotel Contessa: "Add lavender essential oil when washing bath towels to bring home the feeling of a spa." If you're looking for the perfect cozy bath towels, McGinnis recommends the ones made by Monarch, as they're the ones found in Omni spas. As for your robe? She suggests "invest[ing] in a high-quality terry cloth robe with a lining," that way you can indulge in a properly plush and comfy spa-caliber experience.