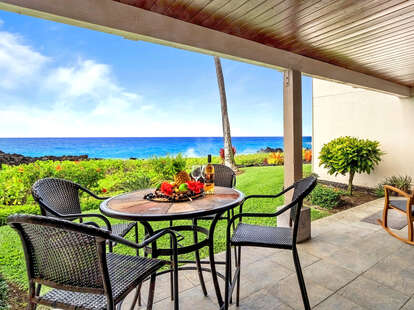 We independently source all of the awesome products and experiences that we feature on Thrillist. If you buy or book from the links on our site, we may receive an affiliate commission — which in turn supports our work.
If you want your next vacation to be as relaxing as possible, you can't go wrong with a beach house. With ocean views and the gentle sounds of waves lulling you to sleep, it's practically impossible to feel stressed by the sea. And since spring break is right around the corner, there's no better time to start looking for coastal rentals across the country. Airbnb has thousands of beachfront properties in the US—including many for under $100 per night.
Here, we've rounded up some of the cheapest oceanfront (and one lakefront) properties on Airbnb, in locations ranging from Hawaii to New England to the Pacific Northwest. They all are within walking distance of the beach, and come with rave reviews and reliable hosts. So gather up your friends, pick a spot, and get ready for the most affordable beach vacation of your life. (Note: Prices may change depending on your travel dates.)
Airbnb
6 guests/$100 per night
This updated townhouse is just a quick stroll away from the Gulf of Mexico, with two spacious balconies for relaxing and taking in views of the turquoise waters. Inside you'll find two king-size bedrooms and a spacious kitchen, plus nice perks like a laundry room, fireplace, and smart TVs. There are tons of shops and restaurants within walking distance, or you can take a trolley to explore more Indian Shores attractions.
What guests say: "Very nice place and a great surrounding area with a lot of great restaurants. The beach was incredible. We would definitely return."
Airbnb
Nags Head, North Carolina
9 guests/$98 per night
Perfect for family vacations, this top-floor unit has an attached walkway that leads directly to the beach. There is also a shaded deck with picnic table, outdoor showers, basketball hoop, and three comfortable bedrooms. The location is ideal for making quick day trips to some of Nags Head's star attractions, like the Wright Brothers National Memorial and Bodie Island Lighthouse.
What guests say: "Our vacation at this place was one of the most relaxing and enjoyable we've had in a long time. The views from the balcony are out of this world, the beach is peaceful and not crowded, and the house is comfortable and clean."
Airbnb
4 guests/$86 per night
If you love the idea of a Nantucket vacation but can't afford that island real estate, this charming beachfront cottage is a great alternative. Located in the small town of Fairhaven, the home offers direct access to a sandy beach and calm waters perfect for fishing and kayaking. Watch the boats pass by as you grill out on the deck, or walk down the street to enjoy a playground and picnic area.
What guests say: "Amazing view! We thoroughly enjoyed this cottage, especially the sunrises, sunsets, and collecting shells right outside our door."
Airbnb
6 guests/$96 per night
Oregon might not be the first state that comes to mind when you think "beach vacation," which makes this cozy oceanfront A-frame even more delightful. Built in 1969, the two-bedroom cabin sits on a 7-acre property with a short trail leading down to the Otter Rock beach (very popular among surfers). The grounds also feature two fire pits and barbecue areas, a swingset, and several park benches.
What guests say: "This lovely find is a perfect getaway! We loved the location, ease of check-in, convenience of beach access and the opportunity to unwind."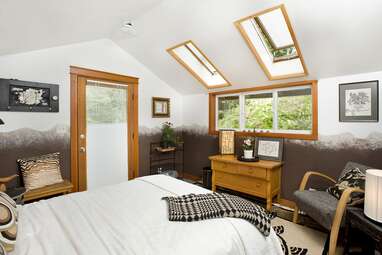 Airbnb
2 guests/$82 per night
Another Pacific Northwest stunner, this sunny guest house sits on a 2.5-acre property facing the Puget Sound. The newly upgraded cabin includes a bedroom, kitchenette with eating area, bathroom with shower, skylights, and deck, while the listing also grants access to a beachfront gazebo with fire table. Walk the private path to the beach, where you can go kayaking and fishing or stroll through the driftwood with your dog (pets are encouraged here).
What guests say: "I stayed at Martha & Noah's cabin for a quiet weekend alone and the whole experience was perfect! You can't beat the location and the view from the gazebo."
Airbnb
6 guests/$95 per night
The southern coast of Alabama has beaches on par with Florida's, but prices here are a fraction of what you'd find in Destin or Sarasota. This corner unit condo is steps away from one such beach, with dazzling white sand and swimmable water. The amenities that come along with the rental are almost as impressive as the views: think tennis courts, putting greens, indoor and outdoor pools, outdoor grilling areas, hot tubs, and a sauna.
What guests say: "The condo was perfect for our needs. It was located right on the beach and away from the crowds. Would definitely stay here again!"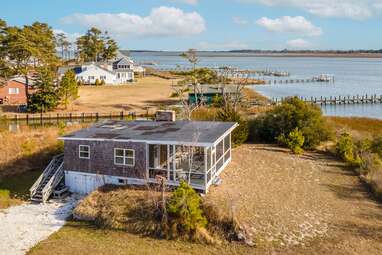 Airbnb
4 guests/$85 per night
Famous for its delicious oysters and wild ponies that run through the water, Chincoteague Island is one of the most beautiful (and least expensive) beach destinations in the mid-Atlantic. Soak in some of that beauty at this warm and welcoming cottage, with direct access to the grassy shores of the Assateague Channel. Enjoy a cup of coffee on the screened-in porch, then grab a kayak (the hosts can help arrange rentals) and start exploring.
What guests say: "Our stay was AWESOME!! The views from the back deck alone were amazing. Beautiful, peaceful, scenic and serene. We saw plenty of birds, and can even see the lighthouse at night!"
Airbnb
6 guests/$100 per night
This ground-floor condo on the Big Island is all about views, views, views. Not only can you see the ocean from the living room and master bedroom, but the covered lanai affords unobstructed vistas of the blue water against the lush green vegetation. The condo is part of the Keauhou Kona Surf & Racquet Club, which means you also have access to tennis courts and a pool.
What guests say: "What a fantastic spot! Right by the water with awesome views. We saw dolphins from the patio in the mornings and the place was everything we could have needed."
Airbnb
4 guests/$91 per night
Ask any Midwesterner and they'll tell you: Lake Michigan is just as good as the ocean. This luxury condo in Traverse City has lake views from the living room and private terrace, plus direct access to a sandy beach with sun loungers and boat rentals. The condo itself is like a hotel in terms of luxury, with a fully stocked kitchen, flat-screen smart TVs, trendy decor, and a king-size bedroom with blackout curtains and a sound machine.
What guests say: "This is the best place to stay in Traverse City! Everything about the condo is fantastic—the view of the water from the balcony, the private beach, the decor!"
Caitlin Morton is a travel and lifestyle writer based in Kansas City. You can follow her on Twitter
@CaitlinMorton23
.