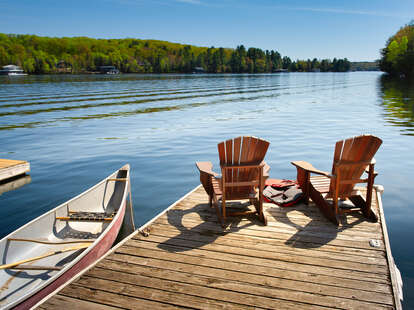 We independently source all of the awesome products and experiences that we feature on Thrillist. If you buy or book from the links on our site, we may receive an affiliate commission — which in turn supports our work.
If you want to get away from it all and truly enjoy some peace, quiet, and tranquility, there's nothing quite like renting a house on a lake. Want to spend your days lazing away on a dock, working on your tan, and taking the occasional dip in the water? Then a lake house vacation is for you. Would you rather fish, swim, kayak, or any of the other gazillion activities associated with water? Well, a lake house vacation is also for you.
Lakeside escapes are inherently relaxing, but there's one way to make your trip even more relaxing—by not emptying your bank account to pay for it. That's why we decided to round up the best lake house Airbnbs that you can rent for under $100 per night, leaving you with plenty of money for the important stuff. (You know, like boat rentals and beer.)
Airbnb
5 guests/$87 per night
This 85-year-old stone cottage has three bedrooms and sleeps five people comfortably. It's also very close to Beaver Lake, an artificial reservoir in the Ozark Mountains with limestone bluffs, natural caves, access to water sports like boating, waterskiing, and even scuba diving, plus really good fishing (the lake has several kinds of catfish and largemouth bass). The cottage has plenty of charm—think a front porch with a swing, freestanding bathtub, patio with a fire pit, hot tub, and huge backyard with ducks, goats, and bunnies.
What guests say: "This cottage is a magical getaway. The hot tub and soaking tub made for wonderful relaxation, and the bonus of some lavender Epsom salts and bath bombs were a delightful surprise. I left relaxed and rejuvenated!"
Airbnb
Big Bear Lake, California
4 guests/$81 per night
Big Bear Lake is Southern California's biggest recreation lake and an excellent spot for fishing (trout, bass, catfish), hiking, mountain biking, and horseback riding. This freestanding "very vintage" (read: bare-bones) cabin is within walking distance of the lake and has a wood-burning fireplace, charcoal grill, and picnic table—aka the only things you really need for a vacation at the lake. One thing to note: It's in a community of family cabins, so this is definitely a spot for people who want to play hard all day and then hit the hay early.
What guests say: "Unbeatable price at a fantastic location. Walking distance from the lake, kayak rentals, village, and hiking trails. Perfect spot for a short getaway."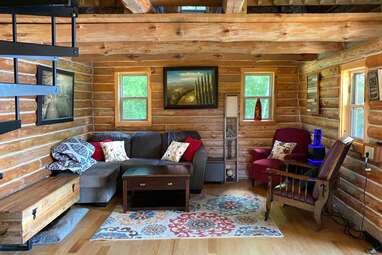 Airbnb
8 guests/$90 per night
This tiny cabin doesn't have plumbing, but it does have electricity and an outdoor rain shower—and when you're looking for affordable lake houses, you take the wins where you can! Spend your evening cooking burgers on the grill and sitting around the fire pit, and your days kayaking and fishing around the lake. There's plenty of land, so you can bring a big group as long as people are willing to pitch tents. For those who need a bed, there are four twin beds in a loft, a sectional couch, and inflatable mattresses as well.
What guests say: "We loved everything about [this cabin]. We appreciated the use of the kayak and the rowboat. Our dog loved exploring the nearby walking trails. We definitely will be back and have already told all of our outdoor-loving friends about this gem."
Airbnb
3 guests/$85 per night
This one-bedroom apartment is in a neighborhood with beach access, a swimming pool, and a community campfire on the water. It's not lakefront but it does have a partial view, and everything is within walking distance, including a marina with boat rentals, water toy rentals, and a restaurant. It's also close to Smith Mountain Lake Park and a prestigious lakeside golf course, but if you want to just park your car and not touch it until your vacation is over, that is definitely an option.
What guests say: "This place is truly wonderful! There's a lovely pool, a beach area with a jumping dock, fire pit, boating—so much to do and all the sun and shade you could ask for! The condo itself was BEAUTIFUL, and our hosts were wonderful every step of the way."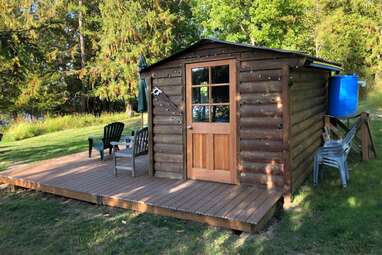 Airbnb
2 guests/$69 per night
You'll be right on the shore of Idaho's biggest lake in this comfy but rustic cabin, which has electricity and heat but no running water or shower. (There's a composting toilet in the separate bathroom building.) But who needs to shower when you're right on the shore of a freshwater lake? The house also has a campfire pit on the lawn, perfect for sunset cocktails and late-night s'mores, and you can rent kayaks, a canoe, and stand-up paddleboards directly from the owner.
What guests say: "This little cabin on the lake is what dreams are made of. The cabin is cute and cozy and has everything you need for a good night's sleep. The deck is huge with plenty of space to lounge, and with the beautiful views of the lake, it's easy to while away many peaceful hours."
Airbnb
2 guests/$90 per night
This two-story guest cottage sits near a historic 1830s lighthouse turned train station on the southeast corner of Cayuga Lake, the longest of the Finger Lakes. Nestled in a garden, the cottage (which was once the stationmaster's home) has lake views from the upstairs bedroom's tiny balcony and a backyard fire pit. It's also very close to all of the downtown restaurants and shopping, so you can enjoy the best of both worlds.
What guests say: "Just what we were looking for! We came to Ithaca to take in its natural beauty, and Wylie's place was the perfect home base for our daily excursions to the lakes, waterfalls, hikes, and state parks."
Airbnb
Coolbaugh Township, Pennsylvania
6 guests/$75 per night
This cottage in the woods is perfect for cute vacation pics, lots of privacy, and all of the basics, including room for six people, a wood-burning fireplace, and a backyard fire pit. Of course, the real draw is that it's in Lake Arrowhead, with access to hiking, biking, water sports, fishing, and more. Plus, you'll have access to the community's four lake beaches and (during the summer) three heated swimming pools.
What guests say: "A perfect little cozy getaway! The house was so cute with such a homey feel. It had everything you needed for a nice relaxing vacation, with a short beautiful walk down to the lake. Would definitely stay again!"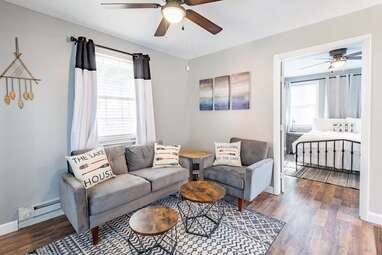 Airbnb
2 guests/$100 per night
This cozy, stylish house is newly renovated to feel bright, airy, and comfortable. It also has views of Table Rock Lake, a manufactured lake known for world-class bass fishing, boating and water sports, crystal clear water, hidden beaches, hiking and biking trails, and more. The house only has one bedroom, but there are two other similar homes nearby (that share an outdoor fire pit) that can also be rented out for larger groups. Don't feel like cooking? There's a restaurant and general store within walking distance with burgers, pizza, and ice cream.
What guests say: "This place is absolutely wonderful! Quiet and right next to the lake. A great stay for couples looking to get away."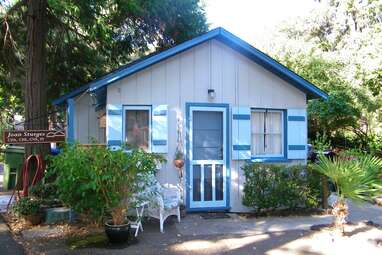 Airbnb
2 guests/$85 per night
Fun facts about Clear Lake: 1. It's the largest natural freshwater lake entirely in California. (Lake Tahoe is also in Nevada.) 2. It's known as the "Bass Capital of the West." 3. It has over 100 miles of shoreline and is great for fishing, swimming, boating, sailing, windsurfing, and all kinds of water sports. It's also in California's fastest-growing wine region (just north of Napa) in case drinking is a thing you enjoy. This cozy bungalow is a guesthouse attached to a garage on a half-acre lakefront property with lots of trees. You'll also have access to two kayaks and a canoe, as well as cornhole and bocce ball.
What guests say: "The natural beauty of the property and the lake was enough to feel like we booked an expensive, far-off exotic location. This was perfect for a weekend getaway to unwind and relax."
Daisy Barringer is a Thrillist contributor.