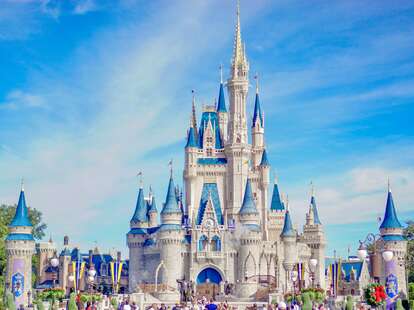 Younho Choo/Unsplash
Younho Choo/Unsplash
We independently source all of the awesome products and experiences that we feature on Thrillist. If you buy or book from the links on our site, we may receive an affiliate commission — which in turn supports our work.
Unlike prepping for a conventional journey to, say, Europe, packing for a trip to the Disney parks is all about armoring yourself for another dimension. You're not visiting a new continent—you're entering a new universe. A wonderland, some might even call it.
"Walt Disney's parks give people a chance to truly get away. It's all about fully immersing yourself in the world of Disney," says Michael Belmont, editor-in-chief at The Park Prodigy, a travel site devoted to Disney World and Universal Studios. "There's a reason it's known as the happiest place on Earth."
Ethereal wonder aside, however, you still need to pack (unless your candlesticks and teapots moonlight as household butlers). Which begs the question: What, exactly, do mere mortals bring along on an inter-dimensional adventure?
Well, there are a few key factors to keep in mind: Whether you're opting for Disney World (Florida) or Disneyland (California), you can expect a full range of climates. Yes, there's the famed heat of the states themselves, but also the snowy peaks of the Matterhorn roller coaster, the oceanic tumult of the Pirates of the Caribbean boat ride, and the Amazonian humidity of the Jungle Cruise.
Moreover, it's important to remember that Disney World is a theme park—and theme parks have rules. Ahead of time, you'll need to know if water bottles are permitted, if close-toed shoes are mandatory, whether flash photography is welcome, and so on. So, in light of preserving the magic—and absolving you of too much efficient planning around your escapist vacation—we've gone ahead and tapped a few Disney-specific travel experts like Belmont to find out all the essentials to add to your Disney packing list.
Let's get down to business (get it?).
Unsplash/Urban Oufitters
In spite of what you've heard from the dudes waiting in line outside your local Supreme store, a good fanny pack isn't merely a hype beast fashion accessory. When gallivanting around a busy theme park like Disney World, you'll find a good 'ol fashioned fanny pack offers easy access to items like phones and wallets, is plenty lightweight and convenient, and will help keep your valuables safe amidst the bustle of the park. "If you're traveling light—or solo—it's a perfect way to carry your things," says Michelle Allen, owner of Travel Magic, a Disney-specific travel agency. That said, it's not not an aesthetic garnish: "I wear mine across my shoulder rather than around my waist," she adds.
Unsplash/Amazon
It should come as no surprise that both Florida and California are reliably hot. Like, hot hot. And while restaurants and gift shops will have air conditioning for when you need a proper break, there's no avoiding long, sweaty queue times. "A portable fan is a great tool to have at your disposal in extreme heat," says Belmont. "I recommend Jisulife's handheld fan, because it quickly folds up and packs easily. It also holds USB charge for about 14 hours, which is ideal for those longer Disney days."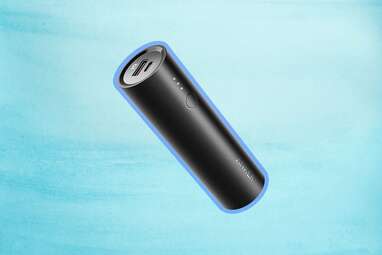 Unsplash/Anker
"In a day at Disney, you'll want to use your phone regularly to operate the My Disney Experience app," says Belmont. "So a portable charger is definitely a must." Once you add requisite photo and video documentation into the mix, there's no doubt your phone will be low on juice by the end of the day—and the parks can be tough to navigate without the app handy. (Plus, who wants to put all the Disney magic on pause to spend an hour seated by an outlet?)
You won't want to weigh yourself down too much while you romp around, so go for something lightweight (and affordable) like this reviewer-beloved, lipstick-sized portable iPhone charger from Anker.
Unsplash/Amazon
If you're new to the notion of Apple AirTags, this might just change your life. The tiny little devices are trackable from an iPhone 11 (or any later model), so you can use them to keep tabs on anything (or anyone) that might go missing. "Anyone traveling on an airplane should have an Apple AirTag in each of their bags—both checked and carry-on," says Candice Reinders, a Disney specialist at Merit Travel who has personally been to Disney World more than 45 times. "They won't prevent your bag from getting lost, but they can help you locate it." Plus, their use doesn't stop at luggage: Reinders also recommends stowing one in your car: It might just save you hours of roaming a packed Disney parking lot in search of the cursed vehicle you arrived in.
And perhaps best of all, you can use them to hold onto the kids in your group. "It is so easy to lose children at Disney World," says Reinders. "Drop Apple AirTags into your kids' backpacks so that they can be tracked with minimal panic if they wander away."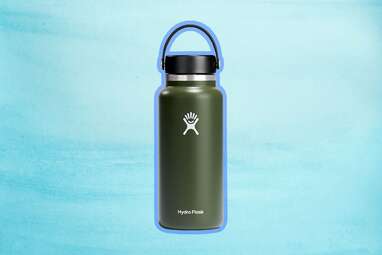 Unsplash/Amazon
If TikTok has taught us anything (dance routines, excluded), it's that hydration is a must. If you intend to survive a full day of Disney exploration, you'll need to keep a water bottle handy. "Though you can buy plastic water bottles throughout the park or at any restaurant, you likely won't want to take time out of your day to wait in yet another line," says Belmont. "People often get dehydrated after a full day of exploring the parks in the sun, so bring a large reusable water bottle and fill it up whenever need be." Glass bottles are banned throughout the parks, but an indestructible stainless steel number (like an eternally popular Hydro Flask bottle) is entirely permissible and it'll keep your water cold.
Unsplash/Amazon
Ziploc bags are the gold standard when it comes to keeping your possessions safe and dry. They're cheap and reusable, and they won't add any extra weight to your luggage—so you've really got no reason to leave them behind. Go big (freezer size, that is) and store anything valuable and non-waterproof before embarking. "Having a few Ziplocs on hand is great for protecting electronics, wallets, room keys, ID, and other items on water rides," says Reinders. "No one wants to dampen the joy of a good ride with a cell phone that is…dampened."
Unsplash/Amazon
For kids, Allen recommends going the backpack route. They will feel less cumbersome than most other bag options—plus, from behind, you can help your little trooper access whatever they need from their daypack. Opt for something small, lightweight, and waterproof, like this classic Fjallraven Kanken model.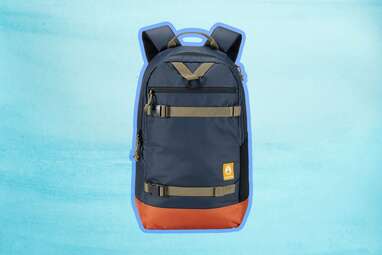 Unsplash/Nixon
All of that said, if the kids in your party can't be trusted with backpacks of their own—and thus, you're fully resigned to your role as a human storage unit—you will want a proper grown-up backpack. "Between your phone, wallet, camera, water bottle, and your family's day necessities—not to mention all the souvenirs you'll inevitably buy—a purse or a fanny pack likely won't provide quite enough storage space," says Belmont. "So light, smaller travel backpacks are ideal for a Disney trip."

This well-reviewed Ransack backpack from Nixon has a 26L capacity, so it definitely fits the bill. And—bonus!—it's made from recycled ocean plastics.
Unsplash/Amazon
For family-inclusive Disney adventures, you'll likely travel with shared suitcases. But it's no secret that getting a gaggle of Mickey revelers dressed and ready each morning while digging through a mutual bag can be a real fiasco (within the confines of a cramped hotel room, mind you). Enter: packing cubes.
"They're a great way to stay organized while packing for a trip as well as for use during the trip," says Reinders. "Assign one color to every traveler and, instead of unpacking at the hotel, keep everyone's clothes in the cubes. This will make it easy for everyone to quickly identify their clothes in the morning, and those extra minutes saved can be the difference between a 10-minute line and a 90-minute line at Slinky Dog Dash."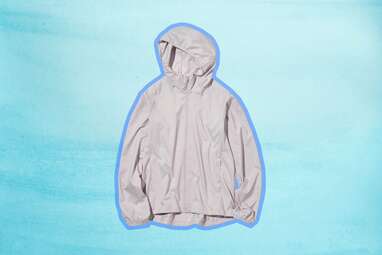 Unsplash/Uniqlo
"On average, you'll have at least one rainy day a week at Disney, so packing a rain poncho can ensure you stay comfortable and dry on the rides," says Belmont. "And unlike umbrellas, you can actually keep a rain jacket on while you're on a ride." Try something small and foldable, like this waterproof Uniqlo parka, which won't feel cumbersome to carry around just in case of unexpected inclement weather.
"You'll never regret keeping an extra light layer tucked away," adds Allen.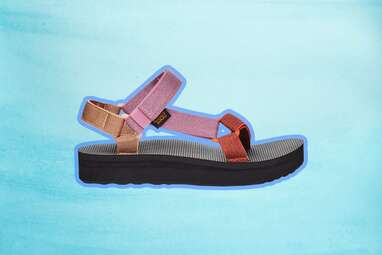 Unsplash/Teva
We love a breezy, backless flip-flop as much as the next person, but when it comes to Disney, Reinders recommends going for a sandal with a strap. "I actually broke a bone in my foot wearing flip-flops at Disney," she says. "In a crowd, a person accidentally stepped on the back of my shoe while I was walking, and I fell."
Try a lightweight pair of Teva's or a similar Sketcher model for comfort, safety, and practicality. "Unlike running shoes, they'll give your feet room to breathe, but they'll also dry faster than most close-toed shoes after a water ride or rain shower," Reinders says.
Check out these women's Midform Universal sandals for $36, or the men's Hurricane XLT2 sandals for $75.