Upgrade Your Dining Room with This Stunning Dried Flower Installation
This easy DIY project will elevate your dinner parties (and Instagram grid).
Photo by Audra Pace | Graphic design by Maitane Romagosa for Thrillist
Photo by Audra Pace | Graphic design by Maitane Romagosa for Thrillist
Thrillist Creative Director Audra Pace had just moved into a new home and craved a chandelier in the space above her dining room table, but she ran into some redesign red tape. "The chandelier I wanted was outside of my price range, so I started thinking about other things I could do with that space—that might even be more interesting." No stranger to epic art displays in her line of work, Pace set out to create a dried flower installation, the gorgeous, green thumb creations we've all been seeing (and swooning over) lately across social media. "We all love flowers, but they can be really expensive and they don't last very long," Pace says. "It's a great way to create a floral vibe in your home that can be a bit more permanent." The centerpiece is particularly appealing, Pace notes, for those residing in an apartment who don't have the option of installing permanent ceiling fixtures, while the "aerial tablescape" also serves as an ideal solution for entertaining spacing snags. "Because it doesn't take up any real estate, you can throw a dinner party and max out on table space while still ensuring your design element is there before you all."
When it comes to sourcing your stems, Pace provides a few options and suggests a combination of both natural (dried and preserved) and artificial flowers:
– Source real flowers and dry them at home; visit the grocery store or, if you live by the water, try foraging for pampas grass, Pace's main ingredient in the photo above.
– Purchase dried and preserved flowers online. "The pampas grass that people really like to use—the stems seen in the ubiquitous 'pampas cloud'—are big, fluffy, and long, and finding it naturally in that form can be challenging," she says. Rather, Pace points people to websites like Etsy, Amazon, and Afloral, where at-home artists can peruse a variety of dried and preserved flowers.
– Visit a craft store for artificial finds. While Pace likes for the majority of her installations to be comprised of natural flowers, she notes the benefit of incorporating artificial stems, as well. "There are certain flowers that are extremely expensive or ones that don't last nearly as long as you'd want them to in an installation of this nature," she says. For that reason, she suggests a visit to a craft store to find the pieces that can help to round out an arrangement or serve as focal points in your end product—especially any varieties that are known to not thrive as well under natural conditions.
A note on ratio: To avoid any kind of unwanted retro vibes, Pace suggests adhering to the 70/30 ratio: 70% natural, dried flowers and 30% artificial flowers. In addition to the ways in which this ratio keeps things au courant, aesthetically speaking, it also helps when considering the overall weight of your installation. "Some artificial flowers can be really heavy because of the wire within them, so keep that in mind as you're making your final picks at the store," she says.
Materials:
– Chicken wire
– Floral wire (green wire used for floral arrangements)
– Wire cutters
– Floral cutters/pruning shears
– Fishing line
– Ceiling hooks
– Assortment of dried and artificial flowers
– A small ladder or step stool
– Hairspray
Good styling can make all the difference in helping a space feel like your own—and the same goes for the car you drive. The first-ever Toyota Corolla Cross has standard LED headlights, plus available 18-inch alloy wheels, roof rails, and moonroof. It's style that's just right, wherever your weekend projects take you.
Steps:
1. Make your shape (and move your table)
Pace is a firm believer in building the installation onsite—that is, creating your installation in midair. To start, consider if you want a circular or longer, tube-shaped installation. From there, roll, bend, and fold your chicken wire into your desired shape and use your shearing prunes to trim any excess and your pliers to close off the wire. In preparation for step two, move your dining room table several feet away from where you plan to be installing the final product (and where you'll be doing the majority of your work for the day).
2. Attach your shape to the ceiling
Next, you'll want to actually attach your shape to the ceiling. To do so, pick exactly where you want to mount it and determine how many ceiling hooks you will need (Hint: One for smaller, circular installations and likely two for longer, tube-shaped installations). Another consideration in determining the right shape, Pace notes, is weight. "If you want to know how much your installation is going to weigh, pick up all of your materials and hold them before beginning your buildout," she suggests. With your ceiling hooks installed, lace the fishing line through them to connect with your chicken wire shape, considering exactly how high or low above your table you'd like for your installation to hang.
3. Build your installation
Once you have your wire framework mounted, you can begin your buildout. "The way to do so is really easy," says Pace, who suggests taking long pieces, like pampas grass, and tucking them into the chicken wire frame at its outermost edges, continually rotating sides. "If you add a little on the right, go over to the left so that you're constantly balancing out the weight and incorporating them piece by piece." Though pampas grass is typically very long, Pace suggests trimming it according to your needs and whatever the installation is calling for. The ideal length can be determined by the ones that fit best within the chicken wire frame and stay in place while not poking through to the other side (pruning shears can help in trimming these edges once the grass is added to the installation). However, if you're working with a tube-length installation and inserting pieces into the middle, these pieces can be considerably shorter than those used on either end (which provide more internal runway for the inserted stems). Most importantly, Pace reminds, "remember to be constantly moving around the installation as you're working, so as to balance out the weight evenly."
4. Assess from afar
Once you've assembled the majority of your installation, take a step back and admire your (stunning, we might add) work. Then, consider where you may need to refine. "Take it all in and then ask yourself: Do you have spots that are heavier than others? Are there any areas in which you could insert hanging details? Do you have a feature flower or two?" Pace says, suggesting the addition of a couple of standout flowers as possible focal points in the frame. As a last measure, do a sweep around your work to check for any areas in which you'd like to add or balance out, using hairspray across every angle to ensure it all stays put.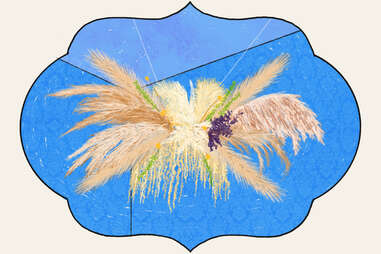 5. Enjoy
With your dining room masterpiece complete, it's time to let the entertaining (and your Instagram buzz) begin.
Tips:
– For the finest possible pampas, be sure to sun it and fluff it. "When pampas grass is delivered, it's not in its full, fluffy expression," notes Pace. The best way to perk it up? Place it outside in the sun for a day or two, ensuring it's dry and not too windy. Once you retrieve it, give it a super healthy dose of hairspray (as in, big-time) to keep its newfound fluffy and soft stems firmly in place.
– Keep a vacuum cleaner on hand—pampas grass can shed (especially during the assembly process), but believe you us: You're doing it right!
– When it comes to color, Pace suggests sticking with one main palette and adding pops of color as needed. For the accompanying image, she began with different shades of neutral before weaving in flashes of yellow and black—but the very same approach could be applied to bold hues, as well (think a pink palette ranging from fuchsia to bubble gum).