A DIY Guide to Hand-Painting Your Kitchen Plates
Create statement-making dishware with just a bit of paint and patience.
FreshSplash/E+/Getty Images | Graphic design by Maitane Romagosa for Thrillist
While a stylish table, a bold wallpaper, or a chic centerpiece can make your dining area personal and special, a set of hand-painted dishes can transform your dinnertime into a truly special event. Sourcing a set of painted plates from your favorite artist is always an option, but taking the artwork into your own hands can provide an incredible opportunity to create heirloom pieces that are absolutely one of a kind.
This is one of the most perfect weekend projects for a beginning painter—every little difference or flaw in each piece of dishware makes the collection remarkable. So, even if you're not completely confident with a paintbrush, attempt this craft to add a bit of freshness and a new conversation starter at your next meal.
Materials
– Ovenproof ceramic plates
– Nontoxic, food-safe ceramic paint
– Paintbrushes in varying sizes
– Jar for water
– Soft graphite pencil
– Stencil or masking tape (optional)
– Dropcloth or butcher paper to protect your workstation
– Baking sheet
Steps:
1. Wash and dry your ovenproof plates
Select a set of light-colored dishware that can withstand the heat of an approximately 350-degree oven for your DIY plates. While ceramic dishes are usually a safe bet, double-check by reading the manufacturer's usage notes (often printed on the back of each plate). Wash your set of plates thoroughly, then allow to dry completely. Any remaining moisture can impact the way your paint settles and dries, so ensure each plate is completely dried before continuing.
2. Plan your design
Using the soft pencil, lightly sketch an illustration, pattern, or combination of both. Not feeling confident in your freehand artistry? Grab a stencil or two to trace a design, or tape off stripes or shapes for a modern, geometric vibe. To truly hone in on the handmade aspect of this project, don't get too preoccupied with being perfectly precise. Each piece in your collection can—and should—be unique, so embrace those teeny blemishes and differences.
3. Select a color scheme
Consider your dining area, flatware, and favorite tablescapes to inspire a color scheme. While you could opt to use each paint straight from the pot, mixing a few pigments together will make your DIY-ed plates even more personal. Choose a couple of main colors and accent with one or two more for a cohesive final look.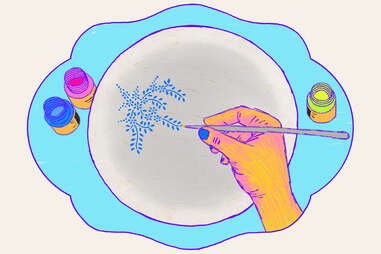 4. Paint the plates
Before applying any paint to your dishes, ensure your selected formula is in fact food-safe. The label should explicitly say that the paint is food-safe; if it doesn't, do not use it for any dishware project.
Lay down a drop cloth or butcher paper to protect your workspace. Then, with a soft-bristled paintbrush, pick up plenty of pigment from the paint pot or your palette and apply it to your design using smooth strokes. Ceramic paint naturally shows off brush-stroke texture and can dry anywhere from quite translucent to mostly opaque, depending on the painter's pressure, so work each section until you have an effect you enjoy. If you're new to ceramic painting, it might be a good idea to source a few pieces of light-colored dishware from a thrift store to practice on before attempting your set of plates.
Good styling can make all the difference in helping a space feel like your own—and the same goes for the car you drive. The first-ever Toyota Corolla Cross has standard LED headlights, plus available 18-inch alloy wheels, roof rails, and moonroof. It's style that's just right, wherever your weekend projects take you.
5. Allow the paint to dry
Following the instructions on the paint pot label, allow your dishes the suggested amount of time to completely dry. Once the paint has totally set, wipe away any residual pencil lines with a damp cloth. At this point, you might consider a second coat of paint in some areas to add more impact to your design. If you continue to paint, allow each layer time to dry completely before applying another coat.
6. Bake the plates to set the paint
Place your plates on a baking tray to protect them from the oven rack and carefully slide the tray into a cold oven to avoid thermal shock and inadvertent cracking. Turn the temperature up, and bake according to the instructions on the paint label. Remove the plates from the oven and allow them to cool down to room temperature in a safe, dry place. Do not overcrowd your oven with too many dishes at once—you may have to bake your plates in shifts to ensure each one sets completely.
7. Care for your dishware
While some ceramic paints might claim to be dishwasher safe, your hand-painted plates will definitely last longer by avoiding the dishwasher as often as possible. If your plate storage involves stacking them in a cabinet or on a shelf, consider investing in felt dividers to protect your art. If your space allows, however, show off your dishes in a china cabinet or hutch so your art can be appreciated even when not in use.