Design by Maitane Romagosa for Thrillist | Photo by Orlando Dominguez/GIN Art & Design
Design by Maitane Romagosa for Thrillist | Photo by Orlando Dominguez/GIN Art & Design
You can organize by genre, alphabetically, or even last played to keep your record collection perfectly arranged, but, no matter how you store it, it's difficult to show them off when they're tucked into a corner or neat row. Make your love for vintage vinyl known as soon as guests enter your home by decorating with a handful of upcycled 45 RPM records. Keep your treasured singles to be played over and over again, and instead source less-in-demand 45s by the boxful from yard sales and thrift stores to use for a creative weekend project: A table lamp made from vinyl records.
No crafting experience? No problem. This project is perfect for beginners and can help build some basic electrician skills thanks to a DIY lamp wiring kit. Find one easily at any hardware store, or purchase a more stylized version online. Don't be intimidated by the hardware in these kits—most are easily assembled with just a few hand tools and include thorough instructions.
This handmade lamp makes a stunning tabletop placement near your entertainment center, but it's ideal as a thoughtful gift too. Consider creating a few: one for your own home and some for your favorite audiophile friends. You can customize each vinyl lamp to your recipient's musical tastes for an added layer of personalization. No matter the final destination of your handiwork, begin gathering your materials for this fun, stylish craft this weekend.
Materials:
– 20-30 45 RPM records
– Wooden rings (one- or two-inch size)
– 7-inch diameter plexiglass or acrylic ring
– Power drill
– Safety goggles
– Lampshade
– Lamp wiring kit
– Vinyl-safe glue
– Light bulb
– Acrylic paint (optional)
– Clear coat (optional)
– Paintbrush (optional)
Steps:
1. Source your 45s
An unfortunate reality of vinyl (despite many avid and vocal collectors) is that multitudes of records eventually end up in landfills. Rescue a handful of singles from a secondhand shop or your local record shop—many of which will sell unsorted records in bulk, making them perfect for utilizing in crafts and interior decor. For this project, you'll need anywhere from 20 to 30 singles, depending on the intended finished height of your vinyl table lamp. Double-check that your selected 45s all have the larger center circular cutout (singles were sold with both the larger hole as well as the small center hole consistent with standard LPs).
2. Plan the record pattern
Arrange your 45s according to your tastes and decor. Consider grouping same-color singles together in chunks for an avant-garde approach or follow an every-other scheme for a more controlled, graphic look. Or, group genres together or follow your collection and go alphabetically. There is no wrong way to pattern your singles, so go with your instincts. Carefully stack the records in your final arrangement.
3. Paint the lampshade (optional)
Another great opportunity to upcycle a crafting media that would otherwise be destined for the dump, consider using an old lampshade and refreshing it with a coat of acrylic paint. Be sure to give it two hearty coats so that, when lit, paintbrush strokes won't be visible. If you're feeling particularly artsy, consider painting a pattern or design into your shade (like stripes, polka dots, or checkerboard). Seal it all with an acrylic clear coat (brush-on or aerosol will both work) to make sure your lampshade doesn't fade from the sun or heat.
4. Create a tunnel for the power cord
Using a drill bit that's slightly larger than the power cord in the lamp kit, drill through the bottom of the acrylic disk (this will be the base of your lamp) from the outer edge to the center cutout. Anchor the disc tightly to your work surface before drilling, and always wear safety goggles when using power tools. This drilled tunnel will provide an area for the power cord to pass under the bottom of the completed lamp while still allowing it to sit flush against the table's surface.
Good styling can make all the difference in helping a space feel like your own—and the same goes for the car you drive. The first-ever Toyota Corolla Cross has standard LED headlights, plus available 18-inch alloy wheels, roof rails, and moonroof. It's style that's just right, wherever your weekend projects take you.
5. String the 45s and wooden rings onto the cord
Using the main power cord from the lamp creation kit, begin stringing your records onto it. Starting with the acrylic (or plexiglass) ring as the very bottom piece and base of the lamp, layer one 45, then one wooden disc, alternating until you reach your desired height. While wooden discs of various sizes work for this project, consider utilizing a set that is at least one-half inch thick to give your lamp the most interesting texture. Be sure to finish the pattern with one final single at the top.
6. Glue the 45s and wooden discs together
Using a glue safe for vinyl and wood (superglue is a good option), begin gluing the lamp together one layer at a time. Be sure your work surface is flat and even, and allow each layer to dry before attaching the next. Either remove the power cord completely before gluing your layers together or work carefully to avoid applying any glue to it. When applying your glue, spread it onto the top of each wooden spacer disc first, then adhere that to the vinyl to avoid any excess paste. Restring the cord once your lamp base is built and the adhesive has set.
7. Finish building the lamp
Construct the lamp according to the instructions for the lamp wiring kit. Attach the lamp harp and the rest of the hardware to the power cord running through the records and up out the top layer. Make sure to double-check your wiring and tighten all screws before adding a bulb or plugging in your lamp.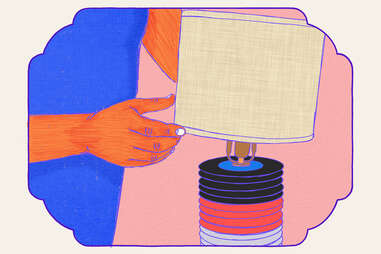 8. Add the bulb and shade
With your lamp hardware in place, gently screw a light bulb into the socket. Consider your room space and the intended placement of the lamp when determining how bright a bulb to choose (a typical table lamp takes a 60-watt bulb). Place the shade over the harp so that it hangs evenly, and plug the lamp into an outlet.
9. Style your vintage vinyl lamp
This completed vinyl record lamp makes a great conversation piece in any living room, but it would also work as the perfect lighting for a listening room (or listening corner). To freshen up your lamp during your next redecoration whim, simply switch out the shade for a new color, pattern, or shape to change its look. No matter where and how you choose to display it, keep your lamp out of direct sunlight and away from any heat sources to avoid melting the 45s.