S. Freihon/Graduate Hotels
We independently source all of the awesome products and experiences that we feature on Thrillist. If you buy or book from the links on our site, we may receive an affiliate commission — which in turn supports our work.
No offense to Walt Disney, but the happiest place on earth is actually located at the foothills of the Great Smoky Mountains. We're talking, of course, about Dollywood. Dolly Parton's Tennessee theme park is filled with thrilling roller coasters and musical acts, but the main reason people come is to soak up the essence of Ms. Parton herself—a universally beloved singer-songwriter who doesn't seem to have a single naysayer on the face of the planet.
While we could sing the praises of Dollywood all day (preferably in a Southern accent), there are plenty of other fun places where you can worship at the shrine of Dolly. We did some digging and found ten Dolly Parton-themed vacation rentals and hotels all over the country, ranging from kitschy camper vans to Nashville condos with tons of photo ops—and even Dolly's former home in Hollywood.
Airbnb
2 guests/$143 per night
This Dolly-themed suite is part of The Silver Eagle, a bed and breakfast devoted to all things country music. (The three other suites are centered around Johnny Cash, Waylon Jennings, and Conway Twitty.) Guests can enjoy the "Jolene" bedding and photos of Dolly, as well as an ensuite bathroom with a hot pink framed mirror. You are also steps away from Dunlap's hiking trails and local Southern restaurants; but if you're craving more big-town attractions, Chattanooga is just a 40-minute drive away.
What guests say: "What an adorable place to stay! The Dolly room is charming and captured Dolly's spirit perfectly! Ideal accommodations for a couple on a weekend getaway. The hosts were so friendly and welcoming."
Airbnb
3 guests/$147 per night
If you were to conjure up a literal shrine to Dolly Parton, it would probably look a lot like this condo in Gatlinburg. The host calls it "a tribute from an adoring fan," and he has filled every inch of space with framed photographs, a 9 to 5 wall mural, throw pillows stitched with sayings like "What would Dolly do?", and even a collection of blonde wigs. Cozy amenities like a copper bathtub and fireplace ensure you can curl up with some country music records (the host provides plenty) and relax the weekend away.
What guests say: "​​I cannot say enough how perfect this condo is! You can really tell the love and time put into every detail. It has all amenities you could think of, and Daniel even left a few extra surprises for us!! The pictures don't do Dolly's Country Condo justice, you'll have to see for yourself. It's a Dolly fan's dream AND it's walking distance to the strip. Thank you so much for sharing this cozy little nest with us. I can't wait to return when it's cold so I can really enjoy the copper tub and fireplace!!"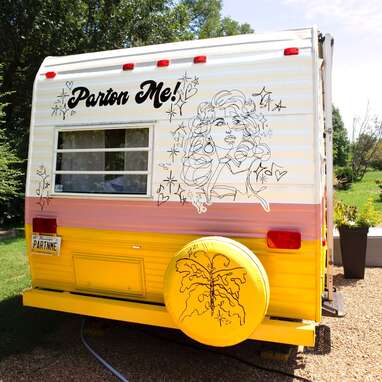 Airbnb
2 guests/$91 per night
Tucked away on a six-acre property near the Smoky Mountains, Dolly's Fantasy Camper is like a tiny Dolly Parton museum that you can also sleep in. The camper is pretty swanky as far as glamping spaces go, with a fully functional kitchen, bathroom with shower, and full-sized bed, as well as a dining area and fire pit outside. But it's the Dolly-themed details that really steal the show: framed photos on the walls, a quilt made of album covers, coffee mugs covered with Dolly's face (perfect for pouring yourself a cup of ambition), Dolly coloring books, and a bedazzled electric guitar—an exact replica of the one Dolly uses on tour—hanging over the bed.
What guests say: "Dolly's Fantasy Camper was such a pleasant place to stay! It was themed perfectly and the hosts were so welcoming along with the dogs. Such a relaxing place to stay and I can't wait to come back!"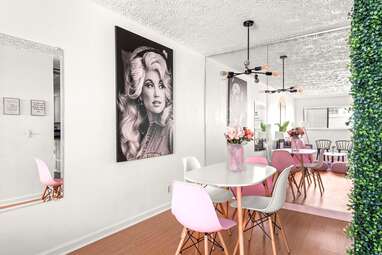 Airbnb
6 guests/$199 per night
Yet another Nashville spot filled with photo ops, this apartment is the perfect accommodation for country music fans—and not just because of its location on Music Row. The cute condo is also filled with tons of Dolly-themed decor, including framed quotes, huge photographs, albums on display (don't worry, there's a record player in the living room), and plenty of pink accents. The apartment also has a self-described "selfie wall" covered in ivy, with pink neon lights and photo props to make your Instagram stories pop.
What guests say: "Our Airbnb was exactly as pictures and super cute! The beds were so comfortable and they had a ring light ready for us which we really appreciated! The communication was very good with constant updates from the host. Would recommend and would stay again!"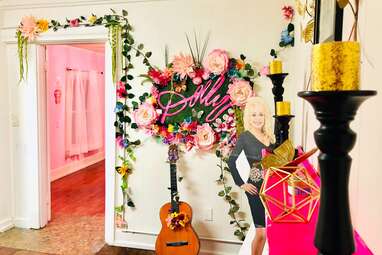 Airbnb
4 guests/$64 per night
Tucked away in the Kentucky town of Mt. Sterling (about 45 minutes east of Lexington), this Airbnb is, according to the host, "so cute, even Jolene wants to stay!" That's a serious claim, but we believe it—the house is something of a dream house, with pink and butterfly-themed decor, glam bathroom amenities, and a very charming kitchen stocked with the essentials. And that doesn't even cover all the Dolly-esque swag (Jolene might not be a fan of that, but you certainly will): we're talking photo walls with musical instruments and a Dolly cut-out, Dolly records, all of Dolly's movies on DVD, framed vintage photos, and blonde wigs on display in the bedroom.
What guests say: "This is a great place with tons of Dolly memorabilia. We'll be back to read the books, listen to more Dolly records, and watch more of Dolly's videos. The bed is comfortable and the place has wonderful personality. Jordan and Marc are great, responsive communicators."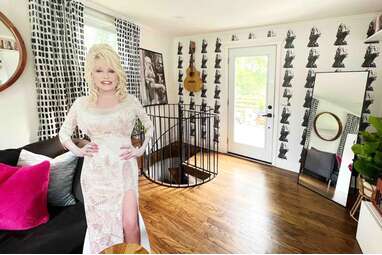 Airbnb
6 guests/$203 per night
Five minutes away from Broadway, this cozy Nashville house is like its own miniature Dollywood. Guests are immediately greeted by an exterior mural with the famous Dolly lyric, "It's hard to be a diamond in a rhinestone world," and they can then walk inside to find Dolly wallpaper, a disco ball, a karaoke machine, and a Dolly cardboard cut-out for plenty of photo shoots. The house also features a large backyard with hammocks and a fire pit, plus a back deck with a movie screen.
What guests say: "The pink Dolly house is a little gem! We loved the fun and unique vibe that it provided! The beds were so comfortable and the house was super easy to get to. So much heart has gone into this place!!"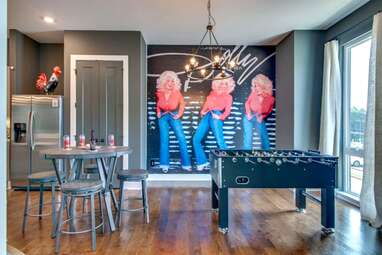 Airbnb
16 guests/$744 per night
This East Nashville listing includes two side-by-side townhouses with enough room for 16 people, so gather up your favorite Dolly fans and get ready for a fun weekend. While one of the houses is devoted chiefly to Johnny Cash, the second ("The Dolly") is all about our country music queen—thanks in large part to a massive "Dancing Dollies" mural located right off the kitchen. Snap some group portraits, then head up to the enormous rooftop to cook dinner on the grill and watch the sunset over Nashville.
What guests say: "Beautiful home! I stayed there with my girls to celebrate a friend getting married and we loved everything about this place, especially the Dolly wall! Communication was wonderful and the place was spotless. Definitely recommend!"
Airbnb
West Hollywood, California
2 guests/$95 per night
If you want to walk in Dolly's footsteps, you can't do much better than booking a stay in the singer's former home in West Hollywood. This listing includes a private bedroom and bathroom, as well as access to a shared kitchen, living room, and front porch. While most of Dolly's design touches have been stripped away (no more pink walls, unfortunately), you can still geek out over her signature etched in the cement patio just outside the house.
What guests say: "Edgar is a gracious host! He had me set up and oriented quickly. He also made several excellent suggestions as to local hot spots and places of interest. It is close to everything in Hollywood. To know that it was Dolly Parton's house was an additional treat."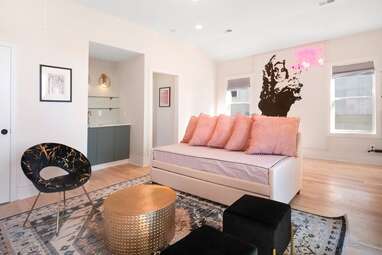 Airbnb
10 guests/$409 per night
This newly constructed house offers easy access to some of Nashville's most popular attractions, and its pink, country-glam aesthetics—as well as Dolly Parton wallpaper and artwork in nearly every room—are ideal for fans of the Smoky Mountain Songbird. Cook up some meals in the expansive kitchen, take in views of the Nashville skyline from the rooftop patio, then curl up on the couch (complete with pink throw pillows, of course) and watch Steel Magnolias for the 70th time.
What guests say: "Absolutely perfect house for your Nashville trip! Very clean, plenty of space for a large group and the Dolly decor is just simply amazing! This house has everything you need and the location is perfect! Will definitely book again!"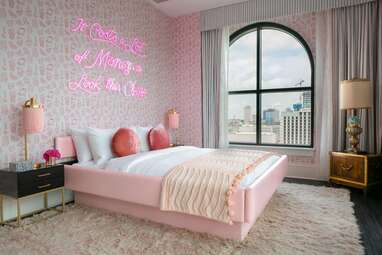 Digital Love/Graduate Hotels
Starting at $699 per night
If you're a Dolly fan who prefers hotels to vacation rentals, book a stay at the Graduate Nashville as soon as possible. The eclectic hotel is the embodiment of country glam, with bright floral bed canopies, pink and white striped walls, and portraits of Loretta Lynn and Dolly Parton hanging above each bed. The "9 to 5" suite leans even further into the Dolly love, with printed wallpaper, neon light quotes, and tons more glitzy and glam decor. The hotel's rooftop bar, White Limozeen, is similarly themed—order a Queen of the Rodeo cocktail, then relax under one of the rosy-pink poolside umbrellas and enjoy views of the skyline.
What guests say: "Chic, girly, clean, and fabulous! The bed was extremely comfortable and the decor is incredibly fun. If you love boutique hotels, and you love Dolly Parton, this is the place for you."
Caitlin Morton is a Commerce Editor at Thrillist. You can follow her on Instagram
@CaitlinMorton23
.