Nicki Sebastian/west~bourne
We independently source all of the awesome products and experiences that we feature on Thrillist. If you buy or book from the links on our site, we may receive an affiliate commission — which in turn supports our work.
Whether you enjoy cooking or do it to simply keep yourself fed, there's a good chance you've been spending more time in the kitchen these last couple of years. It's also forced many of us to grow even more aware of how much waste we generate on a daily basis —and think about how that ends up impacting the planet and our wallets. If that's you, you might be asking yourself "how can I make my kitchen more sustainable?" Well, to help you get started, we reached out to Camilla Marcus—sustainability advocate and owner of west~bourne—who shared some valuable tips and revealed some of her absolute favorite eco-friendly kitchen products.
Marcus created west~bourne (a sustainable shop and catering company in New York City) with a mission to show others how plant-based, zero-waste eating can be delicious and easy, and that small swaps can go a long way. "I'm a huge advocate of buying locally and seasonally at your farmers market and planning your meals in advance so you only buy the ingredients you need," she says. However, leftovers are sometimes inevitable, so Marcus encourages people to find other ways to repurpose—whether that's by getting creative with pickling and preserving projects or freezing for later use.
Beyond making your food last, Marcus believes that earth-friendly tools are also an essential part of maintaining a zero-waste cooking space. From accessories made from recycled materials to reusable food storage containers to cut down your plastic use, take notes on her recommendations below.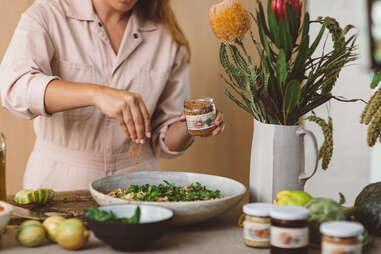 Eco cleaning tools
"First thing's first: part ways with paper towels," Marcus says. "Once you make the switch to cloth, you really won't remember why you resisted in the first place." Her favorites are flax towels from Rikumo that she uses with non-toxic cleaning solutions from brands like Blueland and Koala Eco. "Koala Eco's bottles are made from 100% recycled and recyclable materials. I love their kitchen cleaner and veggie wash."
Cooking tools and serving accessories
When it comes to the tools you use to cook, the most important consideration is investing in something that is great quality and will last a lifetime. "My kitchen staples are a simple mandolin, sharp chef's knife, sheet pan, a handful of wooden spoons, a rolling pin, and a well-seasoned cast-iron pan," Marcus says. "I use my Great Jones Dutchess constantly, along with a Vitamix and stand mixer on repeat." As for sustainable kitchen accessories, Marcus swears by her recycled plastic cutting board from Material Kitchen, Hawkins New York's recycled glassware collection, and Atelier Saucier's kitchen linens to eliminate paper napkins.
Food storage and composting tools
To extend the shelf life of foods, Marcus advises making sure you're storing them properly. "I like to store produce in organic cotton mesh bags to keep them fresh and put dairy in the back of the fridge where it stays the coldest," she says. Other products she uses to keep her food fresh are stasher bags, repurposed west~bourne glass jars, and ECOlunchbox lunch boxes, which are 100% plastic free and reduce waste. Another tip she suggests is keeping bananas and avocados away from the rest of your produce since they accelerate the ripening of everything around them. If you didn't know, now you know.
Marcus also believes in "revamping" leftovers by creating a whole new dish with them. "I always save vegetable scraps (garlic skins, carrot peels) to use later when making stock," she says. Another solution to avoid food waste is by composting, which is turning your food scraps into soil to use in your backyard or community garden. "Start small with a composter you can keep in your kitchen to collect produce scraps, egg shells, and other biodegradable matter," she suggests. "I love the Bamboozle Home Composter because the filtered lid helps to absorb any smells caused by off-gassing. It also has a bamboo handle for hassle-free transport."
Shop eco-friendly storage and compost bins