This Brand Has Perfect Holiday Gifts for the Home Chefs in Your Life
You'll never want to cook in a cotton t-shirt again—trust us.
We independently source all of the awesome products and experiences that we feature on Thrillist. If you buy or book from the links on our site, we may receive an affiliate commission — which in turn supports our work.
It seems like quarantine turned pretty much everyone into a home chef, forcing us to trade dining out for home-brewed coffee and endless strings of sourdough recipes. And while some of us have happily returned to restaurants, others have decided to keep their proverbial chef's hats on for good. If you have such a culinary enthusiast in your life, you should consider giving them a gift to enhance their kitchen adventures this holiday season. And since they probably already have enough pots and pans, shop outside of the box with high-quality cooking apparel from Helt Studio.
Created by a team of former chefs and restaurant owners, Helt Studio is a Los Angeles-based company with one main mission: Create sturdy and stylish apparel for cooks. The products are specifically designed for professional kitchen workers, but they also happen to make great gifts for home chefs who take their time in front of the stove very seriously. The uniforms are chic, modern updates of the traditional stiff white coats and hats you'd expect to see in fine dining establishments, but they 100% get the job done. So if you really want to impress your beloved amateur chef this year, check out some of our favorite Helt Studio products, below.
Helt Studio
Kitchen life is no joke, so you really need a chef coat that can handle the heat. That means less bulk, and no cheap fabrics that wrinkle easily and cling onto odors. Helt Studio's line of coats provides the perfect solution: They are made with sweat-wicking, water-repellant CrewTech fabric, and are comfortable and stretchable for those who tend to move around a lot in the kitchen. As an added bonus, they are pretty dang stylish. This "Hipster Chef Coat" comes in black or white, and features mesh side panels and sleeve pockets to keep you both cool and organized.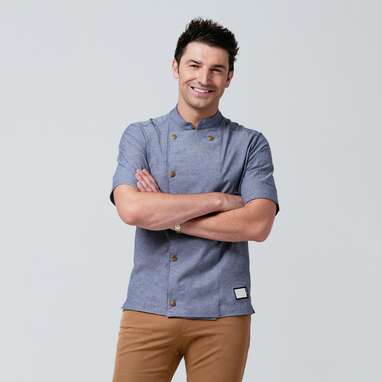 Helt Studio
This denim number doesn't even look like a chef's coat at first glance, with its chambray material and brass hardware. This is no accident: Helt Studio wanted to create a lighter version of their Hipster Chef Coat, looking to street fashion for inspiration. It is great for home chefs who want to feel a tad more casual for a daytime barbecue or dinner party with close friends.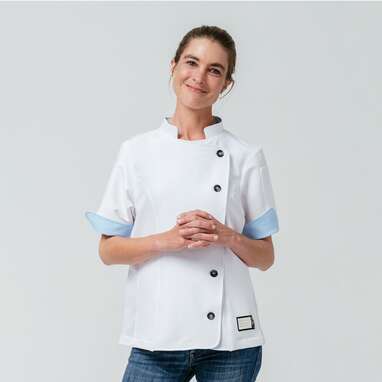 Helt Studio
Similar to the Hipster Chef Coat, this "Stephany" coat comes in black and white, with mesh sides and sturdy CrewTech fabric. It's also super functional, with a pocket on the left sleeve and a pocket near the left hip for your phone or notebook.
Helt Studio
You might be tempted to cook in a t-shirt if you're hoping to stay cool in the kitchen, but regular cotton shirts actually increase your body temperature and make you sweat more—and sweat stains don't exactly stimulate the appetite. These utility work shirts (available in black and white) are lightweight and sweat-wicking, specifically designed for long stints near hot stoves.
Helt Studio
Helt Studio has a great selection of aprons for both men and women, available in a variety of colors and styles. (Side note: They also work great for painters and gardeners.) This bib apron has a more traditional fit, fully covering both the torso and upper legs for a splatter-free cooking experience, but the navy fabric with green straps gives it a touch of modernity. It's also incredibly sturdy, made with DWR (durable water repellent) canvas. And don't forget that Helt Studio also offers apron embroidery at an additional cost if you want it to be extra-personalized.
Helt Studio
This unisex bib apron is named after briquette, a type of charcoal used for fuel or fire kindling, because it "gets to work as soon as you light it up." The product is made from American duck canvas, and features two large lap pockets as well as a chest pocket for storing your utensils and phone. That combination of style and function is what Helt Studios is known for, guaranteed to bring a smile to any home chef's face.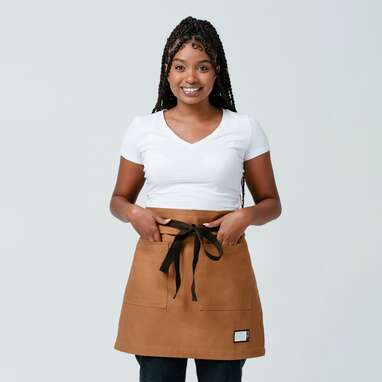 Helt Studio
Bistro aprons tie around the waist as opposed to up around the neck, ideal for chefs who don't need quite as much coverage. They can also be extremely cute, as evidenced by this tan apron that looks like a chic leather skirt at first glance. It's made with waterproof duck canvas, which is lighter than traditional canvas but sturdier than denim.