We independently source all of the awesome products and experiences that we feature on Thrillist. If you buy or book from the links on our site, we may receive an affiliate commission — which in turn supports our work.
Whether you're a day-hiker, car camper, glamper, or thru-hiker, we can all agree on one thing: When the woods start calling, you gotta answer. We all have different reasons for appreciating the trail or campsite—maybe it's the comradery, exercise, or a feeling of connectedness with nature and the elements. But for me, it's that simple feeling of freedom, plus the fact that on a long enough trek you can actually get in better shape while eating nothing but jerky and trail mix. It's truly magical.
Of course, experienced hikers know that that magic can start to fade pretty quick if you come under-prepared. The wilderness is still the wilderness, and emergencies do happen. While you can usually avoid them by planning ahead and knowing red flags to watch out for, you want to make sure that you have the correct gear for when things go wrong—it can very literally save your life.
Fortunately, you can channel your inner scout and come correct with a bit of information and some basic items. Here, I'll defer to the Ten Essentials, the Holy Grail of preparation for expeditions into the great outdoors. The original list was constructed in 1930s Seattle by The Mountaineers, an organization of outdoor safety enthusiasts, and has subsequently been updated and improved over the years.
Even better, everything required to fulfill these essentials is available on Amazon. We picked out a great option within each category, so you can hit the trail with everything you need. Though if you want to take it a step further, you should also consider taking a wilderness safety course. From there, you can safely take in all that magic that the woods (and mountains and canyons and plains) have to offer.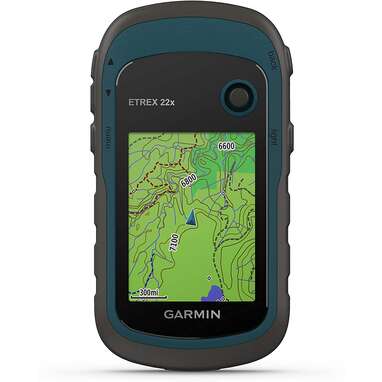 Amazon
When The Mountaineers first made their list of the Ten Essentials, GPS wasn't quite a thing yet. You can still opt for an old-fashioned map and compass combo if you want, but this handheld GPS should do the trick a little more efficiently. Just don't forget some extra batteries, just in case.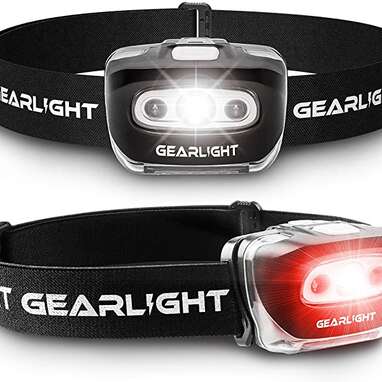 Amazon
The only downside to a headlamp is that you might feel a little corny wearing one at first. But trust me, you'll get over it once you realize how much easier your life on the trail is. Whether you're setting up camp or cooking dinner, you want both of your hands free, and flashlights just get in the way. Plus, with this affordable two-pack, you won't be the only one rocking one.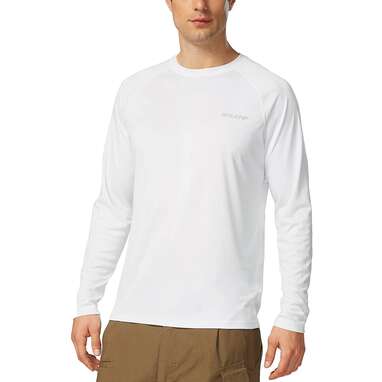 Amazon
Sun protection is extra important if you're doing a canyon hike or any other terrain that doesn't provide a ton of natural shade. Sunglasses and sunscreen are both absolute musts for safety, but you can also invest in some sun-protective clothing. These Baleaf shirts are lightweight, breathable, and provide 50+ UPF protection. If you need women's sizes, you can find them here.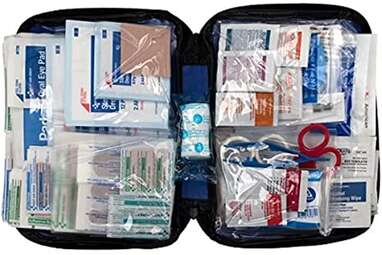 Amazon
A basic first aid kit is a no-brainer, especially for multi-day hiking or camping trips. Small, common injuries like blisters and scrapes can become big problems if you find yourself lost or stranded, so you'll always be glad to have it. This one comes with everything you're likely to need, and it's small and light enough that you won't even notice it in your pack.
Amazon
A good, reliable knife is an invaluable tool to have, but don't worry—I'm not about to teach you how to hunt for game to survive. On most hikes, you'll only pull your knife out to prep veggies for your camp dinner, but it can also come in handy for first aid, fire-making, and potential repairs to your gear. This one is a basic, foldable pocket knife with a liner-lock safety system to keep it secure.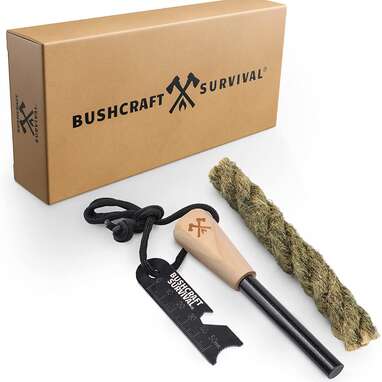 Amazon
If you find yourself in an emergency situation, you'll want to be able to build a fire quickly and effectively. And if you're a Survivor fan, you know that it isn't always easy (especially if Jeff is being stingy with the flint).

Depending on your preference, there are a few different ways to go to make sure you're prepared. Some backpackers carry butane lighters or waterproof matches, but you can also go with a fire-starter kit. This one comes with a flint starter, a ferro rod, and a tinder rope for kindling. It's lightweight and easy to use, and you can carry it in your pack or around your neck.
Amazon
If you're on a backpacking trip, you'll already have your tent with you, but bringing an emergency shelter even for day hikes is always a good idea. If you get lost or caught in an unexpected storm, finding shelter is a top priority.

This Go Time Gear tent is big enough for two people, and you can pack it down into a handheld carrying case. It weighs less than a pound, and the simple assembly should only take a few minutes.
Amazon
When you plan for a backpacking trip, you usually have a pretty detailed food plan. That way, you aren't weighing yourself down with food that you won't eat. However, if you end up having to unexpectedly spend another night in the woods, you'll be glad you brought a little extra.

These freeze-dried pouches from Mountain House are small, light, calorie-rich, and delicious. All you need is hot water, and you'll be eating chili mac & cheese, pad Thai, or chicken alfredo in under 10 minutes.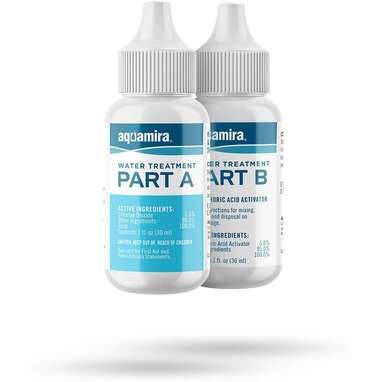 Amazon
Even if you bring plenty of water with you, it's always good to have a backup plan. There are a few different options here, from filtration straws to pumps, but when it comes to water, I prefer a contingency plan that can't break. These Aquamira drops take about 30 minutes total to use, allowing you to purify water from natural sources for drinking or cooking. One set can treat up to 30 gallons of water, and they even make it taste a little better, too.
Amazon
On the trail, layers are key. You never want to be too hot or too cold, so it's best to give yourself plenty of options to bulk up or shed down. Plus, in an emergency situation, wearing wet clothes can become seriously dangerous. You should always have a spare outfit in a dry bag just in case, but you can also pack this super lightweight poncho. It's pretty basic, won't take up much space, and should keep you dry as long as you need it to.
Chad Rafferty is a Thrillist contributor.