Everything You Need to Easily Do Laundry While Traveling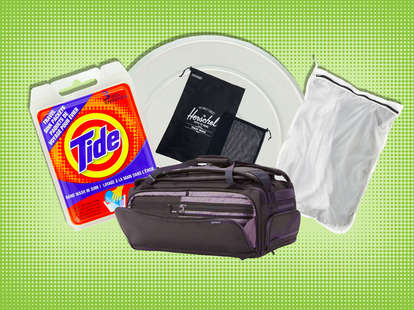 Danna Windsor
Danna Windsor
We independently source all of the awesome products and experiences that we feature on Thrillist. If you buy or book from the links on our site, we may receive an affiliate commission — which in turn supports our work.
We're not here to convince you how great traveling is. You know it, you love it, and you're probably already itching to book your next trip. But as great as it is, one thing most seasoned wanderers can agree on is that having to do laundry on the road sucks.
If you're lucky, your hotel might have a laundry service, but that can quickly get wildly expensive. And sure, in a quick pinch, there's always the sink-wash method. Or, you could always just tote your entire wardrobe with you in several suitcases, not worrying about laundry until you get back to whatever chiropractic clinic you end up in.
Luckily, it doesn't have to be such a chore. With the proper portable tools and tact, you can keep yourself clean and fresh while you're out exploring, no matter what sweat, stains or mud storms might get in your way. Here are seven essentials that'll make it easy to clean your clothes (and keep them clean) while traveling.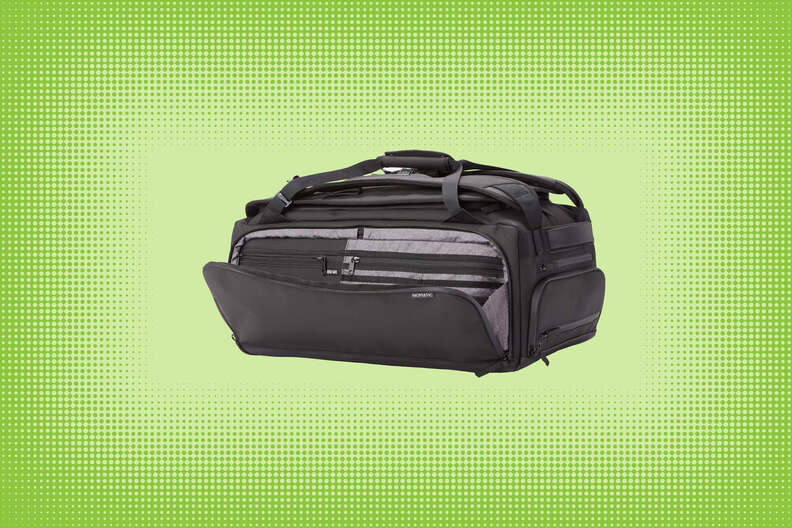 A great bag to haul your dirty and clean duds separately
Nomatic 40L Travel Bag
It may seem obvious, but before you get into the nitty gritty of easy laundry on the road, you need to figure out a way to pack and haul it all conveniently. That's where a purpose-built bag or backpack comes in.
The Nomatic 40L Travel is big but still small enough to be a carry-on, can fit enough clothing for a three- to seven-day excursion, comes with a designated dirty laundry bag and, most importantly for resourceful travelers, comes with several different compartments for clothes, shoes, etc. (something that's particularly valuable if your dirty duds are a bit ripe). All in all, it'll provide enough room to pack the clothes you need and the organizational setup necessary to store emergency wash gear.
Price: $280
A simple solution for separating your soiled stuff from clean clothes
Herschel Supply Laundry Bag
If you're satisfied with your current travel bag and just want a way to keep your clean clothes distinctly separate from your smelly socks, a humble laundry bag is the fix. We like this particular option from Herschel Supply because it rolls up and pack easily. It measures roughly 24 by 16 inches, which means there's enough room there to keep about a week's worth of dirty clothes -- maybe two if you're really conservative with your changing. No fancy frills or unnecessary details; just a clean, affordable, quality way to keep your dirty clothes separated from your clean ones.
Price: $19.99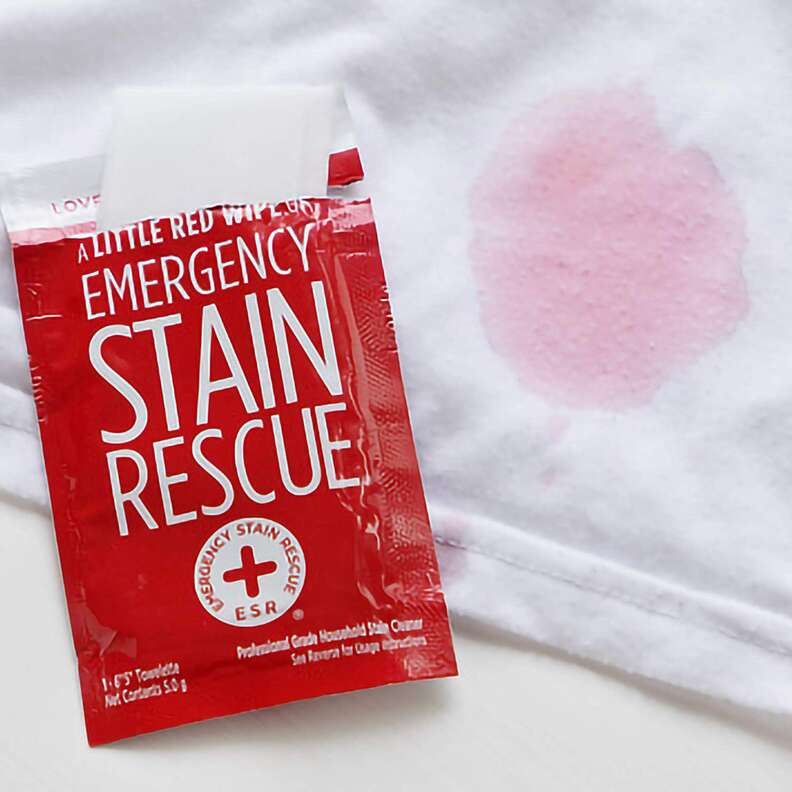 The best way to quickly eliminate stains
Emergency Stain Rescue Wipes
Whether you're backpacking through the Swiss alps or visiting your buddies up in Vermont for a weekend, laundry is going to be a pain in the ass, so as long as your clothes don't reek you can probably get away with wearing them twice. A stain situation, of course, is a different story. Having a good spot stain remover to save you some time until you need to do a load is going to save you a lot of headaches in the long run.
These Emergency Stain Rescue Wipes are easily packable and can be used as needed. Just remove them from their packaging, wipe down the affected clothing, and let the magic happen. They're a general stain remover, which means they work on everything from tomato sauce to engine oil and beyond.
Price: $12.95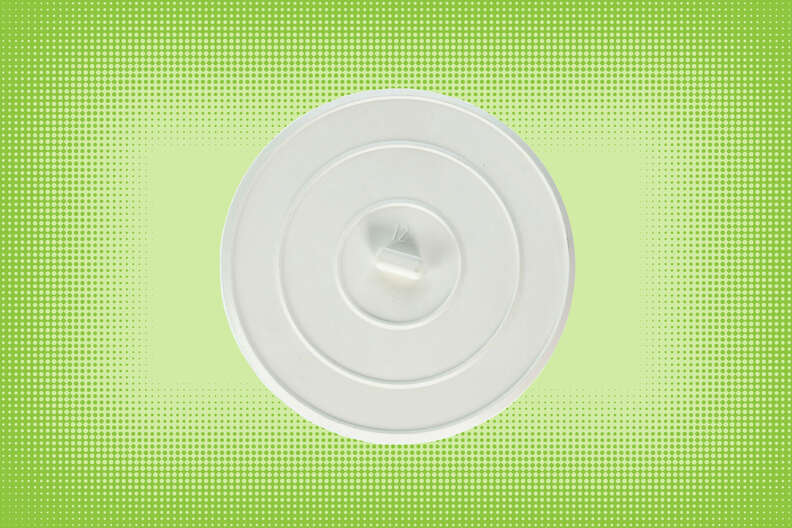 The secret to thorough and reliable sink-washing
Do it Best Rubber Sink Stopper
You never realize how useful a hotel sink is until you're hand washing a load of socks and underwear in it at two in the morning after a 10-day romp around some new and unknown locale. The one thing that puts a damper on that, however, is coming across a hotel sink that doesn't have a stopper (something that's obnoxiously common, particularly in cheaper accommodations). Or worse, you have a hotel sink that does have a stopper, but still lets water slowly drain (aka every sink stopper ever).
This simple "Do it Best" rubber sink stopper is cheap, packs up easy, and will work in every sink you toss it in. Just lay it out over the drain in your hotel room sink (or the sink of a roadstop bathroom 30 miles outside Santa Fe on Route 66 because despite what you were told, the desert does get rain sometimes, even in the off season), and then boom — you've got yourself a wash basin.
Price: $5.53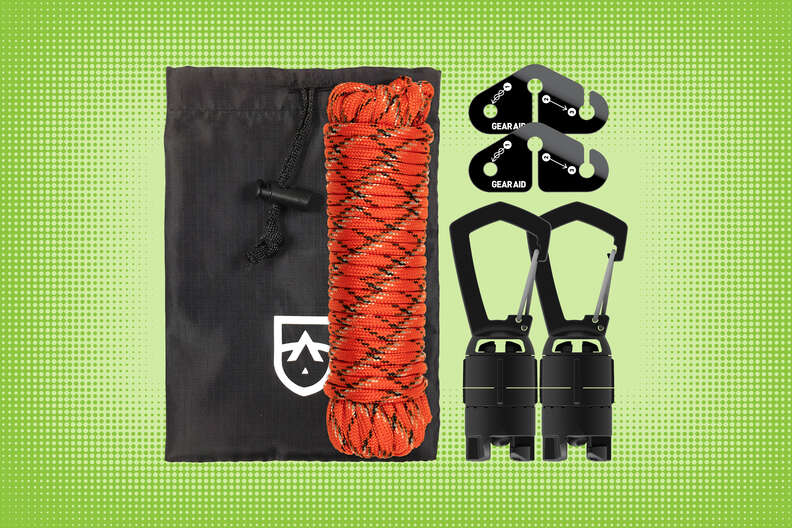 The best way to dry lots of stuff fast
Gear Aid Camp Line Kit
If you're going to use the sink method (and you likely will at some point in your travels), you'll be able to get away with hanging wet clothes over your house or hotel's shower curtain rod. But if you want to do it right or don't have easy access to a shower curtain rod, having a compact dry line kit can help you anywhere.
This particular kit has come to our rescue in a couple different scenarios; once when we lost our footing in a murky stream and all our gear went for a swim, and once at a music festival after a summer rain swept through. Simply put, this camp line gear features 30 feet of heavy duty nylon 550 Paracord, line tensioners to keep your clothing from hanging down to the ground, two stainless steel camp carabiners, and a storage pouch. We also recommend picking up some additional clothesline clips if you're looking to complete the kit, but it's not imperative.
If you're looking for something a little less heavy duty but still completely functional, this kit from Hawatour is an excellent alternative that comes with everything you need. It includes a 10-foot elastic cord and 12 clothespins, and can be hung anywhere from your hotel bathroom or balcony to the trees between a campsite.
Price: $31.50
The perfect travel-friendly detergent
Tide Travel Sink Packets
You can't really do much washing without detergent, so having a decent supply of travel pack detergent is something we can't recommend enough. Can you find detergent just about anywhere, if need be? Sure, so long as you're not hiking your way along the Appalachian trail or somewhere else where retail offerings are sparse. But even then, packing up a box of detergent powder or a container of liquid laundry soap is impractical — both for storage purposes and TSA guidelines.
The best thing we've found to date are these Tide Travel Sink Packs. They have just enough detergent in them to do a load in a standard hotel sink and take up hardly any room in a backpack, duffel bag, or carry-on. All you have to do is pour the detergent into a sink of hot or warm water and start washing. Once you're done, drain the sink or dispose of the water, refill with clean water, and rinse them out to dry.
Price: $2.79
What to use if you don't have a sink to wash in
Guppyfriend Washing Bag
We've been talking a lot about the sink method, but what if there's no sink? What if you're really in the rough and off the grid? Or worse, the sink in that damn 15-dollar-a-night motel you rented is broken? The Guppyfriend Washing Bag has you covered. Fill the bag halfway, wash clothing accordingly, and rinse.
The Guppyfriend is also one of the most environmentally friendly washing bags out there, and comes with microfiber-catching filters to help keep harmful plastics and other hazardous debris out of our waterways.
Price: $29.75
Want to know more about our favorite products and services, and get great deals on cool stuff? Sign up for the weekly Thrillist DealMail.