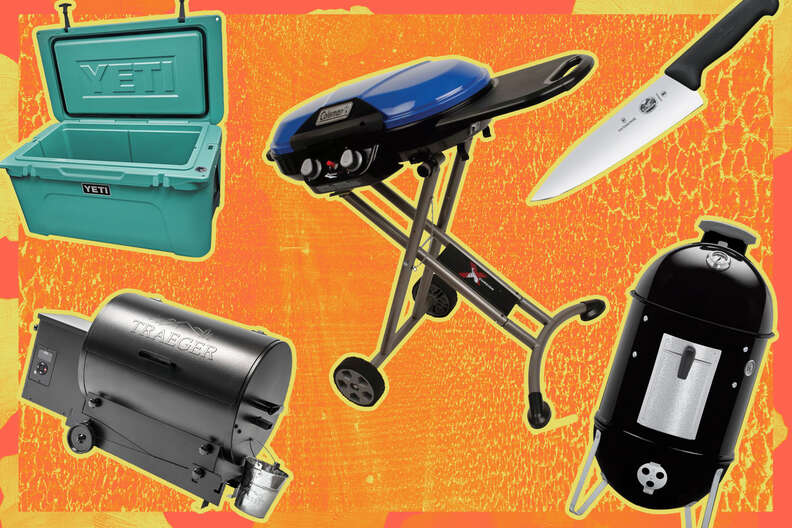 Design by Grace Han for Thrillist
We independently source all of the awesome products and experiences that we feature on Thrillist. If you buy or book from the links on our site, we may receive an affiliate commission — which in turn supports our work.
The first thing that comes to mind when reading the words "mobile grilling" is likely "tailgating." And although tailgating is a form of mobile grilling, there's so much more to it. Being able to quickly load up your car with everything you need to grill on the go is an art. Bring too much and you'll end up frustrated when it's time to pack up. Bring too little, and you'll wonder why you're doing this in the first place.
But get it just right and you'll be hitting the beach, park, or game all summer long—firing up delicious meals for you and your crew. To make sure we're giving you the best advice possible on your mobile grilling peregrination, we tapped two experts who love to tailgate, and who love to grill: Matt Pittman and Jimmy Meadowcroft.
Pittman is founder of the iconic Meat Church BBQ Supply Store in Waxahachie, Texas and is known for his work creating, teaching, and sharing his "meat passion" with others. Meadowcroft resides in Portland, OR where he is currently Wholesale Director for Carman Ranch, a grass fed beef ranch in the Pacific Northwest that sells "meat we feel good about sharing with the planet." Before that, he managed Brooklyn's lauded whole animal butcher shop, Marlow & Daughters.
Here's what they had to say about creating the ultimate mobile grilling unit.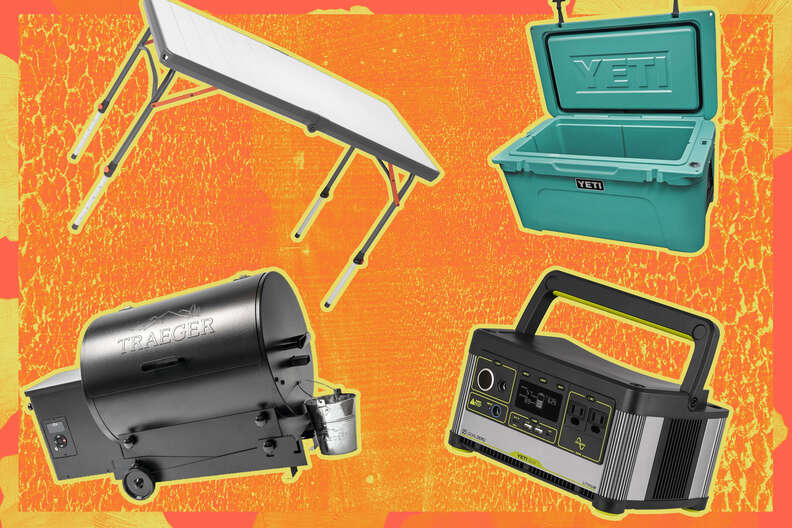 Pittman's been a Dallas Cowboys season ticket holder for 21 years, and got into grilling by being the person everyone looked at to run the tailgates at games. He says the biggest priority is prepping as much as possible beforehand. Make sure you've got your grill kit, soap (or wipes), prep table, and most importantly, your cooler.
Pittman uses YETI coolers for both hot and cold holding. He favors them for their size and convenience as well as their ability to keep items fresh at almost any temperature. He remarks that "YETIs work better the more full they are," and said this also applied to putting hot food back in them to keep it warm for hours.
Once he's ready to cook, Pittman goes with a Traeger Pellet Grill hooked up to a Goal Zero battery pack. "I roll with grills that are easily portable," says Pittman. According to him, with the Goal Zero running your Traeger, you can keep your set-up cooking for 24 hours straight.
If you're looking for something a bit less time consuming to cook on, take a look at Coleman's portable propane grill which sets up in minutes and folds flat when you're finished cooking.
As for accessories, Pittman told us these Smoky Mountain Smokers cutting boards are the "greatest invention of all time." He prefers to use the larger size which runs 18" x 24" and come 30 to a box. "There's nothing worse than being out cooking with a nice cutting board then you get it all greasy and aren't able to wash it. You can just toss these." Another big bonus? They run about $1 a pop. Pittman's also a fan of Victorinox knives. He says when cooking on the move you're going to want more budget friendly knives. He likes to bring a boning and chef knife as well as a slicer if he's going to be making a brisket. "I like these because they're around $20," he says. "At that price you won't be pissed off if you lose it."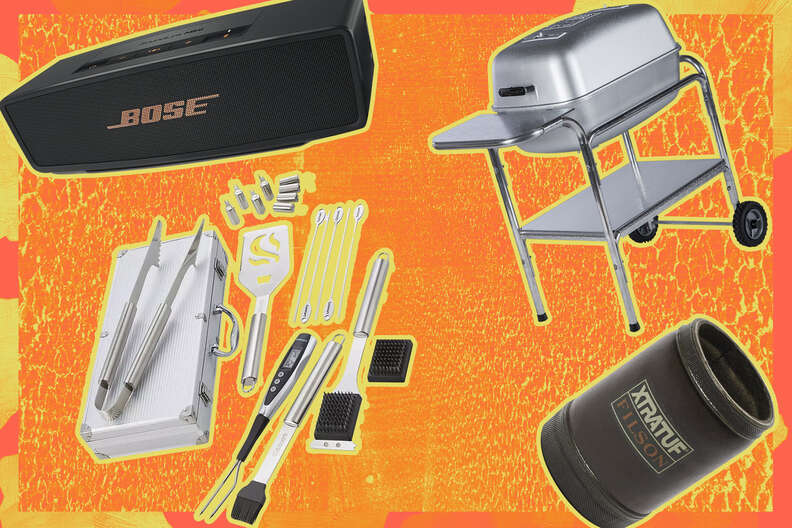 Meadowcroft's Picks
Jimmy Meadowcroft is all about the Original PK Grill & Smoker, as you can get the briquettes red hot and simultaneously employ it as a smoker. What excites him most about the PK is the ability to do direct and indirect cooking because of its size. "You can choose to do one zone direct cooking over the coals with items like thin steaks and burgers, and then thicker steaks like ribeyes or a pork butt when doing two zone cooking," he says. If you don't need to cook all that, PK also makes a smaller model called the PKGO that's perfect for smaller set-ups.
As an alternative, Meadowcroft believes the Weber Smokey Mountain Grill is the perfect gateway into the world of smoking meats for anyone interested. He likes how simple it is to monitor the grill's temperature so there's no guesswork involved in creating the perfect pulled pork or rack of ribs. "The smoker is super easy to use but is still hands on enough where you feel like you're doing some heavy duty smoking," he says.
Once the grill is going, Meadowcroft hits the cooler and throws a cold one in his Filson Xtratuf Drink Sleeve. He tells us this Filson koozie not only looks great around the tailgate, but is also "the fanciest koozie I've ever held." And speaking of holding things, Meadowcrowft loves the Marketty Heat Resistant Hot Surface Gloves. He tells us these are a win because they'll "last forever" and are "easily attainable." His pro-tip here was to wear a pair of disposable latex gloves over the heat resistant ones when cooking and handling meats. This way, any drippings or sauce won't soak and stain them.
And when it's time to relax, Meadowcroft breaks out the Kingdom Rocker from REI. He admits that he bought this "crazy comfortable" outdoor chair from REI for his wife originally, but probably uses it just as much—or more—than she does. "It's perfect for when you get your meats or vegetables set on the grill because, while it's incredibly comfortable, it's easy to hop out of. So if that fat starts dripping a bit too much on your brisket you can pounce up fast as hell." Plus, the seat and armrests have a durable water repellent protection finish to keep light rains and sauces from staining or damaging the fabric.
Armed with this information, you can now go forth into the wide and wonderful world of mobile grilling. You'll learn a lot through trial and error, but trust our experts' picks to build your foundation. And one last note before we go—make sure to bring a speaker. Once in control of the kitchen and the vibes, you'll be unstoppable.