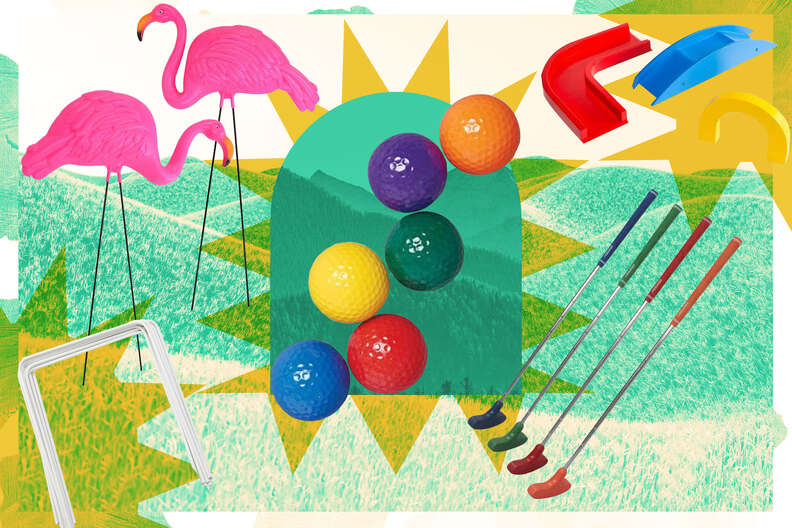 Design by Grace Han for Thrillist
Design by Grace Han for Thrillist
We independently source all of the awesome products and experiences that we feature on Thrillist. If you buy or book from the links on our site, we may receive an affiliate commission — which in turn supports our work.
Playing mini golf is a skill. Creating your own putt putt course, however, is an art form. Now, we're not saying you need to go full Rube Goldberg machine here, but having the right supplies, the right vision, and a little creativity can go a long way.
To help get us inspired, we chatted with DTP Companies' Director of Marketing Bill Kennedy. DTP (Downtown Project) is a Vegas-based company which creates wildly fun concepts that are all about social connections and "collisions." Just take a look at the 20,000 square-foot Gold Spike, an entertainment venue with a massive outdoor courtyard known as "The Backyard" with oversized interactive games (giant Jenga!), plenty of Instagrammable moments to be had, and unique programming like monthly roller-skating events.
As luck would have it, Bill happens to be in the process of ripping up his backyard and adding a putting green right now (serendipity!). Here's what Bill had to say about how to build the perfect backyard mini golf course.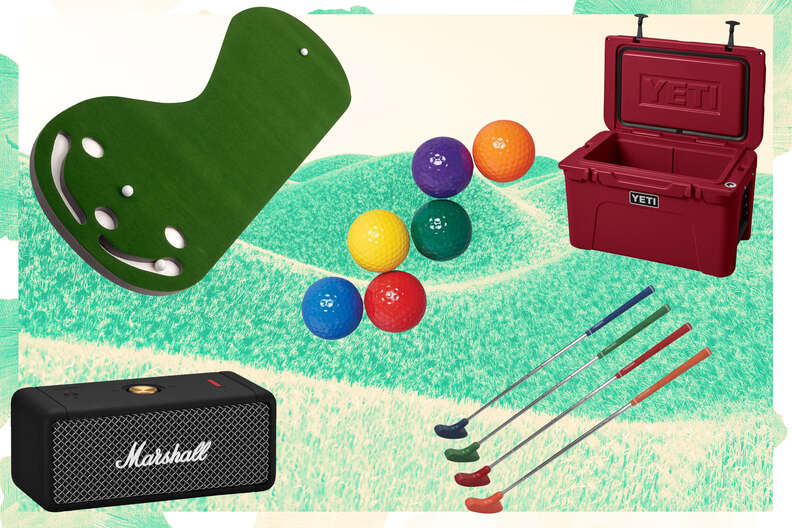 Phase 1: The Basics
"Make it a challenge. Make it something different. Make it where people have a dialogue and it's interactive, not just focused on getting a ball in a hole but focused on getting your friends tipsy. That would be the Gold Spike strategy," Bill tells us. "The theme is important," he continues, "The best courses always have a theme." Once you lock down the theme, you'll want to pick up some putters and balls.
Bill also encourages folks to incorporate items you already have in your home. An old tire would make a great loop-the-loop or ramp; PVC pipe and old poster shipping tubes make great chutes and tunnels. Cinder blocks, planters, used pallets, old paint cans, Mason jars, plywood, kitty litter (for sand traps!)—start looking around at all the crap in your house you're not using and think, "How could this be used in putt-putt?"
Once you've looked around your place and realized you don't have anything listed above, don't panic and check out this minigolf "back nine" set, which comes with a lot of fun obstacles you can incorporate. For something a bit more whimsical and kid-friendly, this set comes with a bunch of stuff, including several obstacles—like the must-have windmill—as well as "holes" with flags (no need to dig up your yard!) and two LED golf balls for nighttime use.
If you want a more traditional course, you're going to want some putting greens. This one has built-in sand traps (BYO sand) and built-in cup cutouts. If you're cool with digging some holes in your yard, a Solo cup or wide-mouthed Mason jar would do the trick to catch the balls.
Phase 2: Design Fundamentals
Once you have clubs, balls, and a couple of accessories, you're going to want to shape the course. Lowe's has pool noodles for under $3, and pool noodles are only limited by your imagination—use them as bumpers, cut them into ramps, use them in the pool when you're not playing mini golf. You can even get light-up LED pool noodles if you're trying to make this a more "after hours" course. A great way to set up some tricky putting is with croquet wickets, steel hoops you stake into the ground that can create any number of complicated/convoluted putt-paths to trip up your friends.
As for the theme/décor, Bill likes to think of things that are kitschy and fun, and things that pose the question: If this is a backyard minigolf course, why not just make the theme backyard? "I'd have plastic lawn flamingos and garden gnomes," he says. "Imagine how cool it would be to have a green with 20 garden gnomes and you have to work your way around them. Minigolf is supposed to be fun, so add some kitsch—plastic lawn flamingos, garden gnomes, anything silly you'd see in a backyard in the '50s and '60s."
Wayfair has some bare-butted garden gnomes as well as a decidedly more PG-rated fishing gnome. While over at Etsy, you can find a ton of wacky shit. There are items like a Friday the 13th Jason garden gnome, a Scream garden gnome, a garden gnome texting on a toilet, and even a T-Rex massacring several garden gnomes. Also, every putt putt connoisseur knows that any mini golf course worth its weight in kitsch has at least one cool water feature. If you can't build out a full waterfall, a small sprinkler head attachment will do.
As for the final hole of your magnificent mini golf course, think about a cornhole set. This is the most obvious way to mimic a real mini golf course, where your ball gets eaten at the end. Now, to make it so that people can actually putt a ball up the cornhole board you're going to have to do a little bit of carpentry work, adding a small piece of wood between the edge of the cornhole board and the ground to create a small ramp. You could also use some old carpet or a piece of artificial turf, and make a runway up the cornhole board for the ball. If you've decided to make your theme "Drinking with a Side of Mini Golf", this cornhole board—The Original Beer Pong Golf Cornhole Board—is the most incredible way to put an end to a match.
Phase 3: Finishing Touches
To get your links ready for tee times, you're going to need a few necessities. An outdoor drink cart with a cooler is probably the top priority. In fact, here's one that's an outdoor cooler foosball table combo. It's no gnome texting on a toilet, but hey, what is?! If you really want to ace the cooler game, obviously a YETI is a great way to go. For a cooler that meets in the middle, this rolling cooler from Outsunny is right on par with some of the best. Need something a bit extra? Check out our favorite frozen cocktail machines.
You'll also want to create a vibe. And this means music. We're big fans of Marshall's Emberton, which packs a wallop and looks cool as hell (remember, vintage!). Because you'll likely be playing in the evening, good lighting is key. Set some solar lights around the holes or throw outdoor string lights up. And while we're talking about the more boring aspects, definitely grab a good mosquito repellent...and maybe this hat.
No matter how you choose to design your dream course, you'd be wise to heed these final words from Bill: "Don't take it too seriously. Have fun, be kitschy, involve those things already in the yard, and don't be afraid to include favorite drinking games!"
The Thrillist Pro Shop
It's mini golf mayhem!