Chastity Cortijo/Unsplash
Chastity Cortijo/Unsplash
We independently source all of the awesome products and experiences that we feature on Thrillist. If you buy or book from the links on our site, we may receive an affiliate commission — which in turn supports our work.
It's hard to get in and out of a five-star hotel without spending at least $500 per night. Whether or not you think the rates are worth it, there's no denying the five-star experience is pretty darn nice. You usually get a welcome drink when you arrive, hotel staff knows you by name, the toilet paper isn't single-ply, there's a cozy bathrobe in the closet—you get the picture.
While most of us can't afford to consistently hole up in a hotel like Eloise, there are plenty of products we can treat ourselves to that make our homes feel a little more luxe. Some high-end hotel brands like the Four Seasons, The Ritz-Carlton, and Marriott even have their own collections that let guests stock up on elegant hotel-quality essentials like 500 thread count sheets, fluffy ultra-white bath towels, and designer toiletries (yes, they're a thing). Westin even hawks its super-comfy signature Heavenly Bed.
While that particular mattress will set you back at least a thousand bucks, you don't need to spend that much money to make your home feel like a five-star hotel. Much like you can elevate your bar cart on a budget, you can do the same thing with your sanctuary. In fact, here are a handful of hand-picked products starting at just $29—cheaper than a fancy room service omelette.
Amazon
If you do the math, you'll quickly learn that you'll spend nearly half of your life in bed. For that reason, treat yourself to these 400 thread count, 100% viscose bamboo sheets from Luxome. They're so soft and luxurious, in fact, they'll trick your mind into thinking you're curling up in bed at the Ritz. But unlike hotel sheets, which are usually 100% cotton, these ultra-breathable sheets have a cooling effect. In other words, even if you sleep hot, you should never overheat.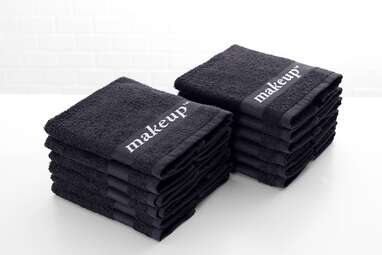 Turkish Towel Company
If you've ever stayed at a higher-end hotel (think Perrier instead of Nestlé Pure Life), you've probably seen these soft washcloths specifically designed for removing your makeup. Unlike the white face washcloths every other hotel uses, these dark towels hide foundation stains and mascara marks. And because they're made of Turkish cotton, they get softer, not stiffer, with each wash. Put them in your spare bathroom to really impress guests.
Sobel at Home
Here's a secret: This pillow is beloved by many hotels and resorts around the world. It is Sobel's best-seller, and while it feels like feather down, it's filled with a hypoallergenic gel fiber that never goes flat. The 100% cotton casing is an ultra-soft 233 thread count; and unlike real down pillows, these can survive a swim in the washing machine. It's best for people who sleep on their stomachs or backs. If you identify as a side-sleeper, get this one instead.
Pendleton
Because Fido also deserves the five-star experience, get him this comfy fleece dog bed from Pendleton. Many high-end hotels and resorts feature Pendleton's signature blankets, and The Green O, an award-winning luxury ranch in northwestern Montana, has this exact dog bed in its pet-friendly suites (that start at $2,800 per night). The best part about this bed—besides the fact that it's from Pendleton, so it looks timeless as opposed to tacky—is the removable, machine-washable cover.
Amazon
Three-star hotels have drip coffee machines, four-star hotels have Keurigs, and five-star hotels? They go with Nespresso. This best-selling machine (it has an impressive 4.7-star average rating from nearly 3,200 reviews) heats up in just 25 seconds and promises "barista-style" coffee or espresso 24/7. There's even an energy-saving function that turns the machine off after nine minutes of inactivity (because five-star and eco-friendly are becoming increasingly synonymous these days). Choose from two sizes, 1.35-ounce and 5-ounce, and use the attached milk frother to make cappuccinos and lattes.
Dyson
If you've stayed at a five-star hotel recently, you've probably encountered this ingenious invention that dries hair in half the time, thanks to its game-changing "air multiplier" technology. Yes, it's expensive, but think of this hair dryer as an investment that saves you time (five minutes a day can add up fast) and space (it takes up less room than a traditional L-shaped dryer). Because the Dyson Supersonic, which comes with five magnetic attachments designed for all types of hair, measures its heat output 40 times per second and self-regulates, it never overheats. In other words, it's safer to use and does a lot less damage to your locks.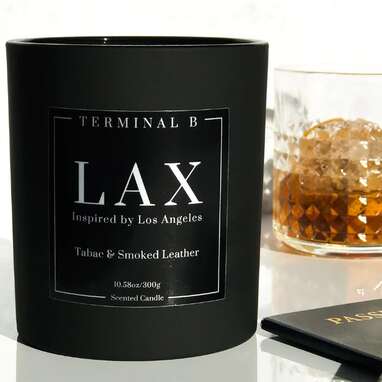 Terminal B
Don't be fooled by its name: This premium double-wicked candle, "inspired by luxury travel," won't remind you of an actual airport. With its luxurious fruit-meets-musky scent (think a $300 bottle of Argentinian Malbec), it's designed to transport you into the lobby of a hotel boasting a Michelin-starred restaurant. Yes, it's expensive. But, it burns for more than 60 hours, and unlike other candles, it's hand-poured and packaged in the U.S.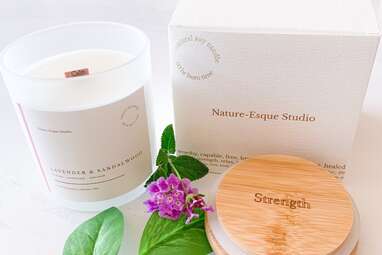 Nature-Esque
If five-star hotel spa is the vibe you're going for, stock up on this "self-care" soy wax candle that comes with a much-needed word of affirmation engraved in the lid. The fragrance marries soothing notes of lavender and sandalwood—two scents that spa managers probably buy in bulk—and has a hint of earthy musk. It offers 40 hours of burn time, and it's toxin-free and paraben-free. It's also hand-poured in small batches in the U.S.