How to Reduce Your Footprint in the Woods, According to Outdoor Advocate Katie Boué
We chatted with the founder of the Outdoor Advocacy Project about what sustainable practices you should consider before hitting the trails this summer.
Presented By
Design by Maitane Romagosa for Thrillist
Design by Maitane Romagosa for Thrillist
We independently source all of the awesome products and experiences that we feature on Thrillist. If you buy or book from the links on our site, we may receive an affiliate commission — which in turn supports our work.
While we've all been patiently waiting for warm weather to give us the cue to finally leave our cocoons and explore the outdoors again, we've also been thinking about what going outside means to the environment. As hikers—and overall humans—it's important to be conscious about our environmental impact while embarking on new adventures. Our responsibility to respect nature goes beyond simply enjoying a walk on a trail or taking a quick dip in a river, it also involves how we prepare and pack for such excursions.
In the spirit of leaving no trace behind, we ought to be taking extra steps to make sure we're making choices with sustainability in mind. To help us understand how to do better, we spoke with Katie Boué, founder of the Outdoor Advocacy Project, about the things we should consider while shopping for gear, and while out in the woods and on the trail.
This might sound obvious, but replacing disposable items with reusable ones should be the number one priority when you're exploring the outdoors. "As people who use these places we are responsible to take care of them. We often don't connect the dots between the idea of going on a hike as having an impact on a place," says Boué. Planning ahead and bringing reusable basics like cutlery, cups, and straws makes a big difference. Boué also recommends bringing an extra bag with you for picking up trash you see on a trail, "It's a habit to form. If we all come together to take care of these places, we can have a huge impact."
Invest in Reliably Durable Items
"My priority is finding something that's good, works, and lasts forever," says Boué. Long-lasting items are not only a good way to save money in the long run, but are also an important part of reducing waste. The goal is to be able to think critically about the things we're buying rather than making impulsive purchases. "When we slow down and think about our purchases a little bit more, we start to realize that: a) we don't need half of this stuff and b) we can start to think a little bit more about where that gear came from, how's it made, how are the people who made that gear treated."
Durable Picks
Shop items that could last you a lifetime.
Support and Shop Sustainable Brands
Let's get one thing clear: no brand is 100% sustainable. That's because the moment something is produced, it begins leaving an environmental footprint. Think about the fabric scraps, the energy used, the packaging, transporting the products, etc…However, more brands are incorporating sustainable practices into their production methods to help reduce harm to the environment. Think reusable materials, natural fabrics and dyes, fair trade policies, recyclable packaging, and other initiatives that can help make a product and the process by which it's made more sustainable. Boué's go-to brands that follow some of these practices are Alder Apparel and Chacos. "I love Alder Apparel, they are a fantastic brand. They started making sustainable outdoor pants for women with inclusive sizing. It's all I ever wear." For Chacos, she recommended their sandals, which she regularly wears on day-long excursions.
Sustainable Brand Picks
Sustainability doesn't have to be boring and here's proof.
Sustainable Brand Picks
Sustainability doesn't have to be boring and here's proof.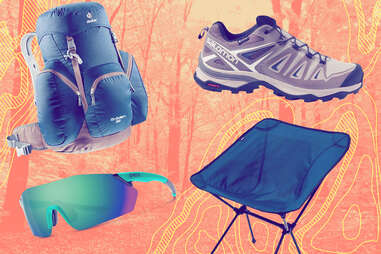 Buying used is one of the most reliably sustainable decisions you can make. It gives a second life to things that would otherwise end up in a landfill, thus cutting down on your carbon, waste and water footprint. Shifting our perspective about buying second hand is something that Boué constantly preaches. "I've been really finding a lot of joy and it's kinda fun to slow down on buying [new] gear. There are so many organizations and initiatives that are creating gear swaps or online platforms for people to sell and trade their [items]." Brands like REI and Patagonia each have a robust selection of used gear for sale, and have created initiatives to encourage their customers and followers to give back the gear and apparel they no longer use by offering store credit that can be used to acquire both new or second hand items.
Second Hand Picks
Reduce, reuse, recycle, Rihanna.