Everything You Need to Start Your Own Indoor Garden, According to Experts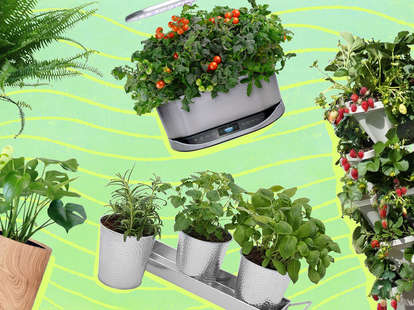 Your garden will be anything but savage.

| Amazon | Emily Carpenter
Your garden will be anything but savage.

| Amazon | Emily Carpenter
We independently source all of the awesome products and experiences that we feature on Thrillist. If you buy or book from the links on our site, we may receive an affiliate commission — which in turn supports our work.
When I was 16, I read The Secret Life of Plants -- a fascinating if not madcap exploration into the way plants communicate with each other, how they react to music, their environments, and humanity. It's been widely criticized as pseudoscience (as most everyone was doing LSD at the time), but it's nevertheless an enthralling investigation into the relationship between humans and nature. I've never thought about plants the same after reading it.
But humans have always been obsessed with gardening. Horticulture dates back to ancient times with the rise of civilization coinciding with the rise of gardening. Agriculture dates back even further. I'm sure you're likely aware of this, but it gives context to how long people have been growing their own food. In modern times, there's been a renaissance of sorts with subsistence gardening, especially in cities where people have taken to their roofs and balconies to grow tomatoes, peppers, leafy greens, and the like. And I promise, you can do it too. A lot of people get intimidated by lighting or hydroponic setups, but it's actually pretty easy. I spoke with ten experts and asked them how to create the perfect indoor garden. They offered expertise on how to start sprouts, grow a full bounty, or just keep that pothos you bought from the grocery store alive and thriving.
Herbs and herb gardens
No, not those kind of herbs. We're looking at things like thyme, parsley, basil, mint, and so on. The obvious first step is to choose what kind of herbs you'd like to grow, which is all depending on taste. You can grab an assortment of pre-potted ones here, or pick up a 7-pod seed kit and start from scratch. And to be candid, buying herbs and replanting them is way easier than starting from seedlings.
With regard to replanting, I talked with Ralph Portillano, a horticulturist and Design Manager at PlantShed, and here's his method for starting from scratch. First, locate a south-facing window, "Window sill light can only work if you're facing an obstructed southern exposure, anything else will lead to the plants becoming leggy (etiolated) and unhealthy. For low light situations a grow light setup is highly recommended and the grow light should suspend 6-8 inches from the seedlings to have any effect." Which brings us to... all of the lights!
Lighting
"The only thing that is really required to grow edibles (besides soil) is a grow light." - Shelly Levis, author of the best-selling Countertop Gardens: Easily Grow Kitchen Edibles Indoors for Year-Round Enjoyment
The importance of lighting was stressed repeatedly -- and by nearly everyone I consulted. Portillano recommends to "[Get] an overhead grow light. Strips are better than bulbs." Lou Manfredini, a plant expert and spokesperson for Ace Hardware, recommended the same setup. "Make sure the light is on for at least six hours a day; and if you want to (or can) transfer outdoors that's perfect too."
If you're looking for something a little more design-friendly, Joyce Mast, expert gardener and Plant Mom at Bloomscape, recommends their bespoke Small Grow Light. Kevin Espiritu, founder of Epic Gardening goes with the Agrobrite T5, "It's the best blend of value/performance at the price point and will get most gardeners a crop of herbs, leafy greens, and smaller vegetables indoors with ease." Levis is a big fan of the ones over at SunBlaster. "No matter what your growing situation looks like, they have a light solution that'll work for you." If you want to start small, try this tabletop light which is great for small spaces.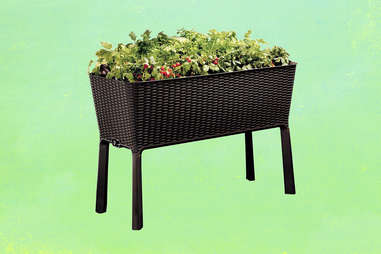 Pots and planters
When the lil' seedlings are just starting out, Blythe Yost, head designer at Tilly, imparted this wisdom, "Any sort of lightweight potting soil should work for indoor growing. I like to start seeds in a peat mix and then transplant to larger pots with regular potting soil." Mast, the Plant Mom, warned that "The biggest mistake people make is not getting a new pot that has a hole in the bottom for excess water to drain onto a saucer. A plant in a pot without drainage is much more susceptible to root rot and damage or death from overwatering." Her solution? Buy pots with drainage holes, duh.
Meggie Nahatakyan, an avid gardener and content manager at MuchNeeded.com, loves ceramic pots. "The beauty of ceramic pots is they are porous, so water seeps out and the air is able to circulate. This minimizes root rot due to overwatering." Nahatakyan also has some great advice for those looking to grow veggies. "You must also consider what size of pot to get. If you are growing vegetables that grow big like tomatoes or eggplants, you'll need a bigger pot. For tiny ones like scallions or basil, a smaller planter will do." Espiritu echoed these statements. "Grow in terracotta clay pots with drainage holes. They're the most simple. I'd recommend 6-inch pots, as most plants' root systems are at least that deep."
If you're planning to grow on your balcony, make sure the area gets plenty of sunlight and you pick out a planter with good drainage and depth. We love this one from Veradeck, but a ton of others are readily available to suit your aesthetic. Do you have a backyard or patio? Then you hit the jackpot. Check out Mr. Stackey, a five-tiered vertical planter that's 38 inches tall and can grow you your own vegetable section in the corner of your deck.
Soil
Soil. It's just dirt, right? Apparently not. "For soil, a potting mix is mandatory -- someone could mix their own, but it's a bit complicated. For a beginner, I always recommend buying bagged mix. A few companies I love for that are Espoma Organic, Recipe 420, and Fox Farm," said Espiritu. And according to Manfredini, "The simplest method [to grow] is to purchase some Plant Pot Seed Starter. Place an inch of potting soil and then add your desired seeds -- beans, tomato, lettuce, kale, you name it. Then cover with more potting soil and water."
Nahatakyan, and others, said that you should also use a fertilizer. Most experts I spoke with recommended a liquid version, like this set from Miracle-Grow. Lastly, Erin Wade, an expert gardener and owner of salad-centric restaurant Vinaigrette suggests using "An organic potting soil mix, such as Black Gold."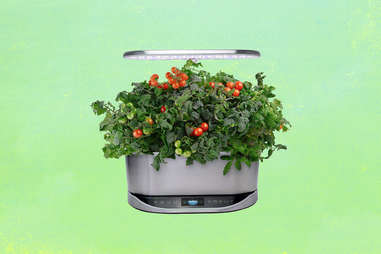 AeroGardens and hydroponics
This goes out to all the nature newbies in the back. You're really into the idea of this whole home garden experiment, but you're busy. Hauling soil, repotting, fertilizing. It can all seem a bit daunting. Or maybe you don't have a ton of space and natural light, but still want to grow some microgreens. Well then you're probably in the market for hydroponics: soilless systems with built-in lights that basically run themselves. Our friends at High Tech Gardening had this to say "The AeroGarden is awesome It's a great way to grow your own supply of fresh produce in your own home. If you're new to the idea of hydroponics, it's a great all-in-one kit to get you started."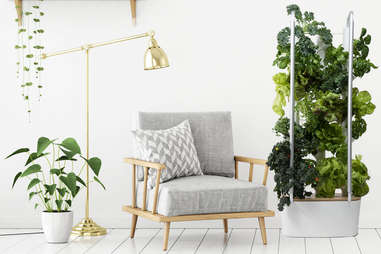 Levis added that "The AeroGarden is one of my favorites since it has several features that make it easy to use. It requires no soil since it is hydroponic and the unit reminds you when to add water and when it's time to fertilize. The compact size is perfect for small kitchens and the devices are available in several colors." The best part is there is no shortage to choose from. Aerogardens come in all sizes, with some even incorporating features like Alexa, like the AeroGarden Elite. As cliche as it sounds, you literally set it and forget it. Until you get hungry. Then you ravage it for herbs and cherry tomatoes.
If you find that hydroponic systems are your calling, you'll also want to check out this amazing rig from Gardyn, which is set up to grow just about anything you'd want.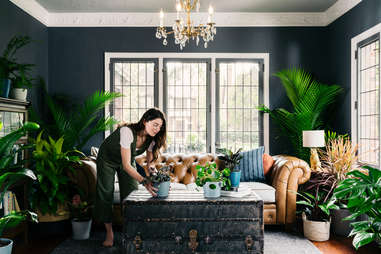 What to know if you would rather stick to houseplants
You don't have to grow food to have a garden. Setting up a few well-placed houseplants can turn an otherwise standard room into a verdant mini-nursery. I've been growing plants for years and have found the easiest ones to take care of are succulents, pothos, snake plants, and ivy. Joyce, The Plant Mom, as well as Casey Godlove from PlantShed, both offered recommendations for particular plants: Kimberly queen fern, the parlor palm, the spider plant, sansevieria (aka snake plant), the peace lily, as well as pothos and English ivy.
With everything here, hopefully you feel a bit more comfortable starting your own garden or plant space at home. A lot of it is trial and error, but with the right tools and a little experimenting, you can have an amazing green space in your home in just a few days (or weeks/months if you're starting from scratch). Plus, you have the Internet, so troubleshooting is only a few clicks away. Now if you'll excuse me, I should probably go check on my plants.
Want to know more about our favorite products and services, and get great deals on cool stuff? Sign up for the weekly Thrillist DealMail.