Everything You Need to Create a Bona Fide Karaoke Setup
DIY karaoke night essentials, according to the pros.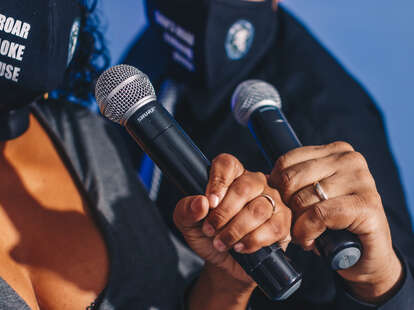 We independently source all of the awesome products and experiences that we feature on Thrillist. If you buy or book from the links on our site, we may receive an affiliate commission — which in turn supports our work.
It's hard to imagine just when -- or how -- we'll be able to head back to our favorite karaoke haunts for some late-night revelry and off-key belting, but that doesn't mean there isn't ample opportunity to practice for your return by recreating the vibe at home. What, like you have better things to do right now?
To help you gear up to pull off a proper karaoke night out at home, we went to the pros. We asked Roberto Williams, who along with his wife Zaida Soler-Williams, has turned his own home in Brooklyn into one of NYC's hottest karaoke clubs, Lion's Roar Karaoke House, for recommendations. So, if you've been jonesing to step up to the mic and let 'er rip like the good old days with a few good pals in your pandemic pod, here's what you'll need.
The Audio Essentials
Although you may not need the full firepower of a true karaoke bar in your own home, that's not to say you shouldn't try. Williams suggests opting for powered speakers with their own volume control (that way you don't need an expensive amplifier), and specifically touts the offerings from JBL.
"JBL makes excellent powered speakers, that are affordable, easy to set up, and sound amazing," he said. "They are available in various sizes to suit your audio needs (from desktop speakers, all the way up to massive sound cabinets for large major outdoor events)." You'll also want a mix board to properly balance live sound. Williams suggest getting one from Vocopro, which he says makes some of the best karaoke equipment around. Ideally you'll want one with a minimum of three microphone channels and three channels for various external music sources (e.g., iPad, laptop, disc player), plus an ability to handle an incoming video signal to connect to a screen/monitor to display lyrics.
As for microphones? He says buy Shure brand equipment, which makes some of the finest microphones in the audio industry for every application. "It's the only brand of microphones I perform with," he said.
Williams also suggests experimenting with placement of everything to figure out what sounds (and looks) best for your guests. In other words, avoid cluttering up any areas (and hide cables/wires) so that there's enough room to really let people perform.
Of course, your budget (and space) may not allow you to go all-out on equipment. In that case, you may want to instead invest in a pair of Vocopro's "Popup Oke" wireless, Bluetooth-enabled mics, which feature built-in speakers to both amplify a singer's voice and stream audio from nearly any source. They're also equipped with LED lights that "dance" to the beat.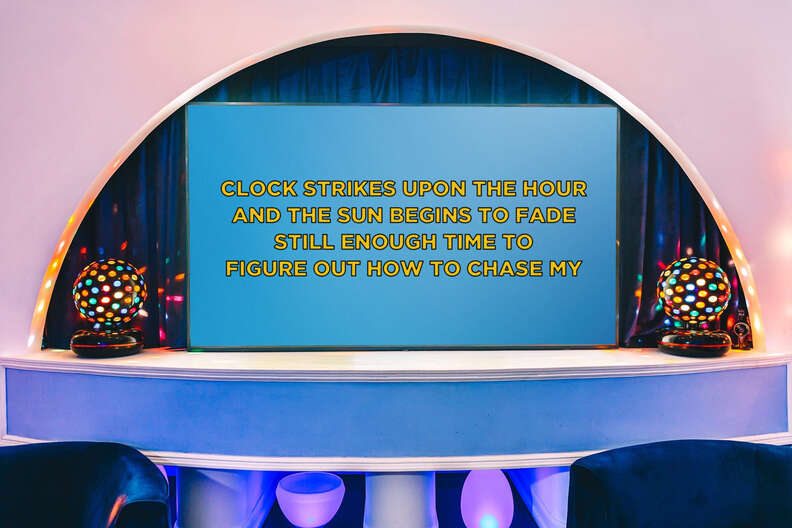 The Lyrical Necessities
Now, unless you and your crew insist on exclusively belting tunes that you know the lyrics to front-to-back (which, kudos if that's you), you're going to need a monitor of some sort to display the lyrics. If you're looking for a more open-mic vibe (where more focus is placed on the performer), Williams suggests a small monitor. Alternatively, if you want to encourage as many people as possible to sing along, go big. Either way, he suggests grabbing one from Samsung. "[They're] always my go-to choice for the best picture optics and screen size selections," he said.
If you'd rather not bother purchasing speakers, a mixer, mics, and a display individually, Vocopro also makes a standalone portable karaoke machine (it's roughly $400) stocked with everything you'll need (speakers, two mics, a screen, and 80 watts of sound power) in one central rechargeable Wifi-enabled hub that can stream lyric videos and audio from practically any source.
So, what about the karaoke songs themselves? Well, like everything here, there are options. If you're looking to really invest, there is professional karaoke software you can buy (complete with printable song books, lyric videos, interstitial music, and more), and a number of apps you can run straight off of a laptop. However, Williams prefers sticking to YouTube. "I primarily recommend Youtube Premium," he said. "No commercials, and several hundred thousand karaoke titles, in every language and in every genre of music."
The Decor and Ambience
Alright, so you've got the gear and your music catalog squared away, but to truly transform your space into a karaoke bar you also need to pay attention to decor and room layout. Since the living room is likely the best spot for most people to transform, Williams encourages you to to make sure the performance area is in the focal point of the room (e.g., where your television or fireplace is), and that seating surrounds it in a semi-circle. Even better? Set up a small spotlight to showcase the area and performer(s).
Of course, no one expects you to invest in special karaoke furniture (though, if you do, Williams suggests "uniform style and material"), you should try and pack in as many "absorbing soft surfaces" as possible to reduce sound bounce and sound reflection. "I also always try to avoid hard surface seating like wood or metal folding chairs (if possible)," he said. "I have generally always gone with cloth couches, sofas, and loveseats."
Once you've got the seating arrangements figured, you'll want to focus on lighting, which is a simple detail that goes a long way in making an at-home karaoke den extra special. If you have dimmers, you'll want to keep the room lighting at low warm levels (and if you don't have a dimmer, you may want to pick up some Philips Hue smart bulbs, which can dim and change color via your smartphone). From there, Williams recommends some accent lighting to drive a "sexy, romantic 'lounge' vibe throughout the space." That means bringing in everything from disco party balls and subtle party lights, to flickering accent candles.
Now, before you go buckwild buying up all the karaoke gear you can get your hands on, keep in mind the whole point of hosting your own karaoke night at home is to make it yours. That means recreating the karaoke vibe you want. So, however you decide to set things up, just remember to have fun, let loose, and sing your heart out.
Want to know more about our favorite products and services, and get great deals on cool stuff? Sign up for the weekly Thrillist DealMail.