Get 20% Off Premium Cookware During This First-Of-Its-Kind Le Creuset Sale
Aspiring kitchen pros, this one's for you.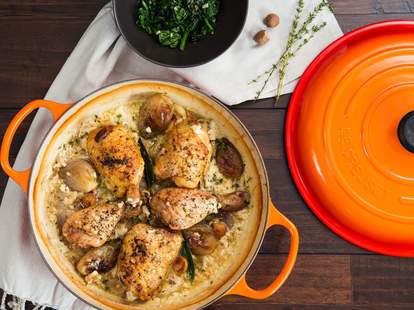 If you're using all this downtime at home to work on mastering the art of meal-making, you owe it to yourself to stock up on some budget-friendly and chef-recommended essentials. Though if you're interested to heightening your culinary skills even further, you may want to invest in some premium enameled cast iron cookware from a brand like Le Creuset. In fact, right now's a good time to make some moves, because the iconic French kitchen goods manufacturer is currently running a first-of-its-kind 20% off sale on many of its best-selling items. 
Whether you're looking for a top-notch Dutch oven (homemade sourdough, anyone?) or ready to upgrade to a truly excellent skillet or sauce pan, Le Creuset makes arguably the best on the market. There are a ton of great deals to be had since this is the first time the company has taken 20% off full price products like this, so you'd be wise to take a quick look around. However, to help you out, we pulled out a few of our favorites in the mix.
Head to Le Creuset to browse the bargains and make good on following in Ina Garten's footsteps.
Want to know more about our favorite products and services, and get great deals on cool stuff? Sign up for the weekly Thrillist DealMail.