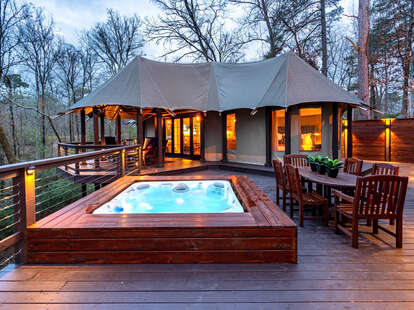 We independently source all of the awesome products and experiences that we feature on Thrillist. If you buy or book from the links on our site, we may receive an affiliate commission — which in turn supports our work.
Forget all of that "New Year, New You" hype. We think the current you is pretty great just as you are—but you still may want to start 2022 off with a mindful eye towards healthier living. That could mean yoga classes and meditation, long soaks in hot tubs overlooking the ocean, or days spent visiting wineries (antioxidants!) before relaxing by the fire.
There's no need to visit a spa resort or wellness center, however. There are plenty of Airbnbs that have exactly what you need to kickstart a healthy and happy new year, from saunas to heated pools. We've rounded up some of our favorites here, and honestly? Just looking at these rentals is making us feel more relaxed already.
Airbnb
2 guests/$508 per night

Enjoy sunrises, starry nights, and ocean views in this bamboo temple on Maui, which was built like a spiral nautilus shell to encourage harmony with nature. The private space has everything you need to relax and rejuvenate, including a bamboo four-poster bed, full kitchen, and outdoor shower. Outside, you'll find hiking trails surrounded by a lush jungle, ponds, flower gardens, fruit trees, a waterfall that flows into natural pools for swimming, and a cliffside trail that leads to the beach. You'll also have the option to participate in morning yoga, qi gong, shamanic night teaching, meditation, personal coaching, and on-site massages.

What guests say: "What a peaceful and wonderful place. I was in need of a personal, quiet retreat, and this place exceeded my expectations. The view, the ocean breeze, the outdoor shower, the hiking trails, the meditation building, and its view...everything was exactly what I needed at exactly the right time in my life. Thank you so much for the space you created and are sharing with others. It was a gift to stay here."
Airbnb
7 guests/$1,800 per night

This redwood retreat is the perfect place to unwind with a group of friends who enjoy hiking (it sits on five acres), relaxing around the pool, enjoying leisurely dinners on the deck overlooking the water, taking walks to quiet beaches, and finding nooks around the house and property for solo reading or napping. Just be sure to wake up from your siesta in time for sunset, which is best observed with cocktails in hand while sitting in the hot tub or around the outdoor fire pit.

What guests say: "Quintessential Big Sur experience that I'd always imagined! I've seen so many movies that took place in a rambling redwood house with lots of cool art, perched on a cliff above the ocean, and this week I felt like I was living that fantasy. The view is jaw-dropping and the house is charming. We used all the amenities—pool, spa, fireplace, outdoor fire pit, well-stocked kitchen. All in a beautiful, very private setting."
Airbnb
4 guests/$332 per night

Everything in this modern farmhouse is sustainable or organic, from the solar-heated pool and all-natural bedding to the paint on the walls and cleaning products used, so you can feel good knowing that you're being an eco-conscious traveler. Spend your days unwinding by the pool in the backyard, reading books in the hammock, sipping drinks at the tiki bar, or wandering the nature trails within steps of the cottage. Or, if your idea of wellness includes eating and drinking, walk to the two nearby tasting rooms or visit one of the many wineries or restaurants within driving distance.

What guests say: "Farmhouse Oasis is a gem and the perfect blend of beauty, luxe, and coziness. All you need for a special getaway is provided, and we loved how smooth it was to settle in and feel at home. For those planning to stay in for all/most meals, the kitchen appliances are a chef's kiss with cast iron skillets and beautiful flatware. The top guestroom is an oasis on its own with a comfy king bed with the best pillows, a soaking tub, and a relaxing sitting area. Even though it was a bit chillier in November, we loved everything outdoors—especially the sauna and the cool pool lights outside in the evening! The boho bar area is just as cozy as the indoors with comfy furniture, blankets, and chic decor."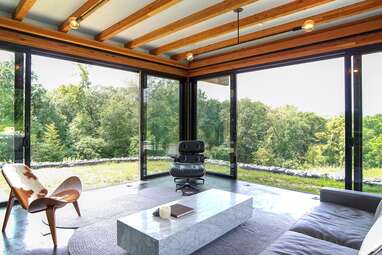 Airbnb
4 guests/$907 per night

This rustic, yet modern glass home in the Hudson Valley is surrounded by mountain and valley views. It provides endless amounts of privacy, but it's still just a quick drive away from a couple of local ski resorts and downtown Hudson, where you'll find antique shops, stylish boutiques, and amazing restaurants. Of course, you may never want to venture out when you see all the perks in this house: floor-to-ceiling windows in every room, a custom fireplace, lap pool, hot tub, Sleep Number mattresses, automated window shades, and much more.

What guests say: "What an amazing experience! Waking up to the view was an absolute delight. This house gives you a floor-to-ceiling view of nothing but trees and distant mountains over the Hudson River valley. The pool and hot tub were clean and a wonderful way to experience the peaceful surroundings. The house was modern, beautifully decorated, and clean. I loved the "smart home" features, which made it easy to operate all of the window shades, lights, HVAC, TV, and stereo system. The bed, linens, and towels were very comfy and the house was well equipped with excellent bath and kitchen products. Can't wait to return to this gem."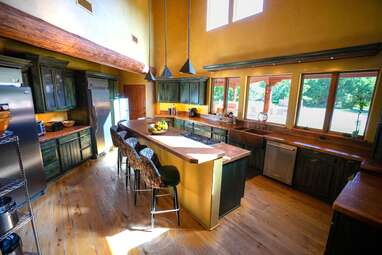 Airbnb
14 guests/$886 per night

Just a short drive from the famous resorts and spas of Sedona, Arizona, this 25-acre retreat is big enough to house a large group while also ensuring you'll have plenty of quiet for moments of downtime and meditation. The property is surrounded by a gentle creek and hiking trails, and it features a rooftop porch for stargazing, a well-equipped kitchen, outdoor sauna, outdoor fireplace with comfy seating, volleyball court, and swings. There's also a yoga barn with a wood-burning stove and plenty of mats.

What guests say: "Grace Grove is a quiet, unique, carefully constructed oasis that was perfect for my meditation retreat. We loved the separate yoga space, the comfortable outdoor dining and lounging space, and all of the wonderful surprises like amethyst bio-mat and infrared sauna. The kitchen was incredibly well-stocked and (of course) being on the creek was a huge treat."
Airbnb
16 guests/$990 per night

The desert is an incredible place to get away from all the lights and sounds of the city. Enjoy the clean air and star-filled sky with a group of your nearest and dearest at this recently renovated six-bedroom home, which offers a large pool, hot tub, chef's kitchen, and fire pit, all surrounded by desert landscapes and mountain views. The property also includes a yoga studio, and you can add on guided meditation and hypnotherapy, a nighttime star tour, in-house massages, sound baths, desert plant walks, yoga lessons, and more.

What guests say: "This place is FANTASTIC. Great home with lovely and thoughtful details to make the stay comfortable and welcoming. Very roomy, multiple beds and the Yoga is fantastic for adults or for a group of kids to run around safely. Would highly recommend this home for a getaway; close to Joshua Tree park for day trips and easily located near the main street for restaurants, stores, or a quick and often necessary coffee run."
Airbnb
7 guests/$750 per night

This timbered geodesic dome would be a cool place to stay no matter what—but add in the amenities, you have yourself a perfect spot for rest and relaxation. Let's start with the structure, which is made with LEED materials designed to stay cool in the summer and warm in the winter. It has a spacious living room with a 20-foot dome ceiling and wood-burning fireplace, a red spiral staircase that leads to the library, and a fully-equipped open kitchen. What more could one need? Maybe an indoor pool, sauna, indoor jacuzzi, solarium, and professionals on call to give massages and other spa services?

What guests say: "All I want in life is an indoor pool. Okay, I want a hot tub and a sauna too. And a jacuzzi tub. And a fireplace. And can you put it in a geodesic dome in the middle of the woods? Okay, great."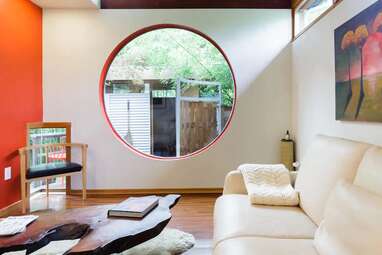 Airbnb
4 guests/$212 per night

According to the host, "Our house design is influenced by Japanese and Scandinavian cultures, yet is uniquely Northwest." That's the perfect way to describe this one-bedroom retreat, located just 15 minutes from downtown Seattle. It feels like a luxurious spa retreat, with a genuine Finnish sauna, outdoor shower surrounded by bamboo, and hot tub—the adorable bunny who lives on the property is an added bonus.

What guests say: "What a gem. Jeffrey's place is outstanding. The space is so unique, you find yourself making sure you check out every nook, in case you missed something. I've never stayed in any rental that has cast iron to cook on. This speaks to me on a high respect level (although we didn't do any cooking this time). The hot tub is perfect. The sauna is a real treat- make sure you give yourself time to truly enjoy it. Jeffrey is super nice and responds quickly. I really can't say enough nice things about this space. Just do yourself a favor and book it immediately."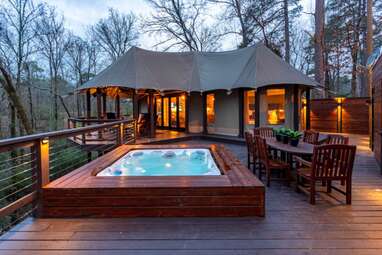 Airbnb
4 guests/$368 per night

Even if you're not familiar with Hot Springs, it should come as no surprise that the town is known for its ancient thermal springs, as well as 19th- and 20th-century bathhouses, forested hikes, and fascinating geology. Enjoy all of that natural wonder while sleeping in a safari-style tent on a private veranda overlooking the valley floor, complete with a fully-stocked kitchen, hot tub, outdoor shower, and freestanding tub.

What guests say: "The Nest was everything we dreamed it would be and more! It's beautiful, peaceful, and luxurious. It is absolutely a unique experience, and while there is so much to do in Hot Springs, you don't want to leave the Nest for any of it! The bed feels like sleeping on clouds, all the decor makes such a dreamy environment, and the privacy makes you feel like you have left reality and escaped to the dreamiest fairytale woods. I can't recommend this place enough, and I can't wait to return someday!"
Airbnb
4 guests/$222 per night

Set on a private ranch with two other Airbnb properties, this lodge has a hot tub, full kitchen, outdoor grill, indoor/outdoor bluetooth speakers, and deck with a fire table. While you're there, you'll have access to 11 acres of land where you can find hiking, bird watching, places to meditate, outdoor fire pits and grills, a mini horse, and three mini donkeys. There are also dozens of wineries, breweries, and distilleries just a short drive away.

What guests say: Peaceful, private, and with an incredible design to marry the indoors/outdoors while offering a TON of amenities. The attention to detail is in every single space, and the hot tub and fire table made porch-sitting perfect. We left relaxed and happy, and will be back soon for our third time. (Note: they have three cabins here all facing different directions for privacy. Great spot for a couples trip for sure.)
Daisy Barringer is an SF-based freelance writer. You can follow her on Twitter
@daisy
.