Today Is National Cheap Flight Day. Here Are the Best Deals to Watch Out For.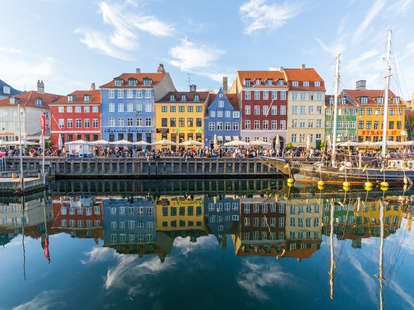 We independently source all of the awesome products and experiences that we feature on Thrillist. If you buy or book from the links on our site, we may receive an affiliate commission — which in turn supports our work.
In many ways, it's never been cheaper to fly commercial. Domestic fare flash sales are popping up every day, and a smattering of deeply discounted international flights seem to be up for grabs on a regular basis. Still, there are certain times of year -- like right now -- when you can reliably score a good deal. That's right, August 23 marks what is frequently dubbed "Cheap Flight Day" by many travel industry experts, when airlines across the board reduce fares after the pricey summer travel season.
Sure, Cheap Flight Day is a made-up holiday and it may seem less important now that knockout flight sales happen year-round, but there are still plenty of good deals up for grabs, so why not seize the moment to book a budget-friendly fall trip? We tapped travel experts -- including the folks from cheap airfare finder Matt's Flights and CheapOair's Tom Spagnola -- to provide some background on the annual event and a few tips and tricks to secure a cheap flight right now. We'll also be maintaining an updating list of the best Cheap Flight Day deals as we find them, so feel free to bookmark this page and check back throughout the day.
What is Cheap Flight Day?
Many travel industry vets have come to know August 23 as Cheap Flight Day because historically, airlines start to lower their prices on or around that date as the peak summer travel season comes to an end. The reason they do this, according to CheapOair, is to woo people to book a trip before most folks start making holiday travel plans in hopes of curtailing a lull in ticket sales. This year, both international and domestic airfare is expected to drop roughly 15% for a few weeks starting today.
"Coming off the expensive summer travel season, this four-week period is often overlooked as more consumers are focused on returning to their normal work and school schedules," said Sam Jain, the founder of CEO of CheapOAir's parent company, in a statement. "It's really the perfect time to get a jump on holiday travel plans as prices will begin to climb by late September." In other words, if you were hoping to squeeze in a budget-friendly getaway before the hectic holiday travel season rolls around, now's the time to act.
What are the best ways to find cheap flights?
Traveling in the middle of the week will almost always guarantee you a cheaper fare (think Tuesday or Wednesday departures and returns), and weeklong trips tend to be the cheapest, according to Matt's Cheap Flights. As always, you'll want to book flights at least 30 days before you want to skip town, though there's also a suite of handy services, apps, and sites that can alert you exactly when to buy in order to lock in the best bargain.
The most competitive fares will likely stick around through Labor Day (or until demand drives up the price), and there may well be a special Labor Day fare sale all its own, according to Spagnola.