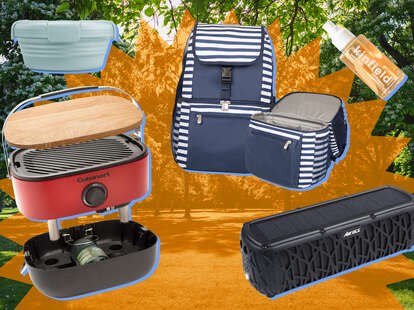 Design by Maggie Rossetti for Thrillist
Design by Maggie Rossetti for Thrillist
With summer about to make its long-awaited arrival, you're probably taking inventory of your warm-weather stock. Sunglasses: Yep, got those. Bathing suits: Could use a few more. Park gear: Woefully unprepared!
Luckily, the shelves are stocked with the things you need—plus, the things you don't even know you need—ahead of this season's outside hangouts. Keep reading for essential items to upgrade your summer picnics and park adventures, including a way to transport ice cream (that actually works) and better-for-you bug spray.
The Original Backgammon Bag
Price: $110
When it comes to picnicking, the name of the game is efficiency—or, in this case, it's backgammon (efficient backgammon?). This space-saving version puts the boards (checkers, too!) on either side of the bag, storing the dice, instruction guide, and game pieces inside. Once rolled out, the small set is just 14" by 12" flat, barely taking up room in your bag or on the blanket.
Stojo 36 Oz Bowl
Price: $25
You've probably heard of Stojo's popular collapsible tumblers, but the brand's got even more to offer. The 36-ounce bowl fits 4.5 cups of your favorite dish (like macaroni or potato salad), then packs down for a less clunky transport home. Featuring a four-clasp lid, this bowl comes in a variety of fun colors and is dishwasher safe.
Kinfield DEET-Free Repellent Golden Hour
Price: $22
Sticky aerosol bug spray that gets in your food every time it's used? Hard pass. This three-ounce repellent from Kinfield uses Indonesian citronella instead of the controversial chemical DEET (which can cause irritation, nausea, and vomiting, in some cases) to ward off unwanted bites. Bonus: It smells like perfume (citrus and vanilla, to be exact), and is small enough to fit in a purse or pocket.
Picnic Time Portable Folding Table With Seats
Price: $162.95
If sitting on the floor's not your style, it's time to add to cart. While this table seats four, it only takes one person to set up, break down, and carry to and from the park. It's just under 19 pounds, but no bigger than the size of a suitcase once closed. Flimsy? Not a shot. Each seat can support 250 pounds.
The Ice Cream Canteen
Price: $49.99
Cold ice cream everywhere you go isn't so much a fantasy, but a reality with the Ice Cream Canteen, a vacuum-insulated container that can keep ice cream cold for hours. The shape is designed so that you can take any standard pint of ice cream, drop the entire container in, and close it without a mess. Take any one of the five colors on an off-the-beaten-path hike and enjoy a frozen treat with your view.
While the origin of the margarita, America's most popular cocktail, is steeped in folklore, many agree that it was invented in the West. And it's where the inspiration for Lone River Ranch Rita comes from—a premium brewed, margarita-style beverage inspired by its western roots. Ranch Rita's deliciously light yet refreshing taste hits just right, thanks in part to a hint of organic agave nectar and lime—making it the perfect summer sipper for any occasion.
Roebury Foldable Blanket
Price: $35.65
Admit it: You're currently using the flat sheet that came with your bedding, aren't you? While there's nothing wrong with that per se (we love a recycling moment), you can certainly do better. This lightweight (1.8 pounds), foldable picnic blanket is water-resistant, measures 55" by 70" to fit all your friends, and packs up easily for transport. You can bring it to music festivals, the beach—you name it.
Neepa Hut Handmade Collapsible Woven Food Tent
Price: $28
Until someone invents edible bug spray, these food tents are about to become your most sacred possession. Made from woven Sinamay (a natural leaf fiber), they collapse when not in use for easy transport. At the park, use them to cover anything and everything from charcuterie boards to cupcakes.
ABFOCE Solar Bluetooth Portable Speaker
Price: $59.99
Picture it now: The wine spritzers are cold, the breeze is warm, and all of your best friends are there. You're having a pretty good time until the portable speaker dies. Seriously, who forgets to charge the speaker before a picnic? Save the drama for another day with this solar Bluetooth speaker and built-in charging bank. It's got a mono-crystalline, silicon ETFE-laminated solar panel that transforms the sun's rays into power. Every 10 minutes of absorption equals a half-hour of music. Plus, the built-in charging bank means your phone will never die. Drop a pin! More friends are on their way.
Cuisinart Venture Portable Gas Grill
Price: $217.99
The ultimate way to upgrade your park hang? Turn it into a BBQ, duh. This portable gas grill from Cuisinart is designed for compact travel; its pieces stack on top of one another and the cover doubles as a cutting board. Now, who wants cheese on their burger?
Zuma Backpack Cooler
Price: $44.95
Listen, tote bags are great. Take one to the grocery store, throw all your unopened mail in another, get creative. But tote bags are not good picnic bags. They're flimsy and they don't have compartments. Instead, opt for this two-in-one backpack cooler that can hold up to 20 12-ounce cans in its bottom cooler and all of your snacks or personal belongings up top. It's pretty much a guarantee that everyone will ask where you got it.