Queer-Owned Atlanta Businesses You Should Be Shopping Right Now
We tapped some of Atlanta's queer business owners to tell us about their favorite go-to queer-owned shops and brands around the city.
Design by Chineme Elobuike for Thrillist
We independently source all of the awesome products and experiences that we feature on Thrillist. If you buy or book from the links on our site, we may receive an affiliate commission — which in turn supports our work.
"It used to be just, like, a truckload every day. Now that's turning into truckloads."
Jesse Lirette has seen the big difference that small amounts of charity can make firsthand. He's the director of Lost-n-Found Youth organization, the nonprofit arm behind Lost-n-Found's flagship thrift store in Atlanta. But Lost-n-Found Youth Thrift Store has much more than endless racks of clothes and shoes: the shop in Atlanta's Lindridge/Martin Manor neighborhood helps provide a home and essential resources to some of the city's most vulnerable LGBTQIA+ young adults.
Lost-n-Found Youth was founded by activist Rick Westbrook in 2011, and in the decade since then, the organization has been able to get struggling youth in the city off the streets. The LNFY Thrift Store has been a crucial part of the process, as revenue from the store helps fund necessities for the LNFY shelter and the "transition house" that prepares residents for life after Lost-n-Found.
"The thrift store gets a big majority of our volunteers due to the fact that so much product comes through and has to be vetted," he says. "We're very, very appreciative to the individuals who help donate."
Pride is a year-round celebration, and no one knows that better than Lirette; LNFY was even set to appear in this year's parade before the city cancelled its Pride events for the second year in a row. As someone with wide-reaching connections in Atlanta's LGBTQIA+ community, Lirette is an expert on local businesses owned and operated by queer entrepreneurs, so we wanted to get his insider take—along with other LGBTQIA+ business owners'—on some great queer-owned places in the ATL area.
"It's something you have to have to see when you're here," Lirette says of Sister Louisa's Church of the Living Room & Ping-Pong Emporium. The bar (full name "Sister Louisa's Church of the Living Room and Ping-Pong Emporium...Come On In, Precious!") was founded in 2010 by local artist Grant Henry, more lovingly known to Atlantans as the artist Sister Louisa. A former divinity student, he's decked the Sweet Auburn watering hole out with plenty of antique pieces, some of which were salvaged from churches themselves.
"His bar is completely furnished with church furniture—confessionals and pews and those hanging lights with crosses on them," Lirette says of the bar's holy décor. "Churches that have either closed or been torn down, he has gone and collected this stuff over the years." And Sister Louisa's doesn't discriminate: the place is packed with furniture and decorations from all different Christian denominations.
Sister Louisa's Church of the Living Room & Ping-Pong Emporium is located at 466 Edgewood Ave. SE in Atlanta.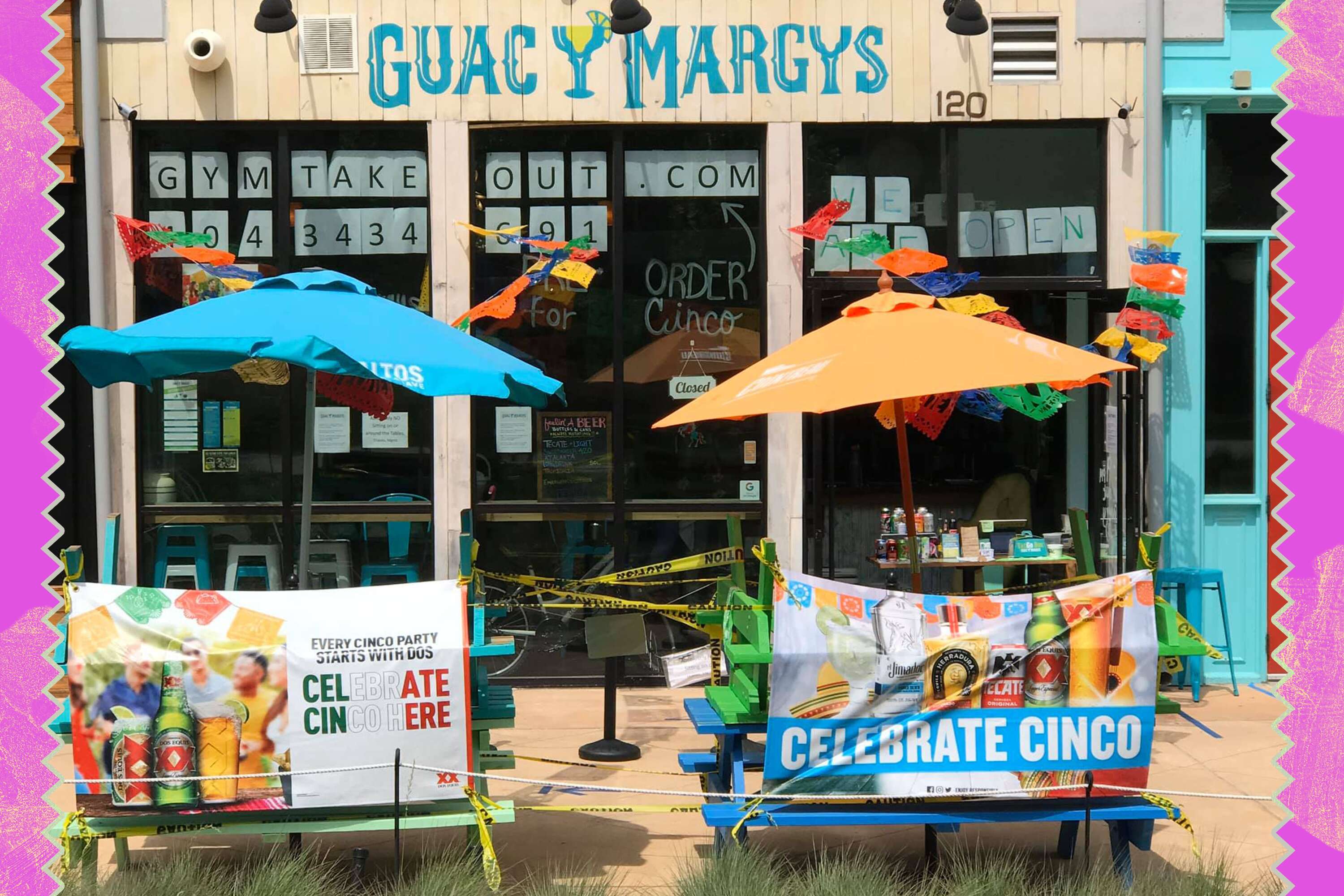 "Have you ever gone from hating margaritas, then after tasting a freshly made margarita that you loved so much that it inspired you to open a margarita bar?" say David Barton and Troy Meyers, co-owners of the popular Guac y Margys. Barton was inspired to create his own infused margarita concoctions with quality tequila at home, and eventually wanted to share his creations with the local community.
Barton and Meyers were friends for 10 years before Guac y Margys came along, "but this was the beginning of a lifelong friendship and partnership."
"Guac y Margys is different because we aren't just a margarita bar or taco spot in Atlanta; rather, we are an experience," they say. "We are a place for people to meet their friends for a drink or lunch or dinner, but also a place to make new friends. We create a welcoming environment to people of all backgrounds where people can simply exist and enjoy their time." All of GyM's drinks are made fresh without pre-made mixes, and the menu is nothing to scoff at, with a combination of Mexican staples and inventive creations.
Guac y Margys' first location opened in Old Fourth Ward in 2018. In 2021, GyM expanded their empire into a second location on the BeltLine north of Piedmont Park.
Guac y Margys has two locations across Atlanta in Old Fourth Ward and Midtown.
Firepit Pizza is the brainchild of Leslie Cohen, a local chef who garnered national attention as a competitor on Food Network's Cutthroat Kitchen.
"She's a well-known lesbian chef here, and she has created some very unique pizza," Lirette says. And Firepit's claim to fame goes beyond just their hand-tossed dough. "She's got something called Unicorn Wings, and everywhere you go, when people find out it's her chicken wings, they're the first to go. We don't know what she's putting on them, but they're amazing, and people do come to her for those wings."
Barton and Meyers echo a similar sentiment, and also say the Unicorn Wings are a must-try. "Firepit is an amazing pizza place near us and owned by Leslie Cohen, who David sat next to in 10th grade history class!" they say. "David and Leslie used to pass notes back and forth, but for some reason, they never made it past the flirting stage."
15 years later, Guac y Margys and Firepit opened within a few months of each other.
Firepit Pizza is located in the Larkin on Memorial mall at 519 Memorial Dr. SE in Atlanta.
Henry's Midtown Tavern's name implies that a man is behind the Midtown eatery. But don't be fooled: Henry is the name of owner Maureen Kalmanson's dog.
"She's a big supporter of the community," Lirette says. He notes the restaurant's large open deck and barn-chic décor as being a huge draw for the Midtown spot—along with the standard American fare and dog-friendly policy, of course.
Henry's Midtown Tavern is located at 132 10th St. NE in downtown Atlanta.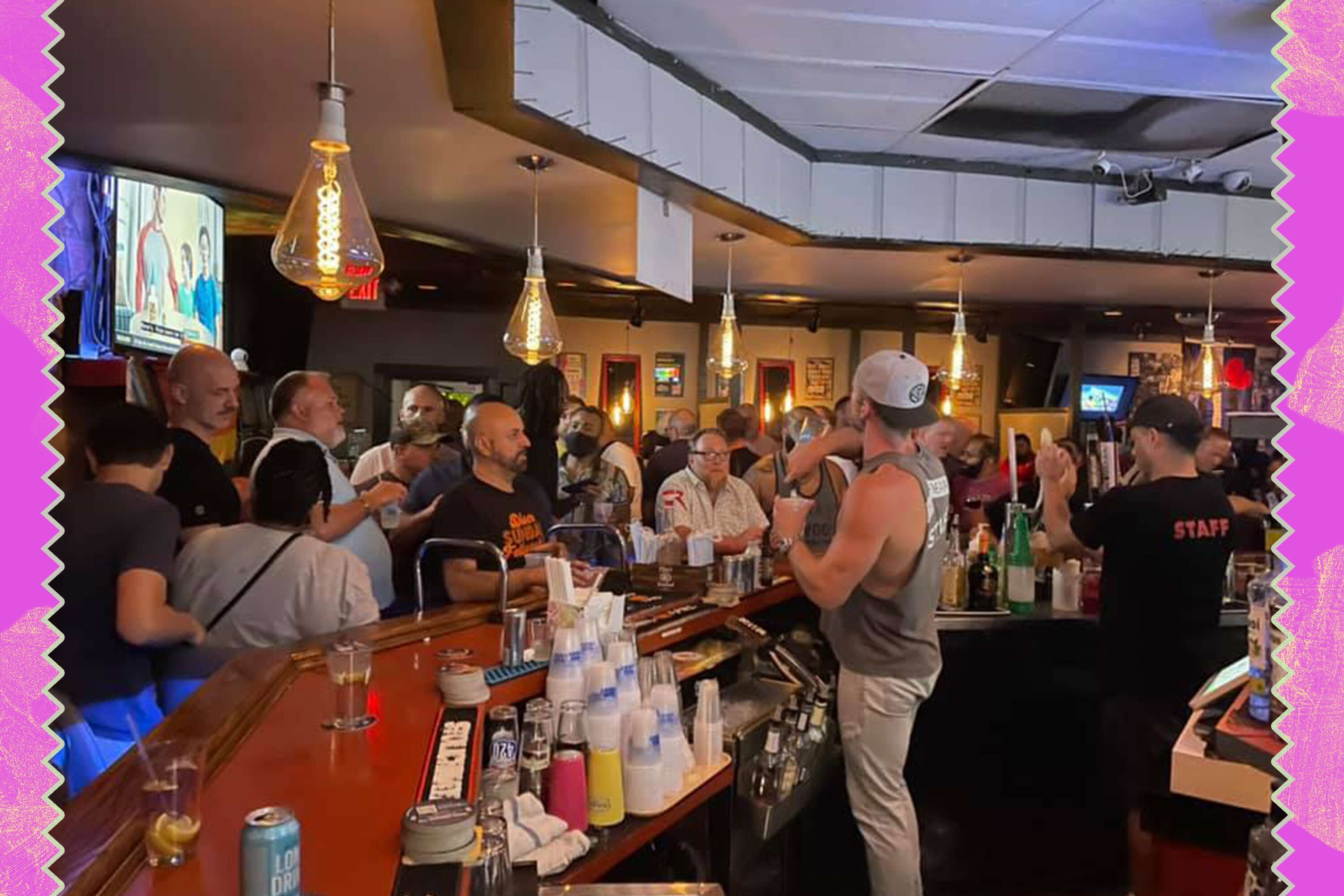 Tucked away behind the BeltLine near Piedmont Park, The Hideaway describes itself as "a neighborhood pub," and feels like it from the moment you walk in. The laid-back atmosphere notably differs from some other gay bars' frenetic energy, as patrons unwind in the low light playing pool, darts, and pinball.
"The Hideaway is quite unique," Lirette says of the Piedmont Heights watering hole. "It's like a living room from the 1970s." With a steady stream of theme nights and drink specials, The Hideaway has become many queer Atlantans' home away from home.
The Hideaway is located at 1544 Piedmont Ave. NE in Piedmont Heights.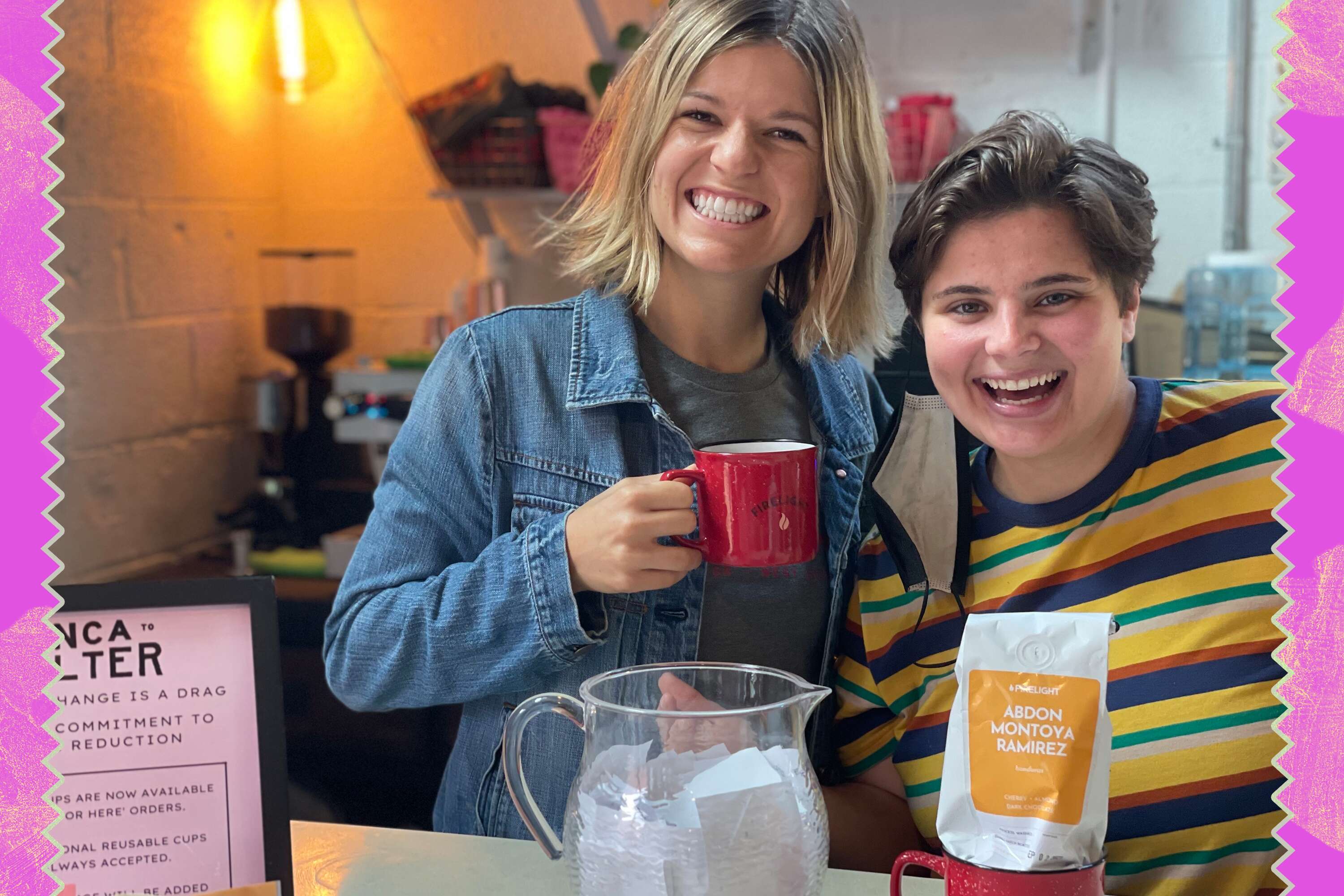 Recently opened in spring of 2021, FiNCA TO FiLTER is a coffee shop with a one-of-a-kind ethos. Located inside Wild Heaven brewery in Atlanta's West End, the small-but-mighty café celebrates being "queer and caffeinated" every day, and is much more than a simple coffee joint: FTF has also hosts regular events like drag shows and watch parties for sports games.
Owner Kayla Bellman calls the concept of FiNCA TO FiLTER a "passion side project" that finally turned into a brick-and-mortar reality. "I lived and worked in Guatemala for a chunk of time, interacting directly and falling in love with the coffee community," Bellman reminisces. The passion project came to fruition as COVID shuttered countless LGBTQ+ venues across the country.
"In a terrible storm of pandemic pivots and decreasing spaces for LGBTQ+ folx, we saw the need for community building with a capital C," she says of the shop's inception. "We lead with authenticity, building a culture of come-as-you-are and a coffee program that centered underrepresented coffee peoples, and the rest followed."
FiNCA TO FiLTER is located inside Wild Heaven's West End Brewery at 1010 White St. SW in Atlanta.
With a deep history in the Atlanta area dating back decades, Charis Books & More's reputation remains strong nearly 50 years years after opening. The oldest feminist bookstore in the South, Charis has always been a place where great minds have come together and great books are available to everyone. In 2019, the longstanding Atlanta institution settled into a new and improved home in Decatur across from Agnes Scott College, and is the official bookstore partner of the school.
Barton and Meyers give Charis a stamp of approval, calling it "a great spot to find amazing reads from a variety of queer authors."
Aside from its book selection, Charis also hosts regular events with authors, academics, and other influential figures that delve deep into topics like race, gender, and sexuality through the lens of literature.
Charis Books & More is located at 184 S. Candler St. in Decatur.
Johnny Martinez and Brandon Ley launched Joystick Gamebar in 2012 with a goal of bringing an authentic arcade bar experience to Atlanta—with their own personal spin, of course. The Sweet Auburn spot is "very Island of Misfit Toys," Martinez muses. "Everyone's welcome."
"Brandon and I were both on an old country road in north Georgia when there was a beam of white light that shot into our car, and we were taken up into this odd spaceship where we were commanded by beings from another galaxy to open up an arcade bar on Edgewood Avenue," Martinez says semi-seriously of the bar's fantastical road to opening. "Some people might call it a religious experience, except these were definitely little green men."
Joystick has something for everyone, and has hosted Dungeons & Dragons nights, Super Smash Bros. tournaments, open mics, and other events in the past. "You could come in to Joystick on Edgewood on any night of the week and it would feel like a totally different bar, depending on who you're with and what's happening," Martinez says.
"Plus, we don't take our cocktails for granted," he chuckles. "I would say we're punching above our weight grade when it comes to that."
Joystick Gamebar is located at 427 Edgewood Ave. SE in Atlanta.
A neighborhood trattoria for the whole family, Noni's holds a special place in many Atlantans' hearts—Martinez included. "I love me some Noni's," he gushes. "I think Noni's is fantastic."
Located just down the street from Joystick, Noni's has served countless custom pasta dishes and other Italian staples to hungry customers since 2008. And Noni's feeds much more than just those who wander into the restaurant: the menu has an option for diners to donate $5 to Free99Fridge, a local mutual aid food program.
Noni's is located at 357 Edgewood Ave. SE in Atlanta.
Chris Malone Méndez is a Thrillist contributor.