The Queer-Owned NYC Businesses You Should Be Shopping Right Now
We tapped some of NYC's most renowned queer business owners to tell us about some of their favorite go-to queer-owned shops and brands around the city.
Paid Content For

Design by Maitane Romagosa for Thrillist
We independently source all of the awesome products and experiences that we feature on Thrillist. If you buy or book from the links on our site, we may receive an affiliate commission — which in turn supports our work.
More than just parties and parades, Pride Season is about celebrating, centering, and elevating all things queer. And what better way to do that than to throw some of your disposable income to brands founded by members of the LGBTQ+ community? Sure, you can head to Hell's Kitchen and hit up the rainbow-wrapped shops there, but if you want to expand your knowledge of how vast the world of queer-owned retail is, we tapped some of NYC's most renowned queer business owners to tell us about some of their favorite go-to queer-owned shops and brands around the city.
For many, designer Becca McCharen-Tran's over-a-decade-old avant-garde bodywear label Chromat is known for being worn by the likes of Beyoncé and Nicki Minaj. To others, both McCharen-Tran and Chromat are better known for a game-changing approach to making clothes that incorporates a fashion-meets-technology ethos, body-inclusive swimwear design, and a focus on sustainability.
McCharen-Tran recommends:
"As a queer person who started their own fashion label, I know how hard it is to run a business and to be consistently full of creative new ideas. I look up to brands like L'Enchanteaur and Coco + Breezy who have been in the game for a long time, and have done it their way. I recently fell in love with L'Enchanteaur's collaged t-shirts, which feature layers of dyed and printed mesh with poems embroidered on them. They were on sale at the Building Black Bedstuy block party and I wanted them all. Coco + Breezy are amazing twins who bring vivacious energy to everything they do. Their DJ sets are as joyful as their eyewear."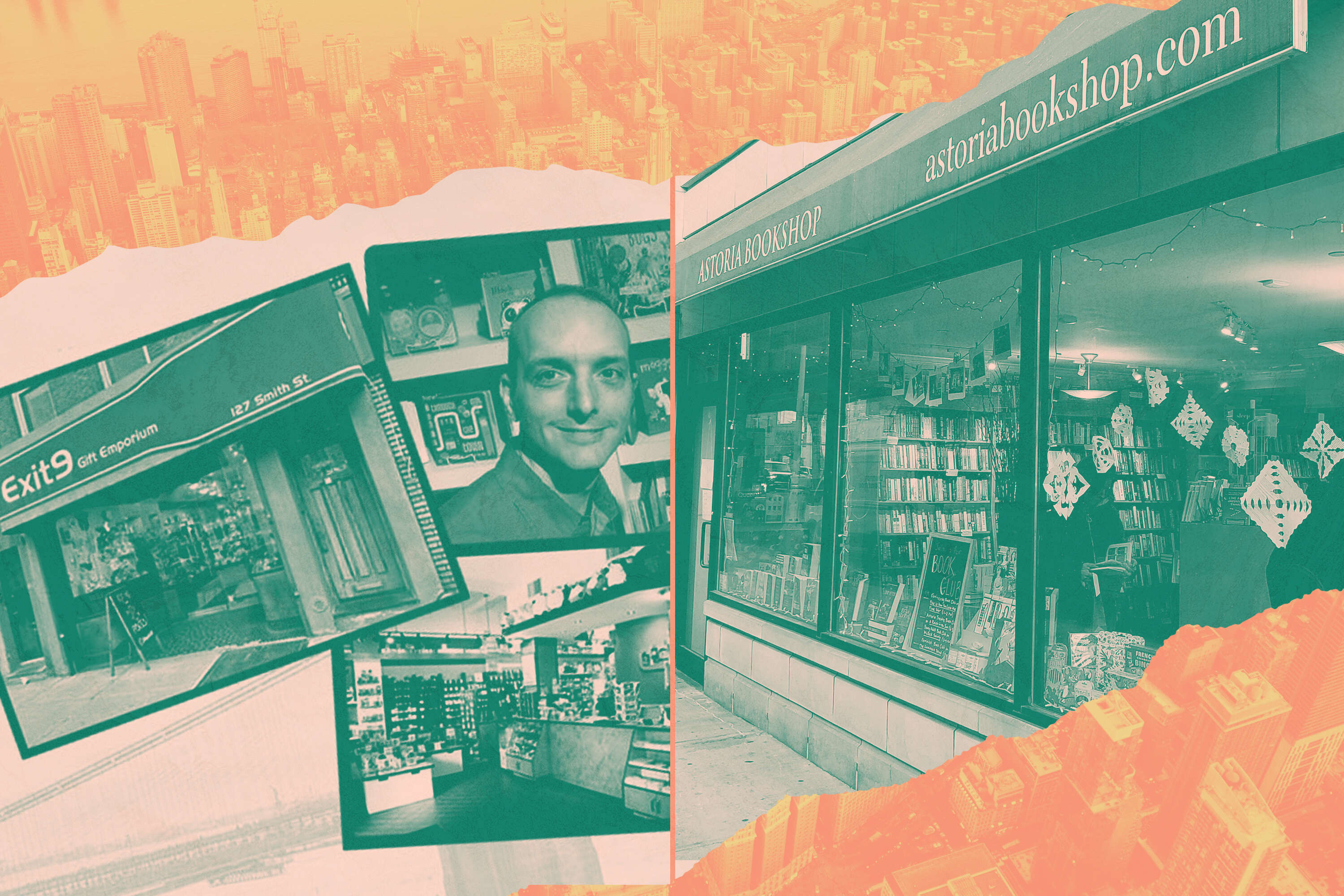 Founded by Mackenzi Farquer in Astoria in 2013, Lockwood is the kind of design-minded shop that sells everything you never thought you needed, like birthday cards featuring Lizzo, 100-piece cat puzzles, and paper-bag-waist mid-thigh shorts. It might sound like random hodgepodge to you, but it's certainly resonated with shoppers in both Queens and Brooklyn. Farquer has grown Lockwood into a five-location chain with outposts in Greenpoint, Jackson Heights, and three in Astoria, which is where she's based.
Farquer recommends:
"Exit 9 is one of the legends of NYC shopping, and Charles, the owner, is one of my retail role models. They've been in business for 26 years—a truly remarkable feat in this crowded, expensive city. Check out the Queer Here section on their website or pop into their East Village or Brooklyn shops to see it in person. The Astoria Bookshop happens to be my local bookshop, and I try to order as much as I can there. During the worst of the pandemic, my small Lockwood team held a sci-fi book club over lunch (between packing all these internet orders) and we'd always order our books from Lexi, the owner. We started with the Broken Earth Trilogy in June of 2020 (great queer characters in this series!), and this month, I want to get everyone The Echo Wife. Somehow ordering dystopian fiction from a queer-owned business just made us all feel a little better about everything."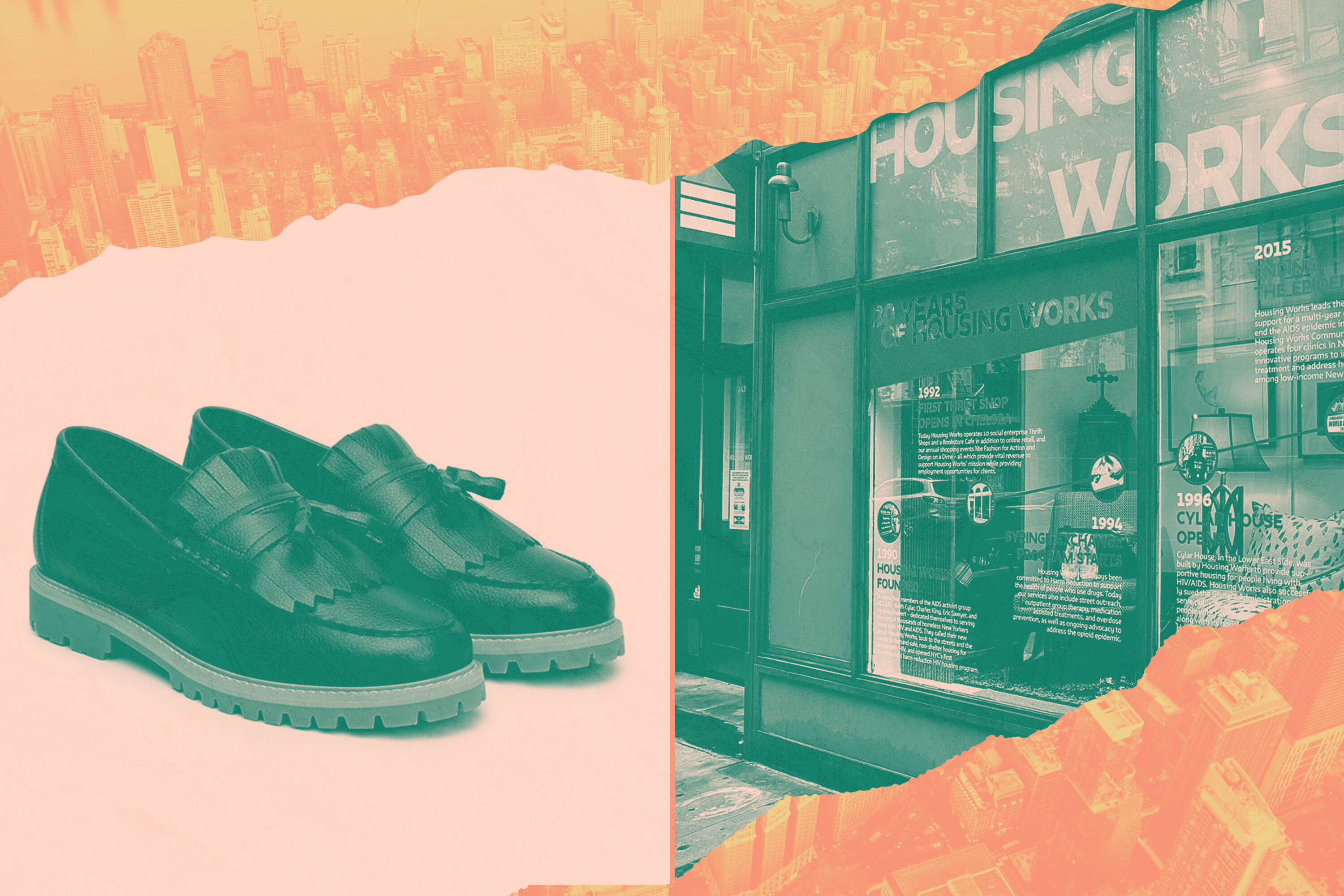 Brooklyn-based couple Laura Moffat and Kelly Sanders Moffat launched their fashion label Kirrin Finch to provide women and non-binary individuals a better selection of well-tailored, menswear-inspired looks. Fed up with having to settle for ill-fitting men's clothes and having to spend even more money getting things altered, the Moffats disrupted the market with gender-affirming wardrobe staples (e.g., tweed blazers, sleek chinos, and fun-patterned button-down shirts) rooted in sustainability and fair trade practices.
The Moffats recommend:
"Shoes by Brave Gentleman, owned by Joshua Katcher, not only look amazing but are also kind to the earth! All products are vegan and beautiful. We partnered with Joshua to style our suits in an Airbnb fashion show during World Pride and absolutely loved the refined style they brought to our brand. Nothing says dapper like a suit and a pair of monk straps! Housing Works is one of those NYC institutions, known for their book stores and thrift shops across NYC. Laura has this incredible memory of going to a Tracy Chapman concert at Housing Works in Soho. There were maybe 50 people there tops, all fellow queers of course. And we listened to Tracy Chapman perform in an incredibly intimate setting."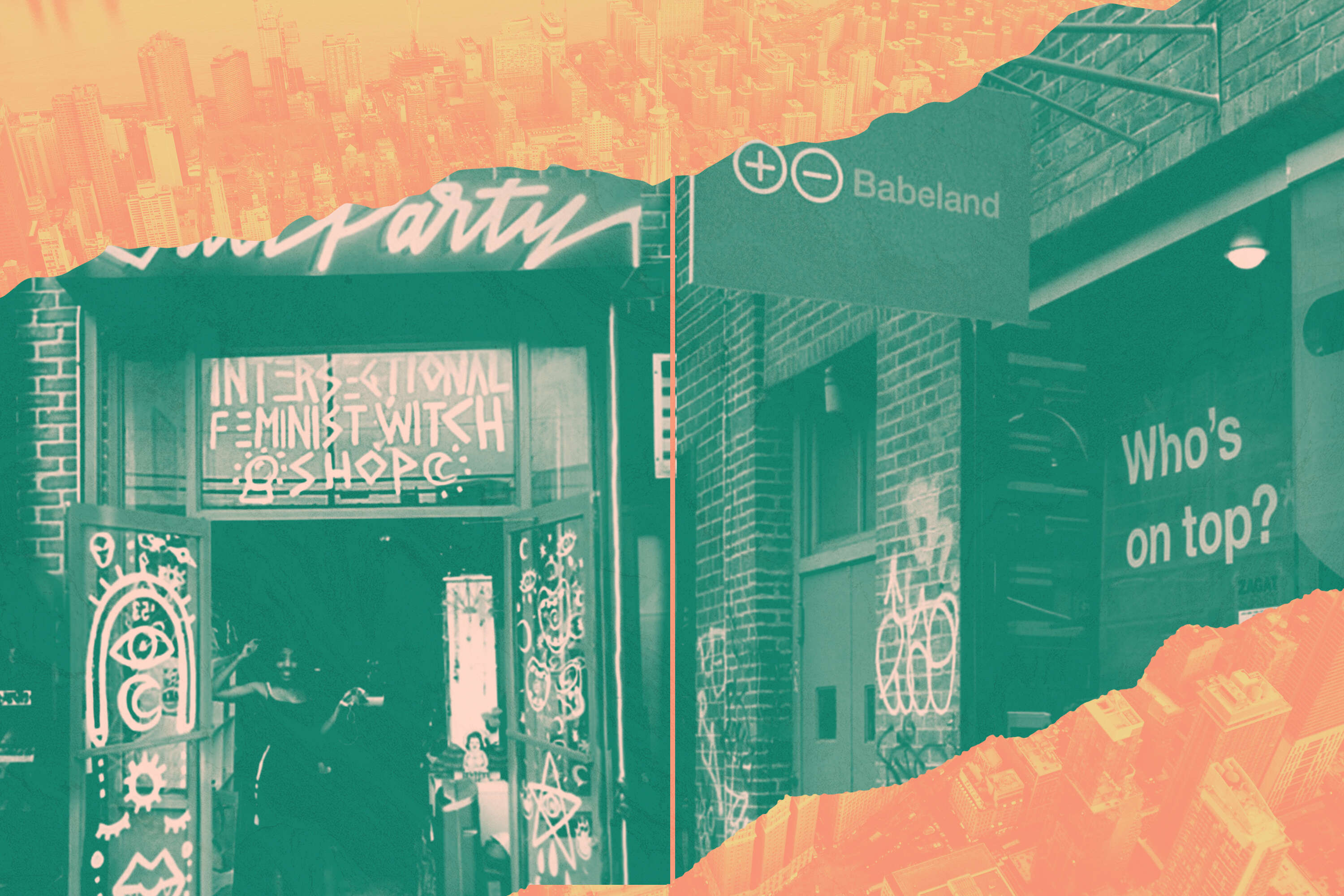 As one of the owner-workers at Bluestockings Cooperative, Raquel Espasande is all about uplifting the queer experience. In the Lower East Side, Bluestockings, which is New York's only queer-, trans-, sex worker-run bookstore, is a treasure trove of literature that educates and entertains. But you can also pick up limited-edition novelty sweatshirts and decks of tarot cards. The space also hosts various events (including a number of different book clubs).
Espasande recommends:
"I only recently discovered Cult Party's website during the pandemic, and I cannot wait for them to be open so I can check them out in person. I find myself scrolling through their online shop and wanting to adorn my home and body with their entire catalog, from the book Our Ancestors Came From Space: A NASA Expert Confirms Mankind's Extraterrestrial Origins to their sparkling dick-shaped crystals. The whole place is like walking into a joyful celebration of queer and feminist in-jokes. Within easy walking distance from Bluestockings is Babeland. As sex- and kink-positive as my politics are, I'm also just a shy dork and can't help but reflexively blush and get overwhelmed in the face of a rainbow wall of dildos and vibrators. I don't know how they do it, but every Babeland employee is not only exceedingly chill and nice, but a fount of information about different types of lube and their various advantages. Let's just say I have never left empty-handed and I've never been disappointed."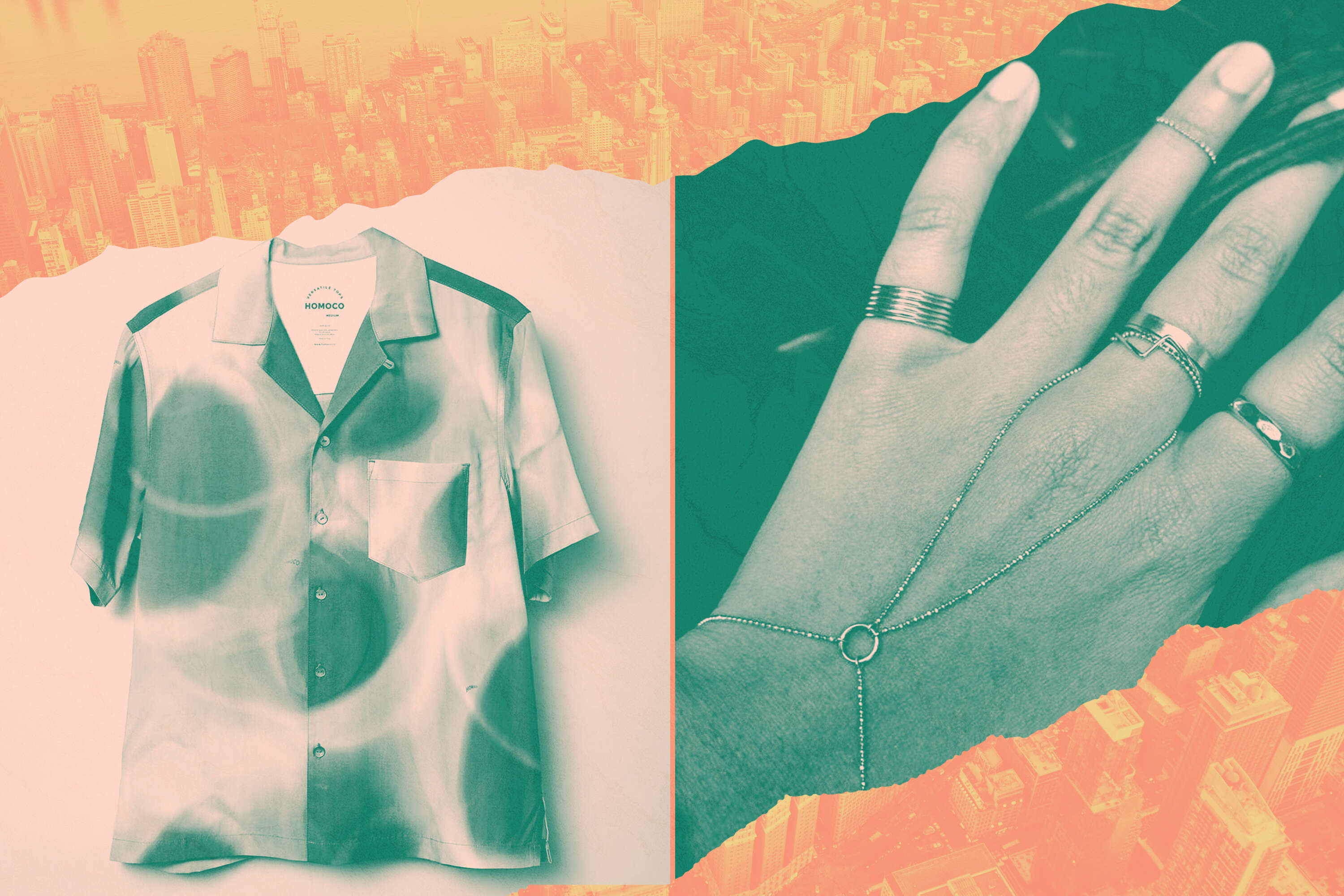 For co-founder Laura Kraber, her beauty brand We Are Fluide has several missions. Of course she wants to create vegan, cruelty-free, and paraben-free mascara, lip gloss, and nail polish that anyone (no matter your skin color or gender expression) can find joy in. But more importantly, she wants to foster a community that celebrates beauty free from boundaries. On June 1, We Are Fluide launched a Pride Collection, and 10% of sales from that collection will be donated to mutual aid platform For Our Sibs.
Kraber recommends:
"I love Daniel DuGoff and his Brooklyn-based brand HOMOCO, which is all about summer and fun. He focuses so intentionally on sustainability and accessible pricing. Plus, the wide range of sizing means there's something for everyone. They also always have something cool going on: pop-up shops from fellow queer brands, collabs with an amazing talent (Tom of Finland Foundation! Casey Spooner!), or charitable initiatives that benefit queer organizations, which is something that We Are Fluide focuses on as well. Another super beautiful and thoughtful brand is Automic Gold, which makes gorgeous pieces from recycled electronics and old jewelry, which is fascinating in itself. From their messaging on social media, to their models and photography, to the people I've interacted with in customer service, everything about the company feels warm, welcoming, and kind. The beach chainring is my personal favorite. It's elegant and cool but so light and easy to wear; having one on every finger is a great look."
In the middle of the pandemic, entrepreneur Chana Ginelle Ewing launched Geenie, an e-commerce beauty and skincare platform that champions inclusivity and intersectionality in all forms. In addition to sourcing and merchandising sustainable, Earth-loving products from BIPOC and queer brands (many of which you may have never heard of), Ewing also wants Geenie to be a resource for education. So both the website and Geenie's social media channels are constantly sharing articles, podcasts, and other forms of content for the community to discuss.
Ewing recommends:
"Founded by Alexis Androulakis and Christina Basias, who are partners in the business and in life, Brooklyn's Fempower Beauty is more than just about finding the perfect shade of lipstick. They want to connect beauty with mental health. They created, in concert with makeup artists and mental health experts, the 'Affirmation Application' practice which teaches you tools for positive self-talk as you apply your makeup routine. It's a genius way to use that time in the mirror to literally affirm yourself and your values. But, I have to say that my favorite-ever lipstick is their their vivid, can't-be-ignored Eve. I find every reason and every opportunity to apply this hot pink."